ASHGABAT -- Russian officials' continued fearmongering over Turkmenistan's border security is angering Turkmen officials who say that the country can take care of its boundaries with neighbouring Afghanistan.
The countries share a 744km-long frontier.
The border between Turkmenistan and Afghanistan is a weak link that could threaten Central Asia with militancy, claim Russian politicians, analysts and journalists.
Turkmenistan could become a corridor for "Islamic State" (IS) militants seeking to infiltrate Central Asia, Nikolai Patrushev, secretary of Russia's Security Council, on December 18 said during a meeting in Tehran on Afghanistan and regional security.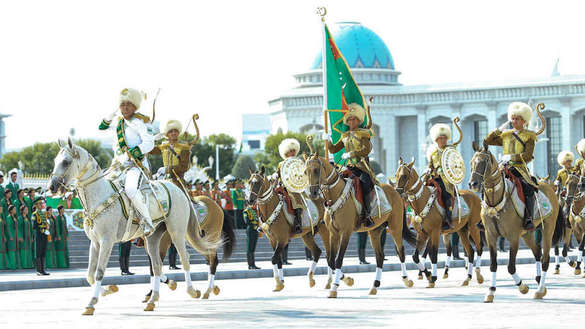 "IS militants are focusing their main efforts on stepping up their presence in northern Afghanistan, where there are already more than 2,000 militants, in order to combat the Taliban and prepare a staging ground for an incursion into Central Asia through Tajikistan and Turkmenistan," said Patrushev, as quoted by Radio Free Europe/Radio Liberty (RFE/RL)'s Turkmen service.
IS seeks to capture Afghanistan and Central Asia and is capable of attacks on infrastructure, law enforcement agencies, diplomatic missions and foreigners, he said.
Sowing fear
"The devil isn't as scary as he is being portrayed" by Patrushev and other Russian officials, said a lieutenant colonel in the Turkmen State Border Service, who gave his name as Aidogdy.
"Our intelligence and counter-intelligence service has information about the situation in the northern provinces of Afghanistan. It's true that the situation there is complicated and uncertain. But to assert that IS militants are preparing to invade Central Asia through Turkmenistan, as Mr. Patrushev did, is at the very least unprofessional," Aidogdy said.
Such statements insinuate that the Turkmen segment of the Afghan border is vulnerable and that Turkmenistan is incapable of single-handedly combating the international expansion of extremists, he added.
"On top of that, notice that such statements are made regularly by Russian officials and experts," he said.
As far back as 2015, Zamir Kabulov, Russian President Vladimir Putin's special envoy to Afghanistan and director of the Second Asia Department of the Russian Foreign Ministry, tried to arouse panic by citing a purported buildup of militants in the Afghan provinces of Badghis and Faryab, which border Turkmenistan, and their likely infiltration of the border, Aidogdy recalled.
Such statements are made with a single goal -- to sow more fear and persuade Turkmenistan's leadership to buy Russian weapons, expand its military co-operation with Russia and join the Russian-led Collective Security Treaty Organisation (CSTO), he said.
"But this goal isn't being achieved because Turkmenistan's neutral status, which was confirmed in 1995 by a UN [United Nations] resolution, bars it from signing on to any military pacts," Aidogdy said.
The pro-Russian lobby
Nevertheless, Russia appears to hold sway over some in the Turkmen government.
Last September, Anatoly Sidorov, chief of staff of the CSTO, similarly claimed that more than 4,000 IS militants were based in Afghanistan and that they posed a threat to Central Asia.
In addition, about 400 secret cells in communication with terrorist groups were operating in Tajikistan and Turkmenistan, said Sidorov.
However, neither Sidorov's assertions nor Patrushev's words in Tehran have provoked any reaction from diplomats in Ashgabat.
"The silence of our Foreign Ministry looks somewhat odd," said a former senior official in Turkmenistan's security agencies, who asked to be called Akmyrat to protect his anonymity.
"This once again -- granted, indirectly -- confirms our conjectures on the presence in the country's leadership of influential people who are lobbying for Russia's interests in Turkmenistan," Akmyrat added.
The attempts by some politicians to present Turkmenistan as weak and incapable of protecting its borders from an invasion by IS are futile, said Aidogdy, the border official.
Turkmenistan's army and border troops have enough forces, weapons and specialised equipment to guarantee the robust protection of its borders, he said.
As military insiders, both the CSTO chief of staff and the secretary of Russia's Security Council should understand full well that attempts by clusters of militants to fight the well-equipped standing army of a sovereign state on flat, dry terrain are doomed to failure, he said.
"And these gentlemen shouldn't forget that at all times Turkmenistan has regarded Afghanistan as a friendly neighbour and economic partner," he added.