ALMATY -- Kremlin plans to deploy a missile defence system throughout the entire Collective Security Treaty Organisation (CSTO) are causing alarm among Central Asian analysts and ordinary residents.
Work is under way to create a common missile defence system in the CSTO countries, which include Armenia, Belarus, Kazakhstan, Kyrgyzstan, Russia, and Tajikistan, CSTO Chief of Joint Staff Anatoly Sidorov said at a February 6 news conference in Moscow, according to RIA Novosti.
The plan above all calls for an expansion of missile defences in Central Asia, including in Tajikistan and Kyrgyzstan. As part of the CSTO, the Kremlin has already deployed joint missile defence systems in Armenia, Belarus and Kazakhstan.
The expansion of the missile defence system is for the member states' protection, according to the Kremlin.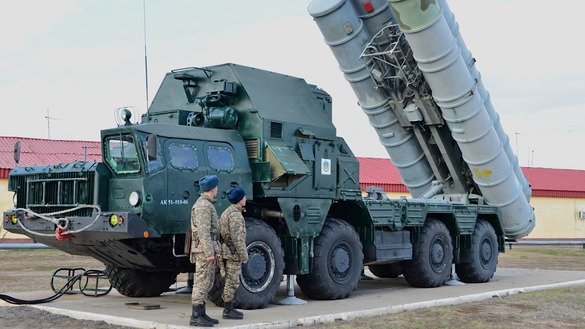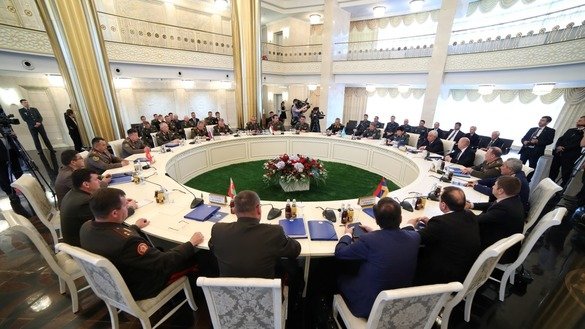 But for many in Central Asia the idea seems self-serving.
The Kremlin is using plausible-sounding arguments to achieve strategic goals, said Michael Andersen, a Danish journalist who lives in Kyiv, Ukraine, and has covered post-Soviet countries for more than 20 years.
The Kremlin's protestations of being obligated to act remind him of 2014, when Russian President Vladimir Putin said he had to protect ethnic Russians in Ukraine. That year, the Kremlin annexed Crimea and sent troops to eastern Ukraine.
Russia is acting out of political motivations, not to "ensure military security for [CSTO] member states", he told Caravanserai.
In the absence of an external military threat to the region, the missile defence system is meant to "expand military influence and strengthen Russia's control", he said.
A threat to Central Asians' national security
The Kremlin's plans endanger the national security of Central Asian states because Russia is seeking access to their information space, transport infrastructure and territory, Andersen said.
"I assume that Putin will solve this issue for himself by paying a certain amount to Tajikistan and Kyrgyzstan -- this is a proven method," he said. "The Kremlin has other 'trump cards' as well -- both Tajikistan and Kyrgyzstan depend on remittances from labour migrants working in Russia."
Sceptical residents of Tajikistan and Kyrgyzstan view Russia's move as motivated by political and strategic interests, not by some altruistic desire to protect former Soviet republics.
Ravshan Tillozoda, a hotel manager from Dushanbe, sees no need for a Russian missile defence system in his country.
"Terrorism is a problem in our region because of the proximity of Afghanistan," he told Caravanserai. "But the terrorists have no missiles. The countries that have them won't attack us."
"Russia is building protection for itself outside its territory and putting us at risk," he said. "Tajik territory hosting Russian missile defence systems will become a target."
The Kremlin's desire to build up missile defence in Central Asia results from its deteriorating relations with the United States and Europe, said Emil Umetaliyev, former acting minister of economic regulation for Kyrgyzstan.
In February, citing numerous Russian violations, the United States gave notice it would begin the six-month process of withdrawing from the Intermediate Range Nuclear Forces Treaty.
"When this confrontation heats up, a threat arises that affects more than just Russia," Umetaliyev said. "All the members of the CSTO ... are being drawn into this risky situation against their will."
Lessons from the past
The Kremlin's foreign policy towards Central Asian countries leaves little doubt about Russia's intentions, said Umetaliyev.
"Periodically, certain Russian politicians, as well as the military, have openly hinted that if Central Asian countries show excessive independence, they will face severe punishment," he said.
Five years ago, a diplomatic uproar arose between Moscow and Astana after two Russian politicians made revanchist comments about Kazakhstan's independence.
"There are no republics in Central Asia," State Duma member Vladimir Zhirinovsky said in a February 23, 2014, broadcast on Russia-24 TV.
He called for Central Asia's five countries to become a "Central Asian Federal District" within Russia and said Verny -- the tsarist name for Almaty -- should be its capital.
A few days before Zhirinovsky's televised outburst, another politician, Eduard Limonov, posted on Facebook: "I hope that Russia will get part of Ukraine and, if we don't yawn, North Kazakhstan as well. It will be possible to restore our Russian cities to Russia during the interregnum in Kazakhstan."
Interregnum, as Kazakhs understood, was a crude reference to the day when President Nursultan Nazarbayev leaves office.
Kazakh society reacted with indignation, and the Foreign Ministry sent letters to its Russian counterpart to seek clarification on Zhirinovsky's and Limonov's comments.
Such bellicose remarks, though, belie Russia's situation geopolitically, Andersen said.
Putin has antagonised Ukraine and lost influence there, has difficulties in relations with Belarus, and senses he is starting to lose Central Asia, he said.
As Central Asian republics deepen co-operation with the West, Putin will do everything possible to preserve the Kremlin's sway in the region, according to Andersen.
"Central Asian countries shouldn't expect anything good. But nobody asked their opinions," he said.