ALMATY -- Russia's invasion of Ukraine has in recent months brought into question the value of Central Asian countries' membership in the Moscow-led Collective Security Treaty Organisation (CSTO).
Since the start of the invasion in February, Russian forces have been accused of killing hundreds of Ukrainian civilians and committing war crimes, while more six million refugees have been forced to flee their homes.
Moscow's aggression has also unleashed a worldwide shock that has resounded for countries reconsidering their relationship with both Russia and the West.
Most recently, Sweden and Finland, two traditionally Nordic countries, are now taking steps towards fast-track membership of NATO.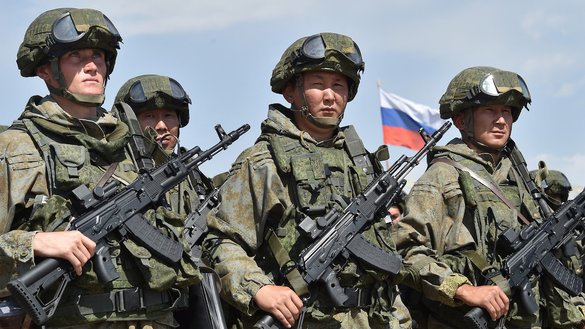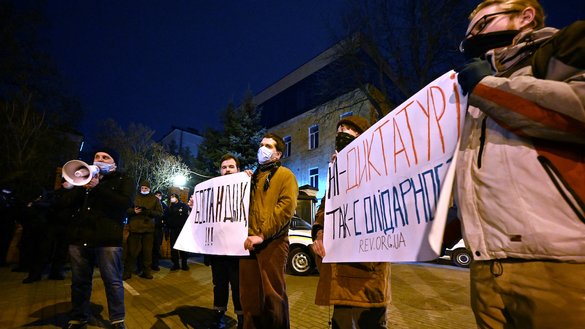 The parliaments of both countries on Monday (May 16) began debating their respective NATO bids, as the two neighbours prepare to submit applications this week as a deterrent against Russian aggression.
Finland officially announced its intention to join NATO on Sunday as Sweden's ruling party said it backed membership, paving the way for a joint application.
The move is a dramatic turnaround from the two countries' military non-alignment policies, dating back more than 75 years for Finland and two centuries for Sweden.
In Central Asia, the main question is whether to remain in the CSTO.
Disappointed members
The prevalence of such pro-NATO sentiments is not surprising in Kyrgyzstan, which despite being a CSTO member has never received military assistance from Moscow despite numerous requests, including in 1999, 2010 and 2021.
The lack of actual assistance has suggested that the CSTO is largely just a tool for Moscow to maintain its military influence in the region, analysts say.
The CSTO has its roots in the Collective Security Treaty, which was inked by Armenia, Kazakhstan, Kyrgyzstan, Russia, Tajikistan and Uzbekistan in 1992 following the collapse of the Soviet Union the previous year.
Officials from those countries 10 years later agreed to transform the treaty into a full-fledged organisation, the CSTO.
In 2009, the CSTO formed a collective rapid reaction force ostensibly to protect member states from foreign aggression; to fight international terrorism and extremism, trans-national organised crime and drug trafficking; and to respond to disasters and other emergencies.
But since its founding, the CSTO has lost several disappointed members. Azerbaijan and Georgia, which had joined in 1993, left in 1999. Uzbekistan left in 2012.
In Kyrgyzstan, a rumour spread in April that Bishkek was reviewing the possibility of leaving the CSTO and joining NATO.
Erbol Sultanbaev, a spokesman for President Sadyr Japarov, denied the story at the end of April, but the has sentiment remained.
"Alas, if only it were true," Ukazbek Bakirov, one of Sultanbaev's Facebook followers, commented in response to the post.
The CSTO's real purpose is less protecting the region and more expanding Russian military influence over and control of the other member-states, according to Michael Andersen, a Danish journalist based in Kyiv.
"Moscow needs the CSTO to achieve its strategic geopolitical goals," said Andersen, who has covered post-Soviet Russia for 20 years.
Russia regularly conducts military exercises in CSTO member-states and maintains military bases in Central Asia, namely Tajikistan and Kyrgyzstan. But when crises arise, it rarely offers military aid.
A history of ambivalence
The CSTO was notably absent in 1999 when hundreds of Islamic Movement of Uzbekistan (IMU) militants crossed into southern Kyrgyzstan via Afghanistan and Tajikistan and took civilians hostage and demanded free passage to Uzbekistan.
Instead of relying on the CSTO, Kyrgyz authorities were forced to deploy troops who defeated the militants after two months of fighting in what is now Batken province.
In a 2014 study, the Geneva Centre for Democratic Security Sector Governance (DCAF) concluded that Kyrgyzstan's lesson from the Batken crisis was that "it was not necessary to rely on military aid from neighbouring countries and partners in the system of collective security (CST, today CSTO)".
"The mechanism of collective security in terms of declaration and legal procedures for making decisions on joint military operations and the participation of national armed forces beyond the partner countries may not work," it said.
"Kyrgyzstan must be ready to meet the challenges of armed gangs and counter international terrorism gangs," the study added.
Kyrgyzstan was forced to re-learn this lesson more than once.
The CSTO again stood aside in 2010 when unrest exploded into bloody clashes between ethnic Kyrgyz and ethnic Uzbeks in Kyrgyzstan's south.
Moscow denied a request from the Kyrgyz government for CSTO help in stabilising the country, saying that the Kyrgyz events were an internal matter that did not meet the conditions for the alliance's intervention.
Confusion over the CSTO charter on how it deals with conflict among its own members also emerged in April 2021 after border clashes broke out between member states, Kyrgyzstan and Tajikistan, over a water distribution point in disputed territory.
Moscow, as the CSTO's co-ordinator, limited itself at the time to calling on Bishkek and Dushanbe to "take effective measures at preventing a repetition of such incidents".
The two countries eventually reached a cease-fire on their own.
During a session of Kyrgyz parliament in May 2021, members blasted the CSTO for its unhelpful stance, saying it "did not express any reaction to the armed conflict on the Kyrgyz-Tajik border".
One member, Aybek Osmonov, called for Kyrgyzstan to quit the CSTO.
"The CSTO paid no attention when one country openly attacked another," he said. "How can we react to this, or will we just keep silent? Why then did we join the CSTO?"
"If the organisation acts so unfairly, then I think we do not need to be in it," he added.
Moscow's 'generosity'
Even when the CSTO does deploy, it is done so for the sake of Russia's interests.
Since its formation in 2002, the CSTO as an alliance has deployed a unit exactly once -- last January, when it sent peacekeepers to Kazakhstan.
Led by Russia, a CSTO mission of more than 2,000 troops was deployed after armed clashes between the government's foes and security forces and a looting spree trashed parts of the largest city, Almaty.
Over the next few days, troops arrived from the other CSTO members -- Belarus, Tajikistan, Armenia and later, Kyrgyzstan.
Both Kazakhstan and Russia framed the unrest that left dozens dead and almost 10,000 people arrested as an attempted coup d'etat by foreign "terrorists" but provided little supporting evidence.
The violent crackdown could lead the Kazakh leadership and elites into a process of "Belarusification", according to Rafael Sattarov, an Uzbek political analyst, referring to Belarus's unflinching adherence to Russian President Vladimir Putin's wishes.
The Kremlin helped prop up Alyaksandr Lukashenka's regime in Belarus after demonstrators denounced election fraud in 2020.
But Moscow's "generosity" often comes at a price.
The Kremlin likely now will make several demands of Kazakhstan in exchange for preventing the government's ouster, Sattarov said in January.
"For the Kremlin, it's vital that the other countries in the region also draw conclusions as soon as possible and brace for new conditions," he said.
Deploying a foreign military unit to Kazakhstan threatens Kazakh sovereignty, said Erica Marat, a professor at National Defence University in Washington.
"The CSTO troops in Kazakh cities became a symbol of Russia's full-blown influence over and control of the regime in Nur-Sultan, which benefits Moscow," she said.
Russia's 'myth' of greatness
As the war in Ukraine is into its third month, many former Soviet states are becoming even more wary of Russia's "greatness".
Moscow's recent May 9 Victory Day celebrations -- commemorating Nazism's defeat in World War II -- underlined that sentiment.
Over the the years, Red Square parades have promoted the notion of the Russian army's invincibility, said Dauren Ospanov, a retired officer of the Almaty provincial garrison.
"Real combat showed that this is nothing more than a myth," he said.
The Russian army has been utterly disgraced in Ukraine, said Andersen, the Kyiv-based Danish journalist.
"It's not a real army. It's a bunch of killers, thieves and rapists," he said.
This year, because of the war, Central Asian states backed away from Putin's insistence that Russia is defending the "Motherland" by its war in Ukraine.
Uzbekistan banned Russian symbols typically used to mark Victory Day celebrations in rebuke for Russia's invasion of Ukraine.
Kazakhstan cancelled Nur-Sultan's annual Victory Day parade, while Kyrgyzstan's State National Security Committee (GKNB) warned citizens against using the "Z" symbol in commemorative events to signify support for Russia's invasion.