ALMATY -- Russian soldiers have completed their withdrawal from Kazakhstan, the Russian Defence Ministry said Wednesday (January 19), but analysts warn the effects of their deployment will be felt for a long time in the Central Asian country.
Kazakhstan has lifted a state of emergency imposed after unprecedented unrest that erupted during initially peaceful rallies around the New Year against fuel price hikes.
At least 225 people -- including 19 servicemen -- died in unrest that prompted President Kassym-Jomart Tokayev to appeal to Moscow for help.
Troops from the Russia-led Collective Security Treaty Organisation (CSTO) -- including from Armenia, Belarus, Tajikistan, Kyrgyzstan and Russia -- began arriving January 6 after the urgent plea from Tokayev, and started their withdrawal last week.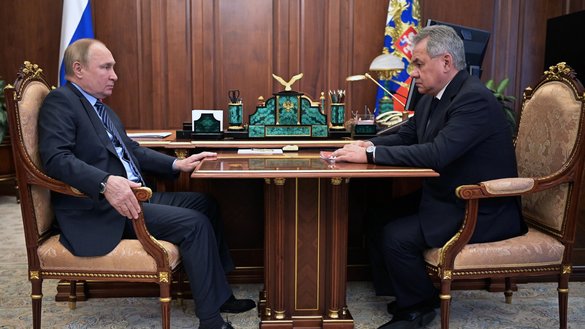 The decision to despatch peacekeepers was a first for the CSTO, which sent more than 2,000 personnel and 250 pieces of military equipment to Kazakhstan.
Their deployment has been controversial in Kazakhstan.
"Our country has enough resources of its own to deal with the unrest. Why did foreign troops need to be brought into Kazakhstan?" Aziz Kasymov, who owns a vegetable stand in Almaty, told Caravanserai.
"That shows that our state's preservation depends on Russia. I hope that's not the case," he said.
Kassymkhan Kapparov, an Almaty resident and the founder of the online platform Ekonomist.kz, agreed.
"Summoning a foreign military force to Kazakhstan demonstrates that we're a failed state that can't handle its own domestic problems independently," he said.
Putin benefits
The Kremlin -- which is the de facto co-ordinator of the CSTO -- stood to gain the most from the unrest in Kazakhstan, analysts say.
Russian President Vladimir Putin told his counterparts in the bloc on January 10 that the peacekeeping forces had helped Kazakhstan cope with an "unprecedented challenge to its security, wholeness and sovereignty".
"We will not let anyone destabilise our countries or bring about so-called colour revolutions," Putin said.
However, the main beneficiary of the crisis was Putin himself, according to Dosym Satpayev, an Almaty-based political analyst and director of the Risk Assessment Group.
"Now [Tokayev] owes Putin," Satpayev said in an interview with the BBC last Friday. "This gift unexpectedly fell into [Putin's] lap."
Russian jingoists, in assessing the recent events, will begin to insist that Kazakhstan has proven to be a weak state and now will not be able to survive without Russia's help, he said.
"This is the ideal scenario for Putin," Satpayev said, adding that Putin hopes that Tokayev will lose the support of Western countries.
If the presidents of ex-Soviet countries become isolated from the international community, they will have only one place left to turn -- Russia, he said.
"I think this is a major problem for Kazakhstan right now, and the risks for our sovereignty have also grown," Satpayev said.
For his part, Putin also sought to defend Russian economic interests in Kazakhstan, according to Maxim Blant, an economics correspondent and host of the programme "Dengi na Svobode" ("Money at Large") on Radio Free Europe/Radio Liberty (RFE/RL) from Moscow.
"By the end of last year, Russian companies had injected more than $11 billion into their neighbour's economy. Almost a third of that money went into the mining sector, and another 20% went into the oil and gas industry," Blant said in a January 11 interview with RFE/RL.
One vivid example is the Russian company Lukoil, which holds a 5% stake in Kazakhstan's largest oil and gas project, Tengiz.
Tengiz accounts for 40% of hydrocarbon extraction in the country.
Lukoil also holds a 13.5% stake in the Karachaganak oil and gas field and a 12.5% stake in the Caspian Pipeline Consortium (CPC), a major international oil transportation project that carries oil from Kazakhstan to Russia and then on to Europe.
Red flags
Putin's recent gains come at the cost of Kazakhstan's sovereignty and independence, and the Kremlin is already exerting its newfound influence, say international and domestic observers.
Since the CSTO's intervention, emboldened Russian officials have publicly intervened in Kazakhstan's internal affairs.
Several have spoken out against Tokayev's appointment of Askar Umarov as minister of information and social development on January 11, accusing him of Russophobic past comments.
Yevgeny Primakov, director of the Federal Agency for the Commonwealth of Independent States Affairs, commonly known as Rossotrudnichestvo, did not mince words over the appointment.
"Rossotrudnichestvo does not maintain contact, work or co-operate with Russophobic garbage, so that rules out any co-operation on our part with this minister and the ministry he leads," Primakov wrote on January 12 on his Telegram channel, referring to Umarov.
That same day, Dmitry Rogozin, chief of Roscosmos (the Russian space agency), advised Umarov on Twitter not to plan on visiting the Baikonur cosmodrome, which Russia leases from Kazakhstan, to launch its rockets.
"He isn't welcome here," Rogozin tweeted on January 12.
Moscow is using the flap over Umarov to pressure the Kazakh leadership and achieve various political concessions, according to Gaziz Abishev of Nur-Sultan, a political observer.
In the future, Russia could apply pressure on Kazakhstan in an attempt to derail its plans to drop the Cyrillic alphabet in favour of Latin, he added.
"Now more than ever, our country needs to become stronger in order to withstand outside pressure," Abishev said.