KYIV -- Russian troops looted a regional history museum after they seized control of most of Mariupol, Ukraine, local officials said last month.
Numerous reports of looting have emerged since the start of the Russian invasion of Ukraine on February 24, with Russian troops accused of stealing everything from fishing equipment to tractors.
And now, their attention has turned to objects of historical importance and great value.
In Mariupol, organised groups of Russian soldiers repeatedly entered the local regional studies museum, said Petr Andryushchenko, an aide to Mariupol's mayor.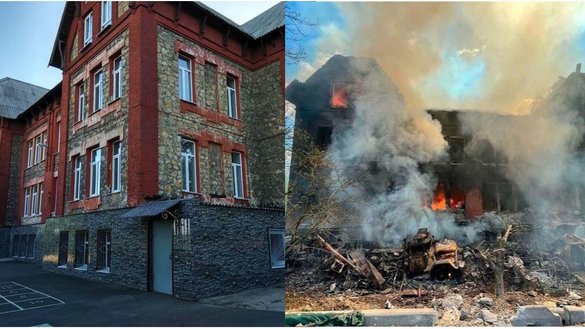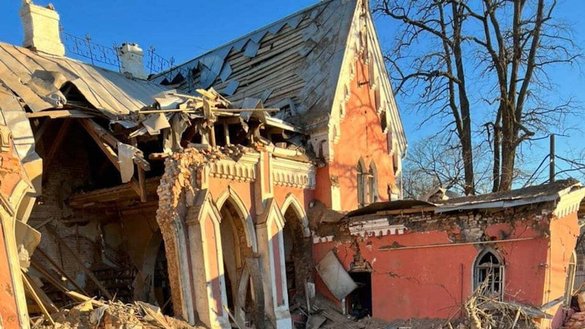 "When Russian soldiers first entered the... museum for the first time... a special collection of medals went missing," he said.
The building contained more than 50,000 exhibits of different eras and varying in economic value.
In a second visit to the museum, Russian soldiers breached its specially equipped storage facility, which houses most of its artefacts.
"Yesterday and today, Russian soldiers and officials of [the self-proclaimed Donetsk People's Republic] searched for museum workers and actually forced them to show the museum archives and everything in the vault," Andryushchenko said April 26.
"They started taking out valuable literary collections, as well as Scythian artefacts: bronze buckles, arrowheads," he added.
The most valuable artefacts were loaded into a truck and taken to the occupied city of Donetsk, he said.
"We understand that someone representing Russia is there [in Donetsk]. First, they will re-sort these items and then, as artefacts, they will go to exhibitions in Russia."
"By doing this they are stealing our cultural and historical heritage," Andryushchenko said.
Kherson museums in danger
About 400km to the west, museums in Russia-occupied Kherson are facing similar threats, observers said.
Russian forces have occupied the city for more than a month.
Kherson's mayor, Ihor Kolykhayev, who had remained in the city and continued working in city hall, said on April 25 that he had been kicked out.
"They took the keys and replaced our guards with theirs. I left at 7:45pm -- the Ukrainian flag still flew over city hall," Kolykhayev wrote on his Facebook page.
When Ukrainian authorities were in charge, the city's museums were all locked up, said Andriy Seletsky, a local regional studies specialist and a volunteer who has transported humanitarian supplies to Russian-occupied territory.
But now everything may change quickly, he said.
"Because the Russians are now getting kicked in the teeth [on the battlefield], they are becoming more and more improper. There is still a danger that they might go into the Kherson museums simply to loot," said Seletsky.
Kherson's regional studies museum has one of Ukraine's most valuable collections of antiquity, which includes archaeological finds from ancient Greek cities and colonies dating back to the 7th century BCE.
"This collection is unique not only because it is a wonderful cultural asset and illustrates the antiquity of the south but also because it survived World War II," Seletsky said.
The collection of the Kherson Art Museum, which brings together paintings by artists from all over the world, is in even greater danger, he added.
"Dragging an antique statue or an antique tombstone is much more difficult than just cutting a picture out of a frame and taking it away," Seletsky said.
Artwork has already been a casualty of the invasion.
In late February, a Russian missile hit a regional studies museum in the village of Ivankov, Kyiv province, destroying paintings by Ukrainian artist Maria Prymachenko.
The Ukrainian Ministry of Culture and Information Policy has since been keeping a tally of cultural heritage items damaged by Russian soldiers.
That statistic is growing by the day, Ukrainian Minister of Culture Oleksandr Tkachenko said on his Telegram channel on April 23.
"To date, the Ministry of Culture and Information Policy has recorded 242 instances. There has been greater destruction of our cultural heritage in Kharkiv province: 84 instances; in Donetsk, 45; in Kyiv, 38; in Chernihiv, 24; in Lugansk, 17; in Sumy, 14," Tkachenko wrote.
Damaging historical buildings
Most of the damage cited by Tkachenko came from Russian shells hitting historical buildings of local and national significance.
Chernihiv, a city with a 1,000-year history, has many such buildings. The oldest buildings, built back in the 11th-12th centuries, are concentrated in a single location and are adjacent to three museums.
During the 30-day siege of Chernihiv, shells landed near the ancient buildings and museums, which had no military value, Serhiy Laevsky, the director of one of these museums, said.
"The Spaso-Preobrazhenskiy Cathedral is a monument of national significance. Its facade was damaged by a cluster munition. Local architectural monuments suffered the most, including a house-museum of Ukrainian antiquities," said Laevsky, referring to the House of the Vasil Tarnovski Museum of Ukrainian Antiquities.
The Tarnovski museum survived shelling by the Bolsheviks in 1918 and 1919 and bombing by the Nazis in 1941, Laevsky wrote on Facebook March 11.
That museum is a hallmark of Chernihiv, said local historian and guide Volodymyr Pilipenko.
"The price and the value must be separated. The price is the material the building is made of, but the value is the meaning that we put into these buildings as well as the significance that these buildings have," he said.
Other buildings in Chernihiv were not even left standing.
A cinema built on the city's central square in the late 1930s was almost completely destroyed by a Russian missile.
The building was hit by a German bomb in 1941 too.
"On the one hand is the irony of fate, but on the other hand, we clearly understand who the Nazis' successor is in the destruction of Chernihiv," said Laevsky.