TASHKENT -- A remark by Belarusian President Alyaksandr Lukashenka suggesting that Uzbekistan will inevitably join the Union State of Russia and Belarus has drawn derision from Uzbek lawmakers and observers.
Uzbekistan and other former Soviet states could become part of the Union State -- formed in 1999 by Russia and Belarus -- within 15 years, Lukashenka said February 7 in an interview with YouTube channel Solovyov Live.
Ukraine and Armenia could also join the union in the future, he said, adding that Armenia has "nowhere to go". Lukashenka was likely referring to Armenia's plight after losing a war to Azerbaijan in 2020.
January's crisis in Kazakhstan, which involved deadly protests, was "a good lesson", he added, referring to several days of unrest that ended after troops from the Russian-led Collective Security Treaty Organisation (CSTO) intervened.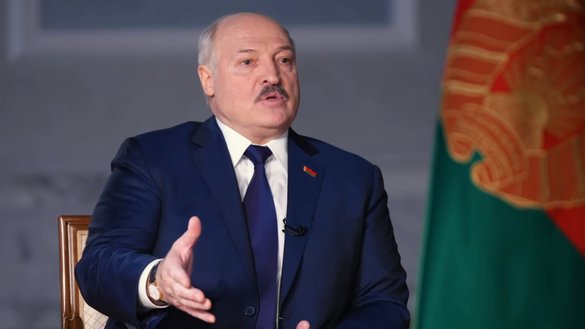 "And Turkmenistan, Uzbekistan and Tajikistan, out of necessity, primarily economic necessity, will also join, I think," Lukashenka said.
"It will be necessary to create some association with at least 350-450 million people, so that the economy works," said Vladimir Solovyov, a Russian TV journalist and host of the YouTube channel.
"Indeed, we see what the West is doing against us," he said vaguely, most likely a reference to Western support of Ukraine.
Solovyov has a history of making inflammatory and false claims to bolster Russia's influence in the Central Asian sphere.
It was not the first time Lukashenka urged Uzbekistan to join Russian-led blocs.
Uzbekistan in particular should learn from the lessons of the unrest in Kazakhstan, he said January 10, suggesting that those behind the violence there were also "eyeing" Uzbekistan.
Uzbek President Shavkat Mirziyoyev on January 13 responded by calling Lukashenka's remarks "baseless".
"We are closely monitoring the situation in the region, as well as all the challenges and threats to its security," he said. "We have all the necessary capabilities and power to adequately respond to any threat."
Lukashenka's 'fantasies'
Uzbek observers have responded negatively to Lukashenka's claims.
"People should not take seriously this man's fantasies about Uzbekistan," said Bobur Bekmurodov, chairman of the Yuksalish (Development) Nationwide Movement, an Uzbek NGO.
"The latest public opinion polls in Belarus show that Alyaksandr Lukashenka's rating stands at about 25-30%," he said. "And 46% of those polled said that they 'would never vote for Lukashenka.'"
Shakhnoza Soatova, an Uzbek blogger and adviser to the justice minister, urged the Uzbek Foreign Ministry to respond to Lukashenka's statement.
Uzbeks need confidence in tomorrow and in the durability of independence, she said. "Give a proper diplomatic reply to this person."
Lukashenka's statement means three things, according to Alisher Ilkhamov of London, an analyst of Central Asia.
"First, it is dictated by the desire to please Putin, especially at a time when Putin finds himself isolated from the international community," he said. "It doesn't matter whether Lukashenka acted on his own initiative or in agreement with the Kremlin."
Second, the Belarusian president himself is isolated internationally and is very uncomfortable in his solitude, which he wants to share with any other leader of post-Soviet states, he said.
"And third: The paradox is that his appeal is likely to be heard, especially after the CSTO was essentially transformed into a police department," Ilkhamov said. "It is this kind of 'police service' that a dictator needs, especially when he stays too long in the presidency."
Lukashenka seems to be saying that the Kremlin's help is necessary to stay in power, he added.
Team Putin
Lukashenka vowed to strengthen ties with Moscow after receiving Russian President Vladimir Putin's support following widely disputed presidential polls in August 2020.
Putin also promised the embattled Belarusian strongman a $1.5 billion loan, cementing the ties between the two countries.
After the mass demonstrations in Belarus, Lukashenka was forced to come to terms with the Kremlin's complete monopoly over his country, according to Uzbek political scientist Kamoliddin Rabbimov.
The demonstrations erupted after Lukashenka refused to concede the presidential election and drove the likely victor into exile.
Now he plays on Putin's team as a striker, Rabbimov said, using football terminology.
"Lukashenka's words mean that the Kremlin has a clear plan to recreate the USSR in a new format: there will be partial sovereignty ('solve your internal problems yourself'), but as part of the union, you will still be under the Kremlin's control," he said.
"This is a clear signal to Tashkent that its multi-vector geopolitical strategy is a temporary affair," he said.
"Moscow long ago crossed the Rubicon to create its own authoritarian alliance against the West," Rabbimov said. "But for now Uzbekistan ... is managing to maintain the geopolitical balance."
Turkmenistan and Uzbekistan largely do not belong to the Kremlin's strategic blocs, such as the CSTO and the Eurasian Economic Union (EEU), noted Bishkek journalist Adilbek Turdukulov.
They are pursuing an independent foreign policy, which greatly irritates Russian elites and leads to attempts to pressure Tashkent and Ashgabat into toeing the Russian line, he said.
"I think Lukashenka understands this; in reality this is how he solves his domestic political problems," he said.
"He diverts attention away from them, changes the subject and generally tries to demonstrate an outsized persona," Turdukulov said. "He puts himself on a par with Putin."