DUSHANBE -- Uzbekistan has completed the demining of its border with Tajikistan, say government officials, marking the end of a decades-old security measure aimed at thwarting potential raids by militants.
While neither country has released an official announcement on the demining programme, several sources in Tajikistan's government said the work has been completed.
"We still haven't received any official notification, but since Uzbek soldiers were the only ones to lay the mines, they knew exactly what area they had to clear," said Temur Tuichizoda, chief of the Administrative Law Department of the Sughd Province administration.
Confidence in Uzbek efforts
"The high level of trust established between the leadership of the two countries allows us to believe ... that this work was done on time and conscientiously," he added.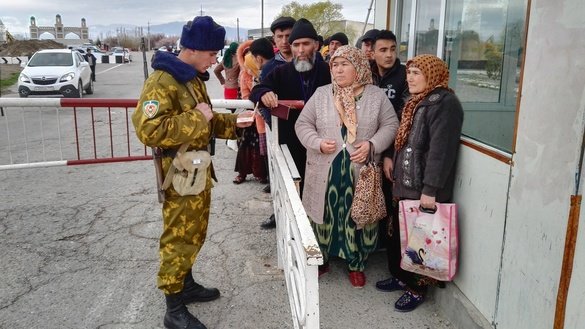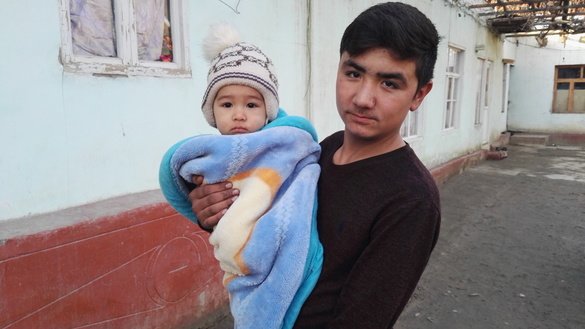 Following agreements reached during a visit by Uzbek President Shavkat Mirziyoyev to Dushanbe in March 2018, Uzbekistan had demined its border with Tajikistan, Asia-Plus reported January 3. It cited a security agency source.
Jurakhon Majidzoda, the chairman of the Committee on Law and Order, Defence and Security in the lower chamber of Tajikistan's parliament, also expressed confidence that the Uzbek demining programme is finished.
"According to the agreements reached by the parties, this work was supposed to be completed by the end of 2019, but we're still awaiting an official announcement," he said.
Uzbek soldiers placed antipersonnel mines on the border between Tajikistan and Uzbekistan in 2000-2001 after members of the Islamic Movement of Uzbekistan (IMU) attempted to infiltrate Uzbekistan via Tajikistan and Kyrgyzstan.
A series of terrorist acts in Tashkent also shook the Uzbek government and made it distrustful of its neighbours.
To thwart potential raids by militants, Uzbek troops laid mines in areas bordering the Isfara, Konibodom, Asht, Mastchoh, Zafarobod, Shahristan and Panjakent districts of Sughd Province, Tajikistan.
They later laid mines in Uzbek areas bordering other parts of southern Tajikistan.
Civilian casualties
The Uzbek minefields proved to be less effective against insurgents than anticipated. In the course of almost two decades, not a single insurgent was killed by a mine.
"Only civilians and livestock perished on either side," said Zainuddin Orifi, a Tajik analyst from Konibodom who has worked on mine casualties.
The first mine explosion on the Tajik-Uzbek border occurred on August 29, 2000, and killed four civilians -- two women and two children -- according to the Tajik Red Crescent. Another two Tajiks sustained shrapnel wounds.
All the casualties lived in Kizil-Pilol village, Isfara District.
Victims of the mines on the border with Uzbekistan share similar stories. Often they were ordinary, impoverished residents going out onto the steppe to gather kindling or to graze livestock.
In May 2001, Bakhrom and Savrinisso Umarov, a couple who lived in the settlement of Ravot in Konibodom District, set out with a box of silkworms from a local farm. They were counting on income from the cocoons they had produced to supplement the family budget.
The couple headed to the outskirts of their village to gather dry twigs to make whisk brooms for the spinning of the cocoons. They ended up in Uzbek territory and were blown up by a mine.
The first to learn of the tragedy was Uktam Kuziyev, Bakhrom Umarov's brother-in-law. It was reported that Bakhrom had died on the spot but that Savrinisso was alive when Uzbek border guards took her to the hospital in Besharik District. However, she died the next day.
"I went to Kokand to retrieve my brother-in-law's body from the morgue," said Kuziyev, the chairman of Ravot's mahalla council. "When I returned to Konibodom, I was told that the doctors weren't able to save Savrinisso either. So instead of one body, I took two home."
Lola Parpiyeva, a resident of Zarkhok village in Isfara District and former chairwoman of the village council, spoke of a similar event that happened 10 years ago.
In late 2010, a mine exploded near the village. It killed a married couple, Oibek Ibraкhimov and Zarifa Karimova, who had gone out to collect firewood on the outskirts of their village.
They left behind two children, Zarina, 10, and Jakhongir, 6, whose grandparents then raised them.
Residents of both Tajikistan and Uzbekistan are hoping for the end of such tragic stories now that the Uzbek demining efforts are approaching completion, said Orifi, the Tajik analyst from Konibodom.
"We hope that Uzbekistan, having charted a course toward developing reforms, friendship and co-operation with its neighbours in Central Asia, will now sign the Ottawa Treaty on land mines in the near future and that no one else in our countries will die from their explosions," Orifi added.
In the last 20 years 376 people were killed by antipersonnel mines in Tajikistan, while another 485 were severely injured, according to TMAC.
Seventy-eight Tajiks were killed and more than 160 were severely injured or disabled by land mines just in the zone bordering Uzbekistan.
On the other side, more than 150 Uzbeks were killed or injured by mine explosions during that period, according to unofficial data.
A lingering danger
Reports of the demining do not yet mean that the border territories are completely safe, warn mine specialists. Mountain slopes and ravines subject to rain and mudslides pose a particular danger.
Tajik border guards near Nefteabad village, Isfara District, recalled a land mine explosion last May near Zarkhok village. No casualties occurred.
"What happened was that in the summer when there was torrential rain, a mudslide ... sent a mass of rock and debris crashing onto the land. It turned out that there were a few mines on the land. So the sappers came and defused the rest," said Abubakr Mirov, a border guard sergeant.
Workers with international organisations are advising vigilance.
"Mines buried in the ground can shift based on the local topography and natural phenomena, so we can't rush to declare that land where mines exploded in the past is safe, and we can't take down signs or markers," said Ulmas Davlatov, the Mine Risk Education co-ordinator of the Tajikistan Red Crescent Society.
Inhabitants of the districts bordering Uzbekistan, where mines frequently detonated between 2000 and 2011, have long stopped collecting firewood and grazing livestock along the border. Gardeners work carefully whenever planting on unfamiliar land.
Ruziboi Rakhimov, who lives in the settlement of Navgilem, has a large family. He decided to cultivate a plot of land on a hill near the village of Khonobod.
Rakhimov obtained the support of local authorities, acquired two hectares of uninhabited steppe, planted trees, installed a water pump and conducted thorough land planning. After producing a crop of apricots and peaches, he decided to plant grapes.
For the grapes, he has decided to study a new plot of land. Knowing that mines had exploded nearby, he is proceeding with caution.
"We know that there are no mines on our land, but we're afraid that the rain has dragged them in from Uzbek territory," said Rakhimov. "Now that we've found out that Uzbekistan has demined its territory, we can rest easy."