DUSHANBE -- Tajik authorities are seeking to extradite four "Islamic State" (IS) extremists from Syria whom they have linked to numerous attacks and to recruiting efforts for the terrorist group.
Tajik authorities have established that Parviz Saidrahmonov and Tojiddin Nazarov are being held in "prisons in Syria and Iraq" after Kurdish forces captured them, the Tajik Prosecutor-General's Office said January 28, according to Radio Free Europe/Radio Liberty (RFE/RL).
Connections to Stockholm attack
Saidrahmonov, known as Abu Davud, and Nazarov, known as Abu Osama Noraki, both 32, are wanted in Russia and Tajikistan.
They were accomplices of Rakhmat Akilov, an ethnic Tajik from Uzbekistan who received a life sentence in Sweden after admitting in court to driving a hijacked truck into pedestrians in Stockholm April 7, 2017, killing three Swedes, a British man and a Belgian woman. The Swedish victims included an 11-year-old girl.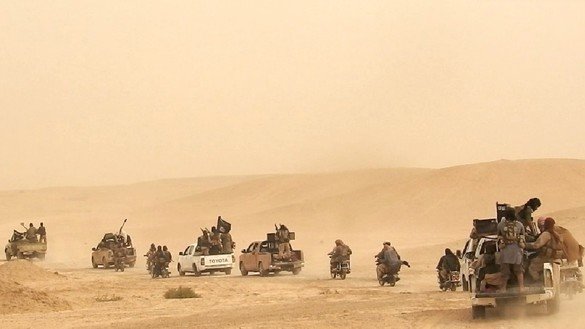 "We are completing paperwork to repatriate Saidrahmonov ... and we hope this militant will be brought back to Tajikistan soon," said Muzaffar Yusufi, a representative of the Prosecutor General's Office.
"Besides Saidrahmonov, some other IS militants who were engaged in recruiting Tajik citizens ... will be extradited, too," Yusufi said, without providing further details about the other extremists whom Tajikistan is pursuing.
Two others whom Tajikistan wants to extradite are Dilovar Dodoyev and Abdulahad Nazarov, sources close to Tajik law enforcement told RFE/RL. Both Tajik men were arrested in Syria in 2019.
"All of them will be delivered to the homeland and punished in accordance with the law," said Tajik Prosecutor General Yusuf Rahmon in Dushanbe January 31.
"Parviz Saidrahmonov is presently in Syria. We have reached a preliminary agreement with Syrian authorities on his extradition to Tajikistan," Yusuf Kurbon Muzaffar, director of the Republican Headquarters for Preventing Tajik Citizens From Joining Extremist and Terrorist Organisations, said at the same press conference.
"We expect a positive outcome from the work we have conducted. In addition to him, several other Tajik IS leaders in Syrian prisons, who recruited their compatriots, will be extradited," he said.
"We have a whole list that, among others, mentions Tojiddin Nazarov," he added.
Untangling threads
This effort marks the first time that Tajikistan has sought to extradite IS members imprisoned in the Middle East, rather than militants' family members, RFE/RL noted.
Dushanbe has repatriated dozens of children of Tajik IS members since the terrorist group's "caliphate" collapsed in 2019.
Stranding IS members and their family members abroad will endanger Tajik national security, says Dushanbe.
About 2,000 Tajik citizens, including women and children, have gone to Syria and Iraq since 2014, and more than 1,000 of them have been killed, said Interior Minister Ramazon Rakhimzoda last week, according to Avesta.tj.
"Syria does not know how to feed its civilian population. But [at the same time] it has to house and feed the militants," said Sughd Provincial Assistant Prosecutor for Especially Serious Cases Tavakkal Faizullo Akhmadiyen (formerly Tavakkal Faizullozoda).
"Syrian authorities want militants from other countries to leave the country as soon as possible. So, there won't be problems in this regard," he said. "But, there is another problem: how to extradite the militants?"
"The question of transporting ... dangerous criminals needs to be resolved," said Akhmadiyen. "It's not easy."
The extradition of Saidrahmonov and Nazarov "will untangle many threads and reveal secrets of IS's activities in the post-Soviet space", said Sherali Rizoiyon of Dushanbe, an analyst who previously worked at the Strategic Research Centre under the President of Tajikistan.
Authorities "will get important information about the technology for recruiting civilians into the ranks of IS, and how and under what circumstances several hundred civilians were recruited," he said.
Ideological defeat
"If one of the detainees won't say, then another definitely will. They are not as brave as they seem... they will easily betray their zealots in order to 'earn' at least decent treatment from investigators," said Rizoyen.
"They can talk about the location of dozens of their associates, where they are, what happened to them, plans for terrorist plots. This will be very valuable information for law enforcement in the fight against terrorism and extremism," he added.
"If we call the war lost by IS the military defeat of IS, then I would call the militants' extradition to their homeland the ideological defeat, since in their homeland they will be exposed once and for all as liars who fraudulently recruited hundreds of their compatriots, promising them happiness and prosperity," said Sukhrob Rustamzoda, chief of the Department of Religious Affairs of the Sughd provincial government.
After the removal of ideologues such as Saidrahmonov and Nazarov from the political scene, "IS may be deprived of a major channel for recruitment among citizens of Central Asian countries," he added.
Besides trying to take custody of Tajiks who fought for IS in Syria and Iraq, Tajikistan continues to fight extremism at home.
Last year, Tajik police arrested 161 terrorists and extremists, said Interior Minister Rakhimzoda last week. In addition, with the aid of Tajik law enforcement, 218 Tajik militants who had fought abroad returned home.
The country suffered two terrorist acts last year, but authorities prevented two others, he added.