NUR-SULTAN -- A temporary conscription of a number of veterans will bolster efforts by the Kazakh armed forces to ensure public order and strengthen measures to contain the coronavirus pandemic, says the Kazakh government.
As of Friday (April 10), Kazakhstan had 802 confirmed cases, including nine deaths.
Among their duties, those called back into the military will guard security checkpoints and disinfect areas as COVID-19 spreads, Kazakh Defence Minister Nurlan Yermekbayev said on April 7 at a meeting at the Defence Ministry.
Yermekbayev has ordered the military to provide uniforms to the conscripts and carry out all activities in strict compliance with sanitary and hygienic standards.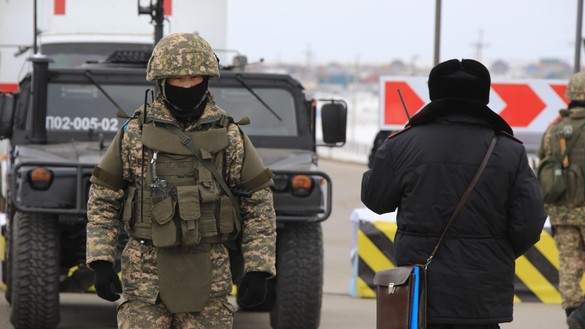 The conscription follows a decree by President Kassym-Jomart Tokayev on April 2 ordering those subject to the recall to report for temporary service in territorial units of the armed forces.
Yermekbayev on April 3 held a briefing in Nur-Sultan to clarify details of the special draft and authorities organised a round-the-clock call centre to answer questions from the draftees, the Ministry of Defence said in a statement.
"Provincial leaders will be able to call up conscripts for special temporary military service" lasting as long as three months, Yermekbayev said at the briefing.
"During the period of military service, the conscripts' workplaces and positions will be held for them," he added. "They are paid the average wage at the expense of the state."
Unemployed conscripts "will be paid minimum wage", he said.
The veterans will be called up for service in their towns and will be able to go home every night after completing their duties, said Yermekbayev.
"Those subject to military service in Kazakhstan have previously served in the military or are reserve officers who graduated from military academies," said Nur-Sultan lawyer Alibek Basheyev. "[Former] soldiers up to the age of 50 and officers up to 60 years old may be called up."
According to the presidential decree, women, civil servants, civil aviation workers, students, teachers and farmers are exempt from the draft, Basheyev said in an interview.
"There also are other exemptions for health, the presence of three minor children, and some other factors," he noted.
Some citizens are not waiting to be drafted.
Shymkent resident and veteran Alinur Tursunov, 26, voluntarily signed up.
"Now, because of the coronavirus, our furniture workshop is not operating," he said. "But in military service, I will receive a salary. But it's not only about the money. I want to help people, to make my contribution."
Protecting soldiers
Tokayev announced this decree during a March 23 meeting of the State Commission on Securing the State of Emergency. It deployed the military to enact preventive measures and to maintain order during the pandemic.
"The growth of crime must not be permitted: above all, instances of theft, robbery, looting and disobedience of authorities' lawful demands," said Tokayev.
In addition to patrolling public places and guarding security checkpoints, troops are carrying out disinfection procedures and transporting cargo. On April 6, military aircraft transported 10 tonnes of cargo and 350 troops from other provinces to Uralsk, Kostanay and Petropavlovsk.
At the same time, the military is taking steps to lessen the potential for infection among troops.
All military units allow access only through a single entrance where personnel must pass through medical screening equipment, according to the Ministry of Defence.
In addition, personnel must wear masks and undergo a medical examination twice a day. Whenever they assemble in formation, they must stay two metres apart.