NUR-SULTAN -- Kazakhstan plans to modernise the weaponry of its armed forces in 2020 as part of a plan to optimise military spending, according to Defence Minister Nurlan Yermekbayev.
Yermekbayev told Kazakh President Kassym-Jomart Tokayev about the plans during a meeting on Tuesday (February 11) in Nur-Sultan, according to Tokayev's press office.
The Defence Ministry expects to save 10 billion KZT ($26.5 million) this year after completing a "functional analysis" of its spending and reducing its staffing levels, said Yermekbayev.
Yermekbayev apparently foreshadowed those staffing cutbacks in a discussion last November with Tokayev, when the defence minister spoke of "laying off 300 full-time employees of the ministry, general staff and local military departments, which is expected to save 450 million KZT ($1.2 million) per year starting in 2020".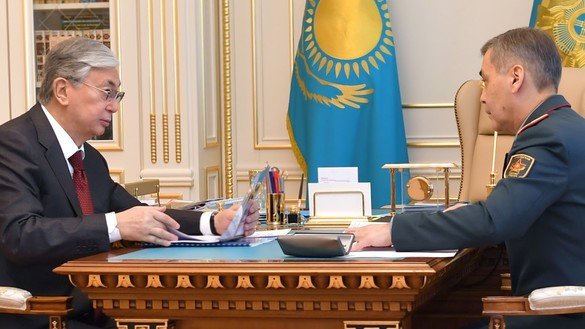 The funds freed by the layoffs will go toward financial incentives for service members, said Yermekbayev at the time, according to Tokayev's press office.
Ambitious plans to modernise
At the February 11 meeting, Yermekbayev detailed plans to give the military more-modern weapons, to refurish and modernise the military's vehicle fleet, and to create a Virtual Draft Committee that would enable conscripts to perform most interactions with their respective draft committees online.
He and Tokayev discussed continuing efforts to clean up after a fire last June at an arms depot in southern Kazakhstan that led to explosions and took two lives.
After that disaster, the military inspected every arms depot nationwide and took steps to upgrade ammunition storage infrastructure.
During the meeting, Tokayev tasked Yermekbayev with strengthening international military and technical co-operation, outfitting the military with effective weapons and improving the quality of military education and the military training process.
Nur-Sultan on May 28-31 will host the KADEX-2020 international arms show, where defence contractors from more than 30 countries will be displaying their wares.