ALMATY -- Kazakhstan is increasing its defence spending to better tackle modern threats, with a focus on regional security.
In the first two months of 2019, Kazakh defence spending amounted to 136.4 billion KZT ($359 million) versus 78.9 billion KZT ($207 million) in the same period last year, according to Finprom.kz, a financial analytics firm. The figures represent an increase of 73%.
As of March 1, defence spending accounted for 7.1% of government spending, compared with 4.9% a year earlier.
Kazakhstan will continue to increase its military might, predicted Dauren Ospanov, a retired army major from Almaty.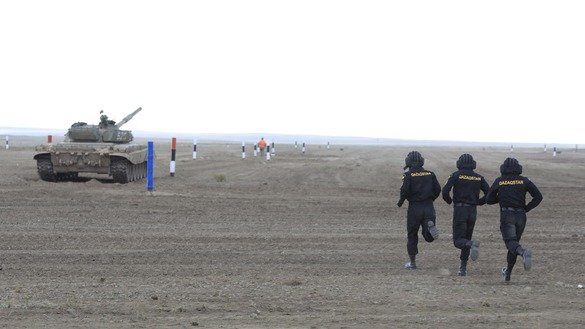 "There are plenty of threats," he told Caravanserai. "This year we had a transfer of power, early presidential elections are scheduled for June and there are external forces seeking to destabilise Kazakhstan."
Focus on regional security
Kazakhstan is increasingly concerned about challenges to national and regional security, Georgy Dubovtsev, a military analyst from Nur-Sultan and chief researcher at the Kazakhstan Institute for Strategic Studies, told Caravanserai.
"Above all, it's the Afghan factor," he said. "The top priority in this case is the fight against terrorism ... extremism, drug trafficking, trans-national crime and illegal migration."
Kazakhstan's security strategy covers not only the country itself but also the entire Central Asian region, according to Dubovtsev, adding that Nur-Sultan is committed to military co-operation with neighbouring countries.
In April, Kazakh President Kassym-Jomart Tokayev made an official visit to Tashkent, where he signed strategic agreements with his Uzbek counterpart, Shavkat Mirziyoyev.
The two countries' ministries of defence agreed to co-operate on air defence, the maintenance of military airfields and the protection of warplanes on those airfields.
In the same month, on April 11, Kazakhstan's upper house of parliament approved the transfer of military equipment and munitions to Dushanbe to help bolster defence along the Tajik border with Afghanistan. Tokayev signed the bill into law April 22.