ASHGABAT -- The shutdown of a Turkmen-language newspaper in Iran is part of Tehran's latest efforts to oppress Turkmens and other ethnic groups living in that country, say analysts.
Sakhra, which published in Iran for 22 years, had its licence revoked by Iranian authorities, Radio Free Europe/Radio Liberty (RFE/RL)'s Turkmen service reported on September 6.
The official reason given for the revocation of the publication licence was that one of the newspaper's founders had fled the country, said one employee of the defunct newspaper, speaking on condition of anonymity to RFE/RL's Turkmen service.
Agajuma, a Turkmen scholar of Iran, said that like many of his colleagues in Ashgabat, he was outraged to learn of the shutdown of the newspaper.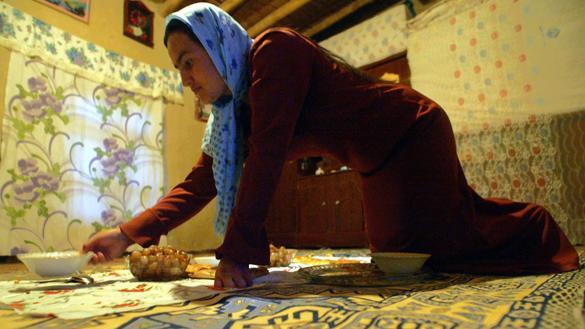 "It's outrageous. To me, this is an attempt by the Iranian authorities to rob ethnic Turkmens, who have been living in Golestan Province for centuries, of their right to their native language," Agajuma said.
A large, centuries-old Turkmen diaspora lives in the Iranian provinces of Golestan and North Khorasan, which border Turkmenistan.
Magtymguly Pyragy, an 18th-century Turkmen poet, and his father, Sufi scholar Döwletmämmet Azady, are buried in Golestan, and their graves have become a pilgrimage site for Turkmens the world over.
Losing national identity
In recent years, the Iranian regime has been carrying out a policy against ethnic Turkmens and other ethnic minorities that closely resembles genocide, said Agajuma.
Indeed, various human rights observers have denounced the Iranian regime for oppressing minorities that, like the Turkmens, are neither Persian nor Shia.
The regime "discriminates against ... religious minorities, including Sunni Muslims", said Human Rights Watch in a 2020 report.
"In state schools, children are effectively forbidden from speaking or learning in any language except Persian," said a 2019 study posted by the Washington Institute for Near East Policy.
"The ayatollahs' regime has already ... disenfranchised Turkmens in many aspects of life, and now it's essentially taking away their linguistic rights. The smallest trifle remains: physically annihilating the Turkmens there as an ethnicity," said Agajuma.
Agajuma said he learned firsthand about how Iranian authorities are deliberately working to erase ethnic minorities' identities.
"I went to Iran as part of a delegation of creatives from Turkmenistan. I visited Magtymguly's and Azady's graves in Golestan and talked extensively with local Turkmens. It was hard to believe what they whispered to me, but then it turned out that they were telling the truth," Agajuma said.
"The life of our kinfolk in Iran strongly resembles the life of the Soviets during the mass persecutions in the 1930s," he said, adding that in Iran authorities break into civilians' homes at night and take them to unknown locations.
"The Iranian security service is especially harsh with leaders and activists of the Turkmen diaspora," Agajuma said.
Political motives drove the shutdown of Sakhra in Iran, said Agajuma.
"I would hold Sakhra in my hands and read it with interest. It was the voice of all Turkmen-Iranians who for decades have been trying to stand up for their political and human rights," Agajuma said.
Along with classic Turkmen literature, insightful articles on Turkmen history, culture, traditions and customs and news from the ancestral homeland, the newspaper broached issues that concerned all Turkmen-Iranians and articulated their demands toward the central government.
"But that didn't sit well with the spiritual leaders and authorities," Agajuma said.
Turkmen historian Yusup Aganiyazov, whose last name has been changed to protect his identity, shares Agajuma's sentiment that the move against the newspaper is another attempt by Tehran to weaken ethnic Turkmen culture and influence.
"Shutting down Sakhra is just one link in a chain of actions aiming for a complete 'Persianisation' of members of other [non-Persian] ethnic groups," said Aganiyazovm, who is based in Ashgabat.
"This Turkmen newspaper was published for 22 years, and suddenly its licence was revoked. I'm sure that this is a manoeuvre by the Iranian authorities aimed at undermining Turkmen-Iranian relations as a whole," he said.
Turkmenistan advocates co-operation and the preservation of neighbourly relations with all the countries in the region, he said.
"We're doing this successfully with all of them" -- except in Iran, where "all this work is going to waste," he said.
'Persianisation' of ethnic minorities
The Turkmen population in Iran skyrocketed throughout the first half of the 20th century, during the imposition of Soviet rule in Turkmenistan and the Stalinist persecutions in the 1930s and 1940s, according to historians such as Aganiyazov.
One of the largest Turkmen diasporas abroad lives in Iran, said Aganiyazov.
As many as 3 million ethnic Turkmens live in the country, according to Aganiyazov's research.
However, "Iran is conducting this policy of Persianisation of ethnic minorities, so it's concealing the size of the Turkmen population," he said.
"We regularly get news of new prohibitions that the Iranian government imposes on other [non-Persian] ethnic groups living in Iran," Aganiyazov said.
The Iranian regime has deprived young ethnic Turkmens of the right to go to school in their native language, preserve their cultural uniqueness and live according to their ancestors' customs, he said.
Aganiyazov cited other violations of the rights of ethnic Turkmens and other minorities in Iran.
In particular, authorities often violently evict residents from their homes, deprive them of the right to own land and ban them from hunting, fishing and other activities, he said.