ASHGABAT -- Turkmenistan is taking steps to protect its borders and inhabitants after Iran admitted to accidentally shooting down a Ukrainian passenger airliner earlier this month amid heightened war tensions in the region.
The Ukrainian airliner went down in the dark on January 8 just minutes after takeoff -- and just hours after the Iranian regime fired 22 missiles on two bases housing US and other foreign troops in Iraq.
All 176 passengers and crew were killed including 82 Iranians, 63 Canadians, 11 Ukrainians, 10 Swedes, four Afghans, three Germans and three Britons.
Despite video and circumstantial evidence pointing to a surface-to-air missile hitting the airliner, Tehran continued for days to deny that its own missile took down Ukraine International Airlines Flight PS752.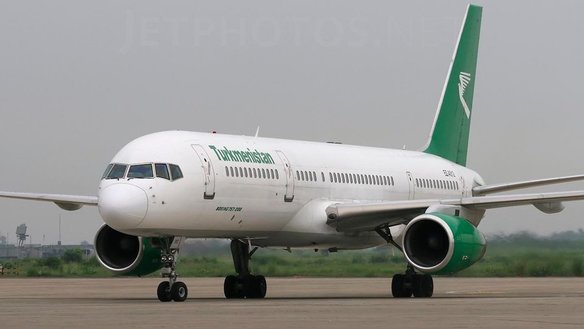 But faced with increasing international and internal pressure, Iranian President Hassan Rouhani on January 11 finally admitted the truth -- that the Iranian military shot down the plane in a "catastrophic mistake".
Tehran's Islamic Revolutionary Guard Corps (IRGC) aerospace commander accepted full responsibility for the incident but said the missile operator acted independently, targeting the passenger airliner after mistaking it for a "cruise missile".
Flights suspended
The incident sparked outrage and increased Turkmen citizens' mistrust of the Iranian regime.
"In the modern world of high-tech and the latest air target identification systems, how can a civilian aircraft be confused with a ... cruise missile?" said Merdan Atayev, an aviation safety specialist at Ashgabat International Airport.
One possible explanation is that Iran relies on a Russian-made air defence system, which utilises outdated software unable to discern between military and civilian aircraft.
Outdated Russian military equipment was involved in other catastrophic mishaps in 2019. Examples include the deadly crash of a Russian-built Mi-8 helicopter in Kazakhstan in March, a deadly fire on a Russian deep submersible in July, and a major fire that torched Russia's only aircraft carrier in December.
Before the Ukrainian plane went down, Turkmenistan Airlines' routes to and from Dubai flew over Iranian territory. Two days after the tragedy, on January 10, the airline announced the suspension of its flights over Iran.
The suspension was introduced "to ensure flight safety", according to the announcement.
Kerimberdy Kossekov, a retiree from Ashgabat, praised the decision to halt Turkmen flights through the airspace of "unpredictable and dangerous" Iran.
"No one is immune to error or to the human factor, but in this case Turkmenistan Airlines' decision to stop flights over Iran was the correct decision," he said.
"Who knows, maybe there will be another alarmist in the Iranian air defence system who will mistake a civilian plane for a military target and bring it down," he said.
Borders closed
Along with the suspension of flights over Iran, Turkmenistan closed all land border crossings with its neighbour.
A Turkmen State Border Service officer confirmed the Turkmen-Iranian border closure.
"It happened on the day when information about the downing of the Ukrainian airliner became known: that is, January 8," he said on the condition of anonymity.
While local media have not reported on the measure, Austrian-based Chronicle of Turkmenistan reported on it January 10.
Turkmenistan shares a 992km-long border with Iran, along which four checkpoints are situated, according to the border guard. "All of them are closed for both people and cargo," he said.
Several individuals trying to cross that border verified its closure to Caravanserai January 14.
For instance, a 48-year-old Ashgabat woman named Gulyalek was unable to leave for medical treatment in Iran through the Gaudan-Bajigiran border crossing.
Yakub, an entrepreneur from Balkan Province who is involved in cross-border trade, was unable to receive his goods shipped from Iran because of restrictions imposed by customs officials.
Hundreds of trucks have amassed at the closed Saragt, Artyk and Etrek checkpoints, sources told Caravanserai.
Representatives of Turkmenistan's border, customs and migration services are not disclosing the reason for the closure of the checkpoints or any dates for their reopening.
Growing mistrust
Turkmens' distrust of Iran goes back centuries and has increased noticeably in recent years because of the Iranian regime's unfriendly policies in the region, according to an Ashgabat-based journalist and scholar of Iran who requested anonymity.
"Recall how in August 2019 at the Caspian Economic Forum in Avaza, Behrouz Namdari, a representative of the National Iranian Gas Co., spoke out against Turkmenistan's [proposed] construction of a gas pipeline on the bottom of the Caspian Sea," the journalist said.
"Iran is opposed to [the pipeline's] construction," Namdari said at the time.
The journalist cited other cases when the Iranian regime torpedoed several large projects designed to promote regional co-operation and development.
Iran owes Turkmenistan about $2 billion (7 billion TMT) for previously supplied natural gas, he said.
The Korpeje–Kordkuy gas pipeline -- a 200km-long natural-gas pipeline from the Korpeje field in western Turkmenistan to Kordkuy in Iran -- is largely inactive because of Iranian stonewalling, he added.
Moreover, cargo shipments on the new Kazakhstan-Turkmenistan-Iran railway are not up to full capacity.
"Turkmenistan invested hundreds of millions of US dollars in these facilities, and it has all turned out to be in vain," he said.
Deception by Iranian media
The Turkmen journalist also accused the Iranian media of spreading lies.
The Iranian state news agency lied on January 13 when new Iranian Ambassador to Turkmenistan Gulam Abbas Arbab-Khales presented his credentials to Turkmen President Gurbanguly Berdymukhamedov, he said.
"Iranian media, in particular IRNA, reported that during the meeting, Turkmenistan's head of state expressed his condolences regarding the 'martyrdom' of Iranian Gen. Qasem Soleimani on January 3," he said.
"However, Turkmen media, particularly the state news agency TDH's news feed, didn't have a word about 'condolences' or the general's alleged 'martyrdom,'" he said.
"Such an outright lie does not foster mutual trust," the Turkmen journalist said.
A US drone killed Soleimani, commander of the IRGC's Quds Force, in Baghdad.
The US government designated the IRGC a terrorist organisation last April following decades of hostile acts worldwide by the group.