TEHRAN -- The Iranian regime is continuing to deny its security forces had any involvement in the fatal crash of an Ukrainian airliner in Tehran this week even as videos, photos and circumstantial evidence clearly suggest the plane was struck by a surface-to-air missile.
The flight went down in the dark Wednesday (January 8) just minutes after takeoff, with no radio message from the pilot to indicate distress, according to the Iranian Civil Aviation Organisation.
All 176 passengers and crew were killed including 82 Iranians, 63 Canadians, 11 Ukrainians, 10 Swedes, four Afghans, three Germans and three Britons.
On Thursday (January 9) a video emerged that appeared to show the moment the airliner was hit.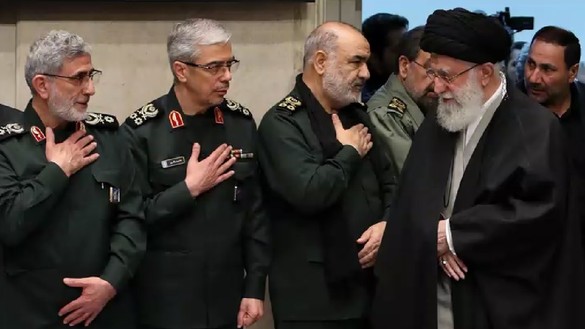 The video, which The New York Times verified, shows a fast-moving object rising at an angle into the sky before a bright flash is seen, which dims and then continues moving forward. Several seconds later an explosion is heard.
That and other footage posted on social media increasingly point to a catastrophic mistake by Tehran's air defence crews in bringing down Ukraine International Airlines Flight PS752.
This growing body of evidence comes while Tehran has made a number of choices that have led many to suspect a cover-up, including the regime's insistence that only certain individuals see the plane's black boxes, and the continuing Iranian refusal to permit a full investigation of the matter.
The incident also took place just hours after Tehran launched missiles at US forces in Iraq in retaliation for the killing of Maj. Gen. Qasem Soleimani, commander of the Quds Force of Iran's Islamic Revolutionary Guard Corps (IRGC). A US drone strike killed Soleimani in Baghdad January 3.
In light of the heightened war tensions at the time, the context has led many world officials and analysts to assume that Iranian air defence personnel made a tragic mistake.
A deadly mistake?
Iran is equipped with a Russian-made air defence system, which utilises outdated software that is unable to discern between military and civilian aircraft.
Outdated Russian military equipment was involved in other catastrophic mishaps in 2019. Examples include the deadly crash of a Russian-built Mi-8 helicopter in Kazakhstan in March, a deadly fire on a Russian deep submersible in July, and a major fire that torched Russia's only aircraft carrier in December.
An Iranian surface-to-air missile hit the airliner after it took off from Tehran, Canadian Prime Minister Justin Trudeau, citing multiple intelligence sources, said decisively January 9.
"We know this may have been unintentional," he told reporters. "Canadians have questions, and they deserve answers."
He was backed by other Western leaders, including British Prime Minister Boris Johnson, who said mounting evidence supported the likelihood of a missile strike, which "may well have been unintentional".
Washington officials believe the Kyiv-bound Boeing 737 was struck by one or more Iranian missiles before it exploded outside Tehran, indicated US President Donald Trump.
Iran dismisses evidence
Despite the evidence, Iran continues to deny a missile strike took down the passenger plane.
"One thing is for certain: this airplane was not hit by a missile," Ali Abedzadeh, Iran's civil aviation chief and deputy transport minister, told a news conference in Tehran on Friday (January 10).
"We have seen some videos. We confirm that the airplane was on fire for 60 to 70 seconds," Abedzadeh said. "That it was hit by something cannot be scientifically correct."
"Such rumours make no sense," he said.
"This story of a missile striking a plane cannot be correct at all," the Transport Ministry said in a statement.
Official Iranian sources have a long history of mendacity.
In the latest example, Iranian state media said at least 80 American troops were killed in a barrage of missiles against Iraqi bases on January 8. However, US and Iraqi officials confirmed the attack resulted in no casualties.
Ukraine, allies seek the truth
Ukraine January 10 asked international partners to provide any evidence they may have to help investigators probing the incident.
"If any country has information that can help conduct a transparent and objective investigation into the tragedy, we are ready to receive it and co-operate in further verification," the Ukrainian presidency said in an English-language statement.
"Ukraine is interested in finding the truth," the statement continued.
Shortly thereafter, US officials gave Kyiv "important data" about the crash, Ukrainian Foreign Minister Vadym Prystaiko said Friday.
US Secretary of State Mike Pompeo issued a statement calling for "complete co-operation with any investigation into the cause of the crash".
The European Union January 10 demanded an "independent and credible" probe.
The Canadian government will ensure a "thorough investigation" until "Canadians' questions are answered", said Trudeau.
Johnson spoke to Ukrainian President Volodomyr Zelenskyy in a phone call in which he received an update on Ukraine's efforts to establish the facts and called for a "full, credible and transparent" investigation into the crash.
"The reports we have seen are very concerning, and we are urgently looking into them," a spokesman for the British prime minister said.
The US National Transportation Safety Board late January 9 said it had received formal notification of the crash from Iran and would send a representative to join the crash probe.
According to aviation insiders, only a handful of countries are capable of analysing black boxes -- notably Britain, France, Germany and the United States.