Tensions appeared to ease Wednesday (January 8) after an Iranian missile attack on Iraqi bases housing US and other foreign troops resulted in no casualties.
US President Trump in an address to the nation confirmed that the attacks only resulted in minimal damage to US facilities in Iraq.
Iran fired missiles Wednesday at Iraqi bases used by the US military, officials in Washington and Tehran said, in the first act of the Islamic republic's promised revenge for the US killing of Maj. Gen. Qasem Soleimani, commander of the Quds Force of Iran's Islamic Revolutionary Guard Corps (IRGC).
Soleimani was killed in Baghdad January 3.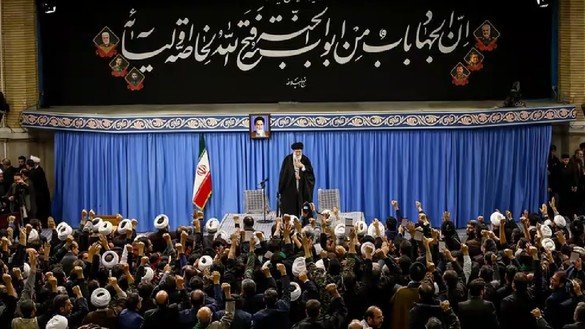 A total of 22 missiles struck two bases at al-Assad and Irbil housing US troops in Iraq, but there were no Iraqi casualties, the military in Baghdad said Wednesday after the overnight attack.
The IRGC, which was designated a terrorist group last April, took immediate responsibility for the missile attacks and issued more threatening statements.
"Any new malicious act or movement of aggression will be met with even more painful and devastating responses," the group said.
Iran-backed Iraqi militias also issued threats, promising their attacks "will be no less than the size of the Iranian response".
"As long as I am president of the United States, Iran will never be allowed to have a nuclear weapon," Trump said to start his remarks, and later detailed how the United States was going to impose new sanctions on Tehran.
Trump went on to detail how Soleimani for decades had been responsible for killing and injuring thousands of Americans and their allies in Iraq, Yemen, Syria, Lebanon and Afghanistan.
"He should have been terminated long ago," the US president said.
World response
Leaders around the world on Wednesday (January 8) condemned Iran's missile attack.
British Prime Minister Boris Johnson Wednesday called on Iran not to repeat rocket attacks on Iraqi bases housing coalition forces.
"Iran should not repeat these reckless and dangerous attacks but should instead pursue urgent de-escalation," Johnson told parliament.
Germany's defence minister condemned Iran's newest attack and called on Tehran to end a "spiral" of conflict.
"The German government strongly condemns this aggression... it is now primarily up to the Iranians to refrain from further escalation," Annegret Kramp-Karrenbauer told broadcaster ARD.
The attack was yet another example of "escalation and increased confrontation", said European Union (EU) foreign policy chief Josep Borrell.
"It is in no one's interest to turn up the spiral of violence even further," he added. He too warned that the crisis was hampering the fight against "Islamic State" (IS).
EU foreign ministers will hold emergency talks on the Iran crisis Friday (January 10) to discuss what the bloc can do to reduce tensions.
Attack a 'violation of Iraqi sovereignty'
The speaker of the Iraqi parliament, Mohammed al-Halbusi, on Wednesday condemned a salvo of retaliatory Iranian missile strikes a "violation of Iraqi sovereignty".
Halbusi, the most senior Sunni Arab in Iraq's confessional power-sharing system, called for urgent measures to stop Iraq being turned into a proxy battlefield for outside powers.
"While we condemn the Iranian violation of Iraqi sovereignty at dawn today... we confirm our absolute refusal to the conflicting parties to use the Iraqi arena to settle scores," he said.
Iraq's prime minister's office issued a similar statement.
"Iraq rejects any violation of its sovereignty and attacks on its territory," the premier's office added.