Ongoing Russian air strikes in and around the north-western Syria province of Idlib have caused devastation on a massive scale, wiping out agricultural production and commerce and depriving children of an education.
Russian planes have been bombing targets in the area for years, but the campaign of violence has intensified lately, with this weekend witnessing more than 20 air strikes, the most extensive since the "ceasefire" with Turkey six months ago, local reports said Monday (September 21).
Deliberate bombing of civilian targets, including hospitals, by Russian warplanes has killed at least 6,500 civilians and displaced nearly a million, and Russian military incursions in eastern Syria are disrupting efforts to battle "Islamic State" (IS).
The air strikes have caused waves of displacement, with some Syrians speculating that Russia seeks to effect demographic change in the region by ensuring they do not return.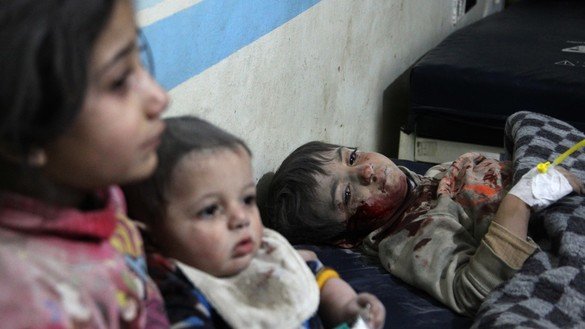 Idlib farmer Mahmoud Ismail said the Russian air strikes targeting the province and its outskirts have led to an almost complete halt in agricultural operations, as farmers fear being targeted.
Russian attacks also harm other businesses, such as the owners of agricultural tractors and traders, whose work has come to a complete halt, Ismail said.
This has forced shopkeepers to import goods that were once locally produced from outside the region, driving up the prices of essential foodstuffs.
Meanwhile, Russian air strikes have sparked fires that have destroyed thousands of hectares of agricultural land and forested areas, he said, noting that the strikes even targeted areas where there were no combatants.
The White Helmets have struggled to contain these conflagrations, he said.
"It seems as if the intent was to turn these areas into scorched earth that is totally uninhabitable," Ismail said, noting that thousands of homes have been destroyed by shelling conducted on an almost daily basis.
Schools shuttered
Agricultural areas in Idlib are being targeted by Russian air strikes and Syrian regime shelling, said White Helmets member Khaled al-Khatib.
This is in addition to indiscriminately planted landmines and unexploded ordnance, including thermobaric and cluster bombs, dropped by Russian warplanes, which have killed or wounded many farmers, he said.
"Many towns and villages have been leveled to the ground in a deliberate and systematic manner," he said, adding that it seems Russia is trying to effect demographic change "by driving residents out of this region to border areas".
The forced displacement of so many civilians, along with the destruction and damage of dozens of schools, has severely disrupted children's education, al-Khatib said.
This means "an entire generation of children in Idlib and its environs is effectively deprived of education, except for the very small percentage of children who remained in the city of Idlib", he said.
Even these children do not attend school on a regular basis, however, because they seek shelter whenever they hear the sound of warplanes, he added.
Towns, villages emptied
Maaret al-Numan activist Hani al-Numan, who is currently displaced to the border region, said Russian air strikes triggered a massive wave of displacement of hundreds of thousands of civilians.
Dozens of towns and villages have been emptied of their residents, with all work halted and thousands of shops closed, he said.
This has left thousands of shop owners and workers without income "as it is impossible to conduct business in the camps", al-Numan said.
There are no job opportunities in the camps, he added, and most camp residents rely on the aid provided by the relief organisations that still operate in the region.
Even shops that are still operational in Idlib city are struggling due to the weak purchasing power of residents amid a deteriorating economy, he said.
Most of the merchants who were displaced depleted all of their savings during the displacement period, he said, and are generally unable to revive their businesses, even if they return to their areas.