Russian military incursions in eastern Syria are disrupting efforts by the Syrian Democratic Forces (SDF) and US-led coalition to fight the "Islamic State" (IS), local military officials and analysts say.
"Russian forces in Syria have been expanding their presence on the ground for quite some time and have extended their reach to many areas in eastern Syria, namely areas controlled by the SDF, which is backed by the international coalition," said SDF officer Farhad Khoja.
These areas are considered "hotspots" due to the proliferation of IS sleeper cells and lone wolves, he said.
"The Russian incursion has become a hindrance to military and intelligence operations" as the overlap of forces on the ground is weakening "the grip that the SDF used to have over security", Khoja said.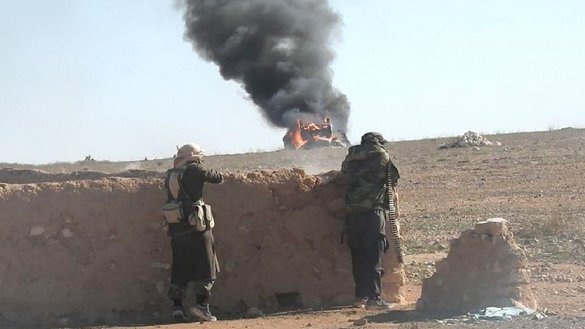 The Russian incursions extend from "the Palmyra desert to Deir Ezzor and its desert to north-eastern Syria, up to Qamishli", he said.
The presence of Russian troops in the area is providing IS elements with the ability to move around, secure logistical supplies and carry out sporadic terrorist attacks, he added.
Opening door for new conflicts
"Russian forces did not stop at expanding their own presence," he said. "They also are making persistent attempts to establish new militias affiliated with them using financial enticements, with the primary focus on SDF-controlled areas."
"This is impeding the SDF's movement on the ground in the conduct of counter-terrorism operations and will have major negative repercussions in the near future."
It also will create "tensions between the new Russia-backed mercenaries and the SDF in a way that serves Russian ambitions", he said.
Russia is violating the rules of engagement in the area with these actions since it is a fully militarised zone, even if IS no longer has an open presence in it, said Syrian journalist Mohammed al-Abdullah.
In fact, Russia's presence is impeding all military and surveillance operations, he said.
Russia's moves "are serving the terrorists' interests considerably by sustaining the state of tension in these areas, which debunks previous Russian assurances that it is intervening to serve Syria, safeguard its security and put an end to the state of war", al-Abdullah said.
"These incursions open the door for the emergence of many new conflicts that did not exist throughout the duration of the eight-year long war," he said.
One of Russia's undeclared goals is to gain access to Syria's vast natural resources that remain untapped but have been confirmed by studies to exist in these areas, al-Abdullah said.
Expansionist plans
Throughout the war, Russia has used means ranging from military force to creative diplomacy to make itself a central player in Syria.
It had been protecting President Bashar al-Assad from sanctions by the UN and sending Russian troops to support his forces.
"The speed at which Russian forces are moving into eastern and north-eastern Syria clearly indicates the Kremlin's desire to cast aside all previous agreements," said political researcher Abdul Nabi Bakkar.
The first reason is geopolitical, as Russia wants to expand its geographical presence and control, he said. The second factor is Russia's desire to compete with the United States.
The third -- and most serious -- reason is to disrupt the military operations being conducted against IS in the region, he said, adding that IS's survival creates a state of constant tension in the region, which serves and furthers Russia's interests and expansionist plans.
Another reason is Russia's alliance with Iran and the Islamic Revolutionary Guard Corps' desire to secure overland routes between Iran and Syria through Iraq, Bakkar said.