RIYADH -- Russian Foreign Minister Sergey Lavrov's trip to the Gulf is rife with conflicting interests, economic opportunism and political grandstanding, local observers say as he kicked off his four-day tour Monday (March 8).
He is scheduled to visit the UAE, Saudi Arabia and Qatar.
Lavrov arrived in the UAE on Tuesday -- the first stop on his trip -- to engage in "bilateral political dialogue", according to Russian news agency Tass.
He also will discuss strengthening trade and economic co-operation between Moscow and the three Gulf states, the Russian Foreign Ministry reported.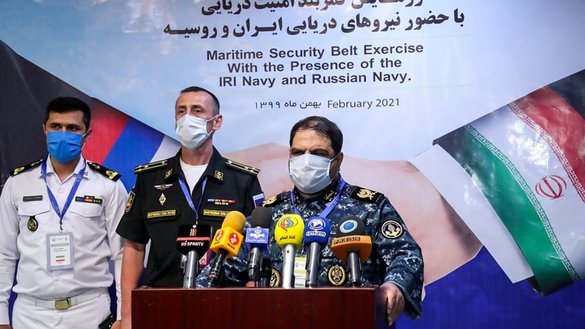 Russian opportunism on display
The visit is a thinly disguised attempt on Moscow's part to make inroads and obtain economic and political gains in the strategic region, analysts say.
Russia is trying to capitalise on perceived tensions between the United States and Saudi Arabia, said Abdullah al-Dakhil, a lecturer at King Saud University's faculty of political science.
The truth, however, is that the Saudi-US relationship is a strategic one based on a comprehensive economic, security and military partnership, he said, and is reinforced with mutual trust between the two sides.
"Any attempt to breach this relationship by Russia or others are merely acts of grandstanding that will not yield any results," he said.
Moscow's attention on the supposed rift between Saudi Arabia and the United States appears to be misguided.
Saudi Arabia insists that its partnership with the United States "is a robust and enduring partnership", as stated by its foreign ministry on February 26.
That said, Lavrov is expected to try to peddle Russian military hardware during his tour of the Gulf, Modern Diplomacy reported March 9.
Saudi Arabia, so far, has not taken any interest.
Russia largely absent
The United States stands firmly with the Gulf states in confronting threats to their security, al-Dakhil said, from Iran's Islamic Revolutionary Guard Corps (IRGC) and its proxies or extremists such as the "Islamic State" (IS) and al-Qaeda.
Russia has been largely absent from the scene, he said, and now it appears to be waiting to exploit the current situation to its own advantage.
Russia's interests in the Gulf region include energy, military affairs -- especially arms sales -- and investment, the Middle East Institute (MEI) said in an analysis following Lavrov's tour to the Gulf in March 2019.
Yet Russia lacks significant influence in the region, it said.
"Moscow appreciates the importance of emphasising economic co-operation with the Gulf countries, as it understands that its political influence in the region pales against that of Western powers," the MEI said.
"Moscow's influence in the Gulf remains limited not only by the US's pre-eminence in regional political and military affairs, but also because of a lack of trust," it added.
That trust deficit is primarily due to Russia's close engagement with Iran.
Conflicting interests
Historically, Gulf-Russian relations have been diplomatic relations based on commercial exchanges and economic transactions, said Qatari international affairs researcher Mahmoud Abdel Moneim.
"It is not possible to compare the relations Russia has with the Gulf states with the relationships those countries have with the United States," he said.
The Gulf states would not risk entering into a deeper relationship with Russia at the expense of their relations with the United States due to their lack of trust in the axis that Russia has established with Iran and other countries, he said.
Russia's plans and interests in the region conflict with the interests of the Gulf states, Abdel Moneim said, pointing out that this amounts to a "red line" with respect to the security of the Gulf states.
The US presence in the Gulf region is a safety valve for the region, he said, and recent events clearly confirm this.
For this reason alone, he said, Russian attempts to make diplomatic and political breakthrough at the expense of US-Gulf relations are "absolutely a losing bet".