VILNIUS, Lithuania -- Chinese phones are coming under greater scrutiny around the world as studies continue to tie the devices to national security risks, censorship, privacy issues and data leaks.
Lithuania is the latest country to push back against Chinese phones, most recently over a built-in censorship tool in the Xiaomi phone.
Officials in the capital Vilnius have a history of lambasting the Chinese Communist Party (CCP)'s anti-democratic values, geopolitical bullying, and abuse of technology and censorship to advance its interests.
Lithuania's Defence Ministry last month said public institutions and consumers should be wary of using Chinese phones, warning about possible security flaws and data leaks.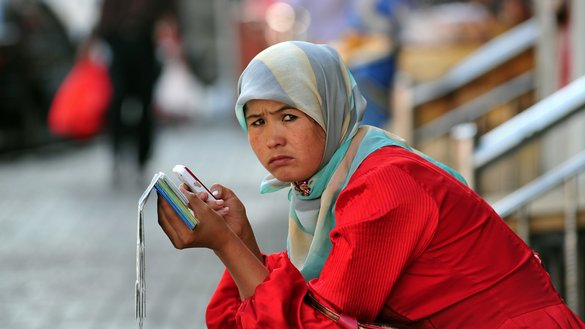 The ministry analysed three popular Chinese-made phones sold in Europe: the Xiaomi Mi 10T 5G, the Huawei P40 5G and the OnePlus 8T 5G.
The country's National Cyber Security Centre reported September 22 that it had found "cyber security risks" in the Huawei and Xiaomi 5G models.
In the Xiaomi-- the most popular smartphone in Europe -- it reported finding a built-in censorship tool that can block certain search terms.
The blacklist function was disabled in the version of the phone sold in Europe, said researchers, who warned it could be activated remotely with the flick of a switch in China.
The censored terms appear to be ever-evolving, with 449 words or phrases on the blacklist in April 2021 and 1,376 by September. They include words in Chinese and also Latin script.
The blocked terms include "Free Tibet", "Long live Taiwan independence", "democracy movement", "student movement", "dictatorship", and the names of some Western companies and news outlets.
"We clearly saw that all of those key words are politically motivated," Lithuanian Vice Defence Minister Margiris Abukevicius told Voice of America (VOA).
"It is very, very worrying that there is a built-in censorship tool and of keywords, which filters or could filter your search on the web," he said.
The Huawei phone posed a threat because it automatically re-directed users to third-party app stores that could host virus-infected apps, said the report.
Real risks
Following the report, Lithuania is working on legislation that could ban its government agencies from using "untrustworthy" devices, Euronews reported September 28.
"At the moment, we are working in defining the scope of the legislation, in terms of which institutions (the ones which are important to national security) will fall under the new regulation, what ICT [information and communication technology] products/hardware/software procurement will be affected, and what criteria will be set to allow only trusted suppliers to participate in the procurement process," a spokesperson said.
In the meantime, Abukevicius noted that about 200 public institutions in Lithuania make use of Chinese-made devices and said the public sector as a whole "should not use" Xiaomi and Huawei phones on the basis of national security.
"The risks we are speaking about are real," Abukevicius told AFP. "This is the best measure for risk reduction."
Other countries should take note of the research and consider doing the same, he said.
"I think our research is an illustration of how we should go beyond that discussion in the telecommunications sector, that we should think about other sectors," he told VOA.
Many Western countries, including the United States, have blocked Huawei phones from 5G mobile networks, citing security risks.
Lithuania's fellow European Union (EU) members are expected to discuss the research in the coming days, and Foreign Minister Gabrielius Landsbergis met with US Secretary of State Antony Blinken in Washington last month to shore up support.
Lithuania's smallness -- with a population of less than 3 million and an economy 1/270th the size of China's -- makes it an easy target, Landsbergis said.
Beijing's "calculation is that it is good to pick enemies way, way, way below your size, draw them into the fighting ring and then beat them to pulp", he said.
Blinken pledged "ironclad US support for Lithuania in the face of attempted coercion from the People's Republic of China".
German security services have begun their own technical examination of the Xiaomi phone, VOA reported.
Trying to inflict economic pain
Lithuania's latest report on the censorship registry embedded in Chinese-made phones was particularly upsetting to China.
Beijing recalled its ambassador to the Baltic state, and Lithuania's ambassador to Beijing also returned home.
Earlier in July, after Lithuania allowed Taiwan to use the word "Taiwanese" rather than "Taipei" for its planned quasi-embassy in Vilnius, Beijing halted cargo trains from entering Lithuania and made it nearly impossible for Lithuanian food exporters to sell their goods in China.
But Lithuania has refused to buckle under increasing pressure from China.
Lithuanian Minister of the Economy and Innovation Ausrine Armonaite shrugged off the blowback.
The damage "is not too harmful", she said, as Lithuania's exports to China amount to only 1% of its total exports.