BEIJING -- For about a week, mainland Chinese and other Chinese-speaking users had rare and unfettered access to the "real" internet, and then the censors swept in.
The repression of Muslims in China's Xinjiang region, the Tiananmen Square crackdown and other taboo subjects -- nothing was off-limits in the rambunctious, unfiltered chatrooms of Clubhouse, an exclusive, invitation-only audio app.
It offered a rare space to dissect taboos across politics and society, a plurality of voices normally muted inside China by the Communist Party.
Then late on Monday (February 8), an error message appeared to Chinese users logging on without a VPN to establish a secure connection, a telltale sign that state censors had got hold of the debate.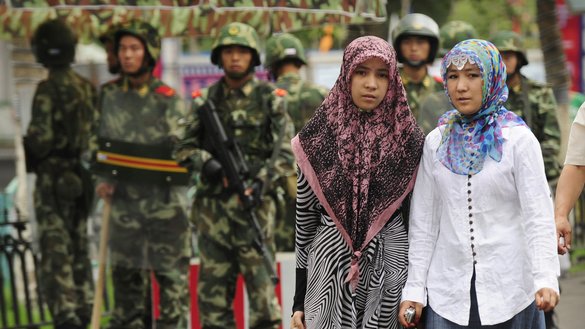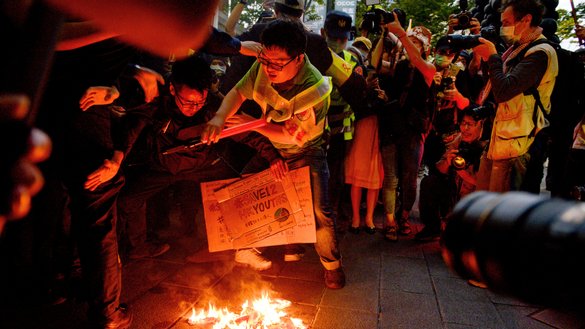 "Under [China's President Xi Jinping], the ban was a matter of time," said Lokman Tsui, a communications professor at the Chinese University of Hong Kong.
The space for free online discussion has "been drastically reduced" since 2013, the year Xi became president, added Emilie Frenkiel, associate professor at Université Paris Est Créteil, who researches political participation and representation in China.
But she added that the chance for open discourse on sensitive topics with other Chinese-speakers like Taiwanese counterparts "even though very risky, is so rare that ... many are still willing to seize it".
Open conversations on Muslim abuses
Alex Su, 30, an editor at a technology start-up in Beijing, said that in her brief time on Clubhouse, she had been especially moved by a conversation in which Muslim Uighurs recounted personal stories of being discriminated against in Xinjiang.
"That is really the kind of information that we don't usually get access to in the mainland," she told The New York Times in a telephone interview.
On Clubhouse last Saturday, more than 1,000 users flocked to a chatroom on the mass incarceration of Uighurs and other Turkic-speaking Muslims in China's Xinjiang region.
Rights groups believe at least one million people are incarcerated in camps in Xinjiang, but Beijing has said they are vocational training centres aimed at reducing the appeal of Islamic extremism.
Recent revelations detailing horrific abuses in China's "re-education" camps -- including torture by electric shock, food deprivation, beatings, gang rape and forced sterilisation -- has added to the international community's concerns about China's violations of human rights.
A Chinese man in the Clubhouse chatroom said he was not sure whether to believe the reports of "concentration camps" for Muslims in Xinjiang.
Then a Uighur woman, Vinira Abdgheni, spoke up, saying she was sure of their existence because her relatives are among those who have been detained.
Later, she said it was a relief to have an opportunity to confront fellow Chinese who may still harbour doubts about the abuses back in her home region of Xinjiang.
"I've tried so many channels to vent my frustrations," she told The New York Times in a telephone interview from Tokyo, where she now lives. "So I thought while I had this opportunity to speak, I better do it because I've never wanted to be a silent person."
At least three people identifying as Uighurs shared personal stories in the Clubhouse chat and several others said they were Han Chinese who had lived in Xinjiang.
A woman said her views changed after living abroad exposed her to more information on Xinjiang.
"I had only been living in a huge lie," she said.
Access to 'the real internet'
Over the weekend the number of Chinese language discussions drew wider attention including on Twitter, one of many foreign social networks banned in China.
"A young woman from mainland China just said on Clubhouse: this is my first time getting on the real internet," Isabelle Niu, a journalist listening to a conversation, tweeted on Sunday.
On Monday, more than 2,000 users gathered in another chatroom discussing the bloody crackdown on Tiananmen Square protests in 1989, another taboo topic in China.
One said the environment was "dangerous for both sides", referring to civilians and authorities, while another called it outdated to claim that students -- who participated in the movement -- were easily "brainwashed".
People from Hong Kong and Taiwan also pitched in on, or moderated, China-related topics.
"I'm in a Taiwanese-run room in Clubhouse where 4,000 Mandarin speakers — including Uyghurs and Han Chinese IN CHINA, and outside are talking about ... everything," Berlin-based journalist Melissa Chan tweeted.
"From surveillance, to friends who've left re-educations camps, to normal stuff."
"I can't explain what it feels like to be in these Clubhouse rooms," she tweeted on February 5. "They partly feel like confessionals, and there's a great sense of yearning from people — for sympathy, for expression, for ambivalent feelings about the Party or about democracy."
It was a rare moment of cross-border dialogue without the usual constraints of the country's "Great Firewall".
Censorship, crackdown inevitable
By Monday night, however, Chinese-language rooms quickly turned to discussion over the app's ban.
"I saw many rooms chatting cross-Straits issues and sensitive issues ... and thought this app wouldn't last too long," one Chinese-language user lamented after the app was blocked, referring to the thorny issue of Taiwan.
"What comes after the block is compiling the list of people on the platform," worried another.
"It was only a matter of time," said Su, the technology editor.
Asked about the ban, a Chinese Foreign Ministry official said Tuesday he was unaware of specifics but added: "While China's Internet is open, the Chinese government manages it in accordance with the law and regulations."
A search for "Clubhouse invites", previously for sale on Chinese e-commerce sites for 10 to 100 yuan ($1.5-$15), no longer turns up results. Before the app was blocked, the going price for one code was up to 300 yuan ($46), according to The New York Times.
Since the ban, Chinese speakers returning to the app discussed ways to circumvent the "Great Firewall", and a chatroom ironically praising a pro-Communist Party editor continues defiantly.
But the wider lament was for the end of a precious space for debate which flickered but was never allowed to flare.
"I came here because it did not have speech censorship," one user said.