IDLIB -- Tahrir al-Sham, the extremist alliance that dominates Syria's Idlib province, said it did not know that the recently deceased "Islamic State" (IS) leader had been holed up in the area.
Top IS leader Abu Ibrahim al-Hashimi al-Qurashi blew himself up, along with members of his own family, during a Thursday raid conducted by US special forces near the Idlib town of Atme.
The IS leader's better-known predecessor, Abu Bakr al-Baghdadi, also was killed in Idlib, in an October 2019 raid just 15km away from where al-Qurashi was killed. Kurdish forces took part in both raids.
Though Tahrir al-Sham controls the northwestern province, which it governs via its so-called "salvation government", it seems to have had no knowledge of the comings and goings of rival extremists.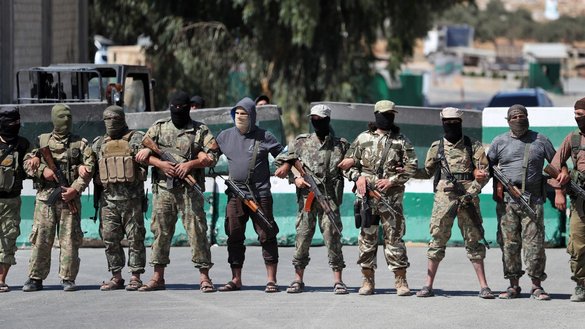 This highlights the state of chaos and lawlessness that prevails in Idlib, and exposes Tahrir al-Sham's governance as a charade, observers said.
It may also fuel another round of violence between the rival extremist groups, which have a long history of attacking each other in Idlib.
In a Sunday statement, Tahrir al-Sham said it was unaware of "the identity of the residents" of the house that was targeted by US special forces.
Tahrir al-Sham occasionally carries out operations against IS-affiliated cells in the region, and has fought armed extremists affiliated with IS in recent months, according to the Syrian Observatory for Human Rights.
In recent years, Tahrir al-Sham has tried to cast itself as a more moderate player focused only on Syrian matters. But many find this hard to believe, pointing to the group's track record of violence.
Tahrir al-Sham in the dark
Al-Qurashi was killed during a nighttime raid on the apartment he was renting in Atme -- a town under the control of Tahrir al-Sham that is far from IS's area of operations.
While Tahrir al-Sham remained in the dark, by its own account, about the presence of the IS leader in its midst, US officials said al-Qurashi's location had been narrowed down last year.
The owner of the building where the IS leader was hiding said al-Qurashi had been living there for 11 months.
When the Thursday raid began, Atme residents thought US forces were targeting an al-Qaeda leader.
US special forces have carried out several operations against high-value extremist targets in the Idlib area in recent months.
Atme residents were shocked to hear that their neighbour in the modest two-storey house surrounded by olive trees was in fact the leader of IS.
Even his landlord, Mohamed al-Sheikh, was perplexed by the news. He thought he had leased the house to a cab driver.
Al-Sheikh said al-Qurashi had rented the house about a year ago.
"This man lived here (in the house) for 11 months. I did not notice anything strange about him," al-Sheikh said. "He would pay me rent and leave."
"If I knew about him, I would have never let him live in my house," he said.
Lawlessness in Idlib province
Analysts argue it is hardly surprising that al-Qurashi was tracked down to an area far from IS's heartland, which covers the arid expanses straddling the Iraq-Syria border between the Tigris and Euphrates rivers.
"Idlib is a messy war zone full of displaced people, with little proper policing and no real state structures or record-keeping," said Aron Lund, a fellow with Century International.
Hassan Hassan, an analyst who has authored a book on IS, said Idlib is safer for an IS leader than the regions in western Iraq or eastern Syria where anti-IS forces have acquired years of experience tracking down extremists.
"It is a hostile area for IS because its rivals dominate that region of northern Syria, but it is precisely the right place to hide where nobody expects you to be there," he said.
Hassan said close al-Qurashi aides had been running the group's operations and building businesses in the area for two years.
Yet "the group remains weak and exposed", he said, adding that Thursday's raid was further evidence of growing efficiency by the US and allied forces tasked with tracking down IS leaders.