KYIV -- Last week's staged murder of a journalist in Ukraine is an unfortunate reminder for those in Central Asia of the risks people are forced to take in order to tell the truth about the regime of Russian President Vladimir Putin.
The assassination plot against Arkady Babchenko represents Russian intelligence agencies' ongoing operation to "rub out" those who expose the Kremlin, Security Service of Ukraine (SBU) director Vasyl Grytsak said at the news conference May 30 after Babchenko appeared in public 24 hours following reports of his "murder".
Journalists and public figures who publicly challenge the Russian government are targeted "because they give an objective picture of what is happening", he said.
Babchenko has accused Russian authorities of killing Kremlin dissenters and unleashing wars in Ukraine, Syria and elsewhere.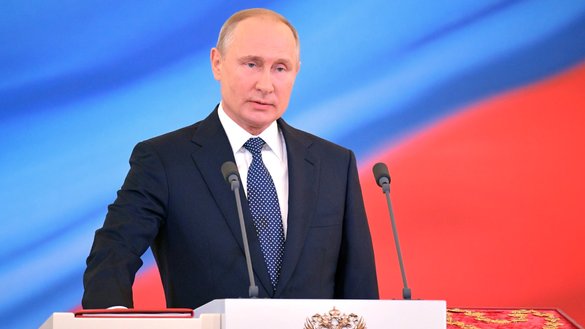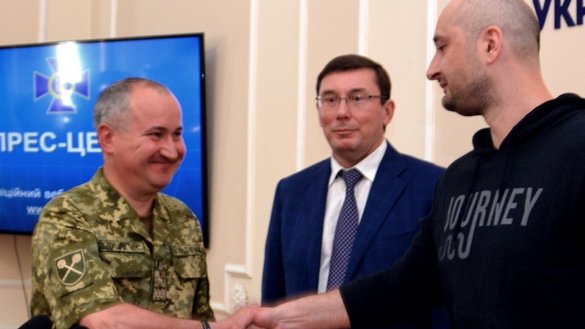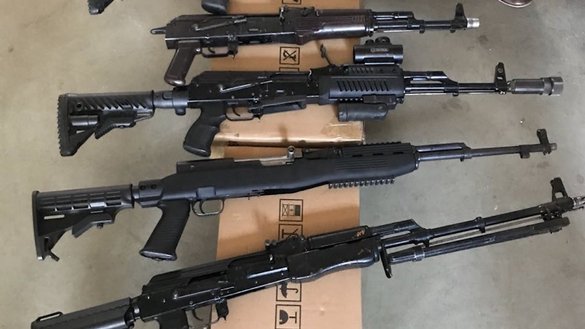 He repeatedly said he received death threats for his coverage of the Kremlin and left Russia in 2017, living for a time in the Czech Republic and Israel before being granted residency in Kyiv.
The SBU staged the assassination to foil a Kremlin plot to murder Babchenko, and subsequently security officials were able to obtain the names of 47 individuals on a Kremlin hit list, according to investigators.
Criticising the Kremlin a 'big risk' in Central Asia
"For us journalists, fierce criticism of the Kremlin is a big risk," said Tanat Kozhmanov, Almaty-based journalist and former director of the Kazakhstan Association of Publishers.
"We all recall the shocking murders of Putin's political opponents. But it's even more horrible when opposition to the Russian president's political agenda is punished beyond Russia's borders," he told Caravanserai.
A 31-year-old Uzbek journalist told Caravanserai on the condition of anonymity that he had previously received death threats after denouncing the Kremlin.
"I published a number of articles criticising the Russian authorities and in 2011 I even participated in a demonstration against Putin in Moscow," he said.
"After that, an envelope with a photo of me at the demonstration was dropped off for me at work," he said. "A threat was handwritten on the photo. I stopped feeling safe, and I needed a few years to shed the paranoia."
Murder is not the only weapon the Kremlin uses against critics, according to Erlan Satybekov, a long-time journalist and media analyst from Bishkek.
Media critical of the Kremlin can come under pressure via "financial and tax mechanisms", he told Caravanserai.
The deadly truth
Violent crimes -- including murder -- perpetrated against dozens of Russian journalists and social activists are proof of the Kremlin's crimes, critics say.
"These crimes have an identical modus operandi typical of [Russian] security agencies," said Valerii Gostinshchikov, a veteran of the Ukrainian intelligence service and a specialist in informational-psychological operations.
Russia develops "strike forces" to carry out either violence or pro-Russian propaganda in other countries, he told Caravanserai, adding that it relies on citizens of those countries who have suffered political defeat or have otherwise been marginalised and are amenable to carrying out various "dirty tasks" in exchange for Russian funding.
"Everything depends on how much intelligence agencies [in these countries] resist Russian influence," he said.
With dozens of Russian spies already unmasked in the United States, "you can imagine how many of them are in Uzbekistan" or other Central Asian states, he said.
"[Russian agents] are literally shooting and liquidating the undesirable," said Andrey Sidelnikov, the leader of the London-based opposition movement Govorite Gromche ("Speak Up").
Sidelnikov previously headed Pora ("It's Time"), an opposition youth movement in Russia. He was forced to emigrate from Russia for his opposition activity and received political asylum from the United Kingdom.
"I am afraid for my life every day and I have every reason to believe I'm being hunted," he told Caravanserai. "Babchenko's case only proves it. I've already sent some information to police for them to take measures."
Svitlana Chernetska, a Ukrainian journalist who lives and works in London and investigated the assassination attempt on Sergei Skripal, a former Russian spy, in March, said Russia wants to demonstrate its power primarily to its citizens.
"It's like Putin is saying: Look at what is going to happen to traitors and to those who are against us. Don't even think about resistance," she told Caravanserai.
Calls to end the silencing of journalists
Journalists and media watchdogs in Central Asia have urged the international community to halt such killings and hold accountable those responsible.
"No one anywhere in the world will be able to protect himself against Putin's assassins. This cancerous tumor has grown too much," Azamat Maitanov, deputy editor in chief of the Kazakh newspaper Ak Zhaiyk in Atyrau, wrote on his Facebook page May 29.
"When I read the statement by the Russian Foreign Ministry [about Babchenko's 'death', before Ukraine revealed he was alive], I am shaken by the moral depths to which these people have fallen," Aleksey Ulko, an Uzbek scholar, wrote on his Facebook page May 30.
"It is hard to find cynical scum as the low as the leaders of modern Russia," he said.
[Arman Kaliyev of Almaty and Maksim Yeniseyev of Tashkent contributed to this report.]