ALMATY -- Co-operation between Afghanistan and Central Asian countries is crucial for regional stability and economic development, say participants of an exhibition of Afghan goods in Almaty.
Central Asian states have made a priority of trying to stabilise militancy-stricken Afghanistan, which borders three of them, to prevent its problems from becoming theirs.
The "Afghanistan: New Trade Horizons" business forum took place August 3-4 at the Central State Museum in Almaty.
At the same time, an accompanying exhibition featured 72 Afghan companies producing spices, nuts, dried fruits, carpets, clothes, gemstones and jewellery.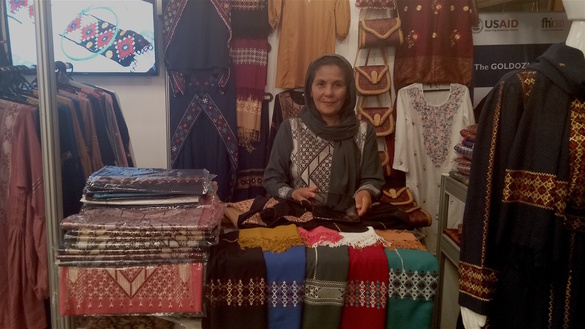 Only by working together can Central Asian countries improve the investment attractiveness of this region, US Agency for International Development (USAID) Regional Mission Director for Central Asia Christopher Edwards said during the business forum on August 3.
"Co-operation with neighbouring countries is crucial for Afghanistan to create jobs, and Central Asia is a great opportunity for Afghan businesses to open new markets for their products," Edwards said in an interview. "This will improve the welfare of ordinary people in Afghanistan."
Central Asia, including Afghanistan, has historical significance as a key route on the Silk Road's network of routes, which connected Asia, the Middle East and Europe, Edwards said.
Over the past few years, Afghanistan has made significant economic progress and will continue to do so it supports development of its private sector, he said.
"This exhibition is one example of the important support that USAID provides to regional trade in Central Asia," said Edwards.
Kazakh ties
Kazakhstan in particular is an important market for Afghanistan, as it serves as a "bridge" between East and West, Edwards said.
The economic growth of Afghanistan is of great importance for stability in Central Asia, said Yerlan Iskakov, director of the Almaty office of the Kazakh Foreign Ministry, at the forum.
"Kazakhstan takes an active part in stabilising Afghanistan, so in recent years it has allocated more than $70 million in humanitarian assistance, including the education of youth from Afghanistan in Kazakh universities and the delivery of food, clothing and essential goods, as well as the construction of infrastructure in Afghanistan," said Iskakov.
In 2018, trade between Kazakhstan and Afghanistan amounted to $795 million.
But of this amount, Afghan exports to Kazakhstan comprised only $4 million, said Afghan Ambassador to Kazakhstan Mohammad Farhad Azimi during the forum.
"We must think about how to increase exports from Afghanistan to Kazakhstan, so during this forum we will hold meetings in a B2B [business-to-business] format," said Azimi.
Afghanistan could increase exports of spices, dried fruits, white marble and gemstones, among other products, he said.
"Afghanistan needs support for the regional economic ties that already exist, as well as creation of new channels for selling our private sector's products," said Azimi. "Since Kazakhstan and Afghanistan are historical partners, we could use this [legacy] to develop our business."
Working together
Exhibitors and forum attendees expressed interesting in working together.
They include Zakhro Kazemi, 42, of Bamiyan Province, Afghanistan. Her province gained unwanted notoriety when the Taliban destroyed ancient Buddhist statues there in March 2001.
She started the Bamiyan Successful Woman Co. eight years ago from scratch.
"We buy fabric at the market, and women do the embroidery by hand in our workshops," she said in an interview. "Our company employs 20 women, and about 100 more women work from home in different villages ... embroidering our products."
Kazakhstan is of interest to Afghan entrepreneurs for several reasons, she said.
First is its proximity; second, the Kazakh people's readiness to develop international business ties; third, their demand for handicrafts; and fourth, their purchasing power, she said.
"We want more access to international markets so our company can expand," Kazemi added.
Kazemi perseveres, though she admits being a businesswoman in Afghanistan has risks. "There's a major highway between Kabul and Bamiyan," she said, noting that if the Taliban learn that a businesswoman is travelling on it, they "can block the road, search your car and confiscate your merchandise".
Some Kazakhs were pleasantly surprised by what they learned at the exhibition.
"We were a little afraid to establish business connections with Afghanistan because we heard of the war, but after we visited this exhibition and the forum, we realised that there is also normal life there," said Aigul Janserikova, director of the Qazaq-Oner (Kazakh Art) Artisan Centre.
"And what is very important -- their handicrafts are very well developed," the Almaty resident said in an interview.
"We can invite artisans from Afghanistan to hold master classes here, for which we will definitely pay, or we can go there and see how they work on the spot," Janserikova said.