NUR-SULTAN -- Representatives from organisations including the United Nations (UN) and the Organisation for Security and Co-operation in Europe (OSCE) met in the Kazakh capital on October 9 to discuss the role of international groups and Central Asian countries in ensuring sustainable peace and stability in Afghanistan.
The members gathered for a roundtable discussion titled "Afghanistan and the OSCE: Fostering Opportunities for Partnership and Co-operation".
"The future of Central Asia is inextricably tied to the peaceful, sustainable development of Afghanistan," Kazakh Foreign Minister Mukhtar Tleuberdi said at the meeting, according to a statement.
Tadamichi Yamamoto, head of the United Nations (UN) Assistance Mission in Afghanistan; Natalia Gherman, head of the UN Regional Centre for Preventive Diplomacy for Central Asia; and the leaders of the OSCE's missions to Central Asian countries as well as delegates from a number of international groups gave presentations.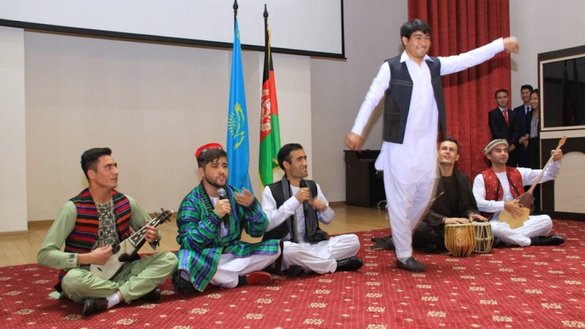 Spurred by concern for regional stability, Central Asian countries recently have been strengthening trade relations with Afghanistan.
"Kazakhstan is continuing to provide bilateral and multilateral support to the Afghan people in rebuilding its government," Tleuberdi said.
"We believe that lasting global and regional partnerships, long-term investments and regional cohesion are a linchpin for guaranteeing the peaceful future of [Afghanistan]," he said.
"To date, we have offered more than $80 million (31.2 billion KZT) worth of aid. In recent years, aid added up to $3.5 million (1.4 billion KZT), which went toward building medical and educational facilities and repairing roads and bridges in various provinces in Afghanistan."
It is crucial that Afghanistan's neighbours contribute to the country's stability, said Rauan Dautaliyev, a Shymkent-based political analyst.
"Three Central Asian countries -- Turkmenistan, Uzbekistan and Tajikistan -- border Afghanistan. Everyone understands that stability in the region as a whole depends on stability in Afghanistan. It's vital to provide Afghanistan with aid for reconstruction, education, the fight against drug trafficking and other important areas."
Education for Afghan youth
In July, the European Union (EU) allocated a grant to give Afghan women the opportunity to study in Kazakhstan and Uzbekistan.
During the roundtable discussion, analysts commended the efforts of Kazakhstan, the EU and the UN Development Programme in implementing educational initiatives for Afghan youth under the auspices of leading Kazakh universities.
Kazakhstan earmarked $50 million (19.5 billion KZT) to enrol Afghan students at its top universities, said Tleuberdi.
"The international community places high value on this venture, and we are continuing to successfully develop the initiative," Tleuberdi said.
"This week, the first group of Afghan women arrived in Almaty to begin their studies at leading Kazakh universities as part of a trilateral co-operative programme among the EU, Kazakhstan and Uzbekistan."
"We believe that Afghanistan cannot become a centre of stability if it does not address issues related to educating its youth," he said.