NUR-SULTAN -- Kazakh nationals being tried in connection with charges of fighting with "Islamic State" (IS) in Syria committed horrific crimes, prosecutors said, pointing to evidence that includes gruesome photographs and videos.
The materials provided by Kazakh authorities were shown during the joint trial of 14 Kazakh IS fighters as evidence of their terrorist activities in Syria.
Kazakhstan repatriated them during Operation Jusan (Bitter Wormwood).
The humanitarian effort, which included multiple flights between Syria and Kazakhstan in 2019, brought back almost 600 Kazakhs from Syria.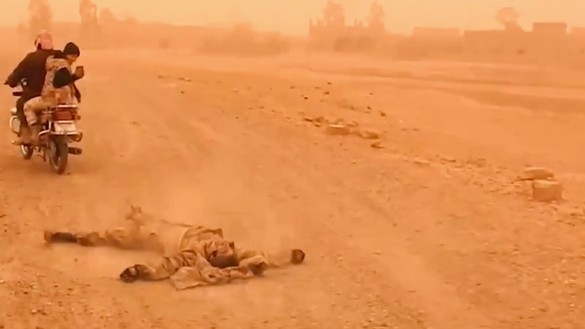 The trial has been taking place at Prison No. 166/10 in Nur-Sultan since October 22.
It follows earlier ones that sent 15 Kazakh IS fighters to prison for various sentences, according to a Kazakh National Security Committee (KNB) statement in October.
About 100 Kazakh citizens remain in conflict zones in the Middle East, AKIpress reported Tuesday (November 19), citing the KNB.
More than 90 Kazakhs, including 56 women, are still in Syria. Two women are in camps or prisons, while six more women have been taken into custody in Iraq.
A total of 277 adults -- 57 men and 220 women -- as well as 547 minors have returned home from Syria and Iraq since the collapse of IS, said the KNB.
Among those who returned, 44 defendants including 10 women have received prison sentences ranging from 1 to 11 years on charges such as participation in the activities of terrorist organisations, foreign wars, terrorism propaganda, recruitment and other terrorist activities.
Authorities have placed about 200 women and 545 children among those returnees in rehabilitation centres, according to the KNB.
The Kazakh Foreign Ministry Monday (November 18) announced that it is negotiating with Iraq over the pending return of more than 10 Kazakh children to Kazakhstan.
'Don't let them make excuses'
In one photograph submitted as evidence, a 33-year-old Kazakh man who was captured in Syria stands against a background of severed human heads, with his foot on one of them.
The defendant also was shown in terrorism propaganda videos. The defendants observed in the photos and videos presented in court claim to have acted on the orders of their commanders, Tengri News reported.
The court hearings are open to the public and have been attended by the defendants' relatives and members of the press.
"This decision was made to show Kazakhs the details of the crimes committed by their compatriots. For somebody, this will be a warning and he will give up his thoughts of joining the terrorist organisation Daesh," Nur-Sultan-based lawyer Alibek Basheyev said, using another name for IS.
Like the 15 previously convicted IS fighters, these 14 defendants face charges under several articles of the criminal code, he said. They are accused of participating in the terrorist group's activities, foreign armed conflict, recruitment and terrorist propaganda.
"So strong were the Islamic State's propaganda, fanaticism and pressure on these defendants, that when they were in Syria, seeing all the horrors taking place, they themselves spread propaganda and convinced their loved ones to come to them from Kazakhstan and embark on the path of armed jihad," Basheyev said.
The IS suspects have no solidarity and are "casting blame on each other, shielding themselves", he added.
Kazakhs are reacting to the trials, posting angry comments online.
"Why did they bring them [here]? They should have been deprived of their citizenship; let them stay there," wrote one online user.
"Don't let them make excuses; they went there by choice, knew what they were going for," another said.
"They went there to kill people; they are killers and terrorists," commented another online user.
All ages and types
All the defendants have been ruled sane by specialists who include psychologists, Baige News reported. They predominantly come from rural areas.
One of the defendants in Nur-Sultan, Nurlan Kamalov, 41, of Turkistan Province, was the emir, or commander, of the women in the Kazakh contingent in Syria, Baige said. He had a personal chauffeur and office.
Another defendant, Amanjol Jansengirov, 33, of Akmola Province, was a sniper and an employee of IS's Amiyat security agency, according to the report. He is the defendant accused of posing with severed heads after beheading four prisoners.
Defendant Yermukhan Ayypkaliyev, 34, of Atyrau Province, who is not present at the proceedings, was wounded in Syria and partially paralysed. He is hospitalised.
Danabek Torekhanov, 32, of Aktobe Province, admitted that IS paid him $3,500 (1.4 million KZT) upon his arrival in Syria, Baige reported.
Defendant Dauren Sabituly, 31, of Aktobe Province, said in court that he dreamed of ending up at the American prison at Guantanamo, Cuba, where, according to him, "the punishment is milder," KTK TV reported.
The oldest of the accused, 50-year-old Gazinur Bakhijanov of Kostanay Province, previously served on the Kazakh police force, Astana TV reported. Together with his brother, he left for Syria in 2013 to join IS.
According to psychologists who spoke with him, Bakhijanov asserted that "everyone must live according to the law of Allah, and whoever does not agree must pay with his or her life," Baige reported.
New threat: 'Lone wolves'
The Institute of World Economics and Politics of Kazakhstan published a report on November 14 that discusses the growing threat of terrorism.
"Despite the growing pressure, extremists are demonstrating amazing tenacity. They are rethinking their fighting experience and quickly adapting to new conditions," the report said.
"The product of this dangerous evolution is 'lone wolves'. They do not lend themselves to traditional methods of detection, and therefore the security agencies are not ready to repel their attacks," it said.
After the loss of strongholds in Syria and Iraq, IS will try to shift activity to its so-called "wilayahs", or foreign bases, including in Afghanistan, according to the report.
"At the same time, Daesh will strengthen online propaganda. Social networks and various websites will be used as the group's main tool for exporting extremist ideology on a global scale," the study said.