DUSHANBE -- The Tajik government says it plans to repatriate about 500 of its citizens being held in refugee camps in Syria after they were stranded in the war-torn country amid the collapse of "Islamic State" (IS).
Coalition forces overran IS's last stronghold in Syria last March.
"Tajikistan intends to bring back home all its citizens stranded in camps in Syria," Tajik Foreign Minister Sirojiddin Muhriddin told reporters in Dushanbe Tuesday (February 18), ASIA-Plus reported.
"According to our data, some 500 Tajik nationals are being held in Syrian camps," he said. "According to information provided by international organisations, 212 Tajik women and children held in refugee camps in Syria want to return home. We are taking all necessary measures to determine the exact number of Tajik nationals in Syria, and negotiations are under way."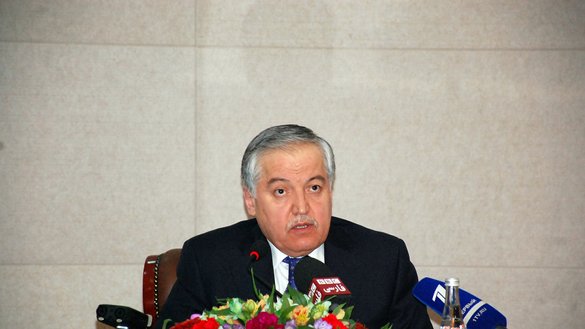 Negotiations are proceeding with the Syrian government and with the Syrian Democratic Forces, which controls the camps that hold both "IS militants and their accomplices", Muhriddin said.
"Our ambassador to Kuwait and to Syria has conducted negotiations with the Syrian side," Muhriddin said. "We're also co-operating with UNICEF and the ICRC [International Committee of the Red Cross]. They [both] expressed readiness to provide assistance with the repatriation and rehabilitation of Tajik citizens."
Muhriddin, when asked about the opening of a temporary diplomatic mission of Tajikistan in Syria, said the issue was under consideration.
Tajikistan and other Central Asian countries have been working to bring back their citizens radicalised by militants in Syria and Iraq -- along with their family members.
The Kazakh government this month wrapped up an operation that repatriated almost 600 Kazakhs from Syria, while last May Uzbekistan announced it had carried out humanitarian efforts that brought home 156 Uzbek citizens who had been caught up in various conflicts in the Middle East.
Last October, the Uzbek government also brought 64 Uzbek children -- including 14 toddlers and infants under the age of three -- from Iraq to Tashkent.
Tajikistan last April brought home 84 children whose Tajik mothers are imprisoned in Iraq.
The returning children underwent medical checkups and received necessary medical treatments and vaccinations soon after their arrival. Trained psychologists and teachers reportedly worked with the children.
Last month, Tajikistan for the first time sought to extradite Tajik IS fighters who are linked to numerous attacks and to recruiting efforts for the terrorist group.
Al-Hol camp
Since 2014, about 1,900 Tajiks left for Iraq and Syria to join IS, according to the State Committee for National Security (GKNB), ASIA-Plus reported.
More than 1,700 of them reportedly have been put on the international wanted list. Some 500 Tajiks were reportedly killed in combat in the Middle East and more than 700 others were detained, according to the ASIA-Plus report.
Some of those already repatriated to Tajikistan have been convicted of being mercenaries or recruiting for foreign terrorist organisations, the news website said.
The United Nations (UN) Commission of Inquiry on Syria in a report last September noted that up to 70,000 individuals remain interned in al-Hol camp, the vast majority of whom are women and children under the age of 12.
Commission representative Paulo Pinheiro said many UN member states were unwilling to repatriate the children, particularly those aged of 12 to 18, because of fears that they might have links to extremism.