BRUSSELS, Belgium -- The Russian and Chinese regimes continue to spread damaging disinformation about the coronavirus pandemic, endangering lives worldwide and undermining democratic societies, according to a European Union (EU) study issued Wednesday (April 1) and echoed by members of the NATO alliance.
At the same time, the disinformation campaigns by both governments provide high praise for their own regimes, even as the countries have performed questionably in countering the pandemic.
According to the EU, which has issued previous reports about Russian coronavirus disinformation, Russian trolls are busy wreaking destructive mischief.
Disinformation messaging seeks "to fuel distrust in the ability of democratic institutions to deliver effective responses" and to "directly [challenge] the credibility of the European Union and its partners", the EU said in the study.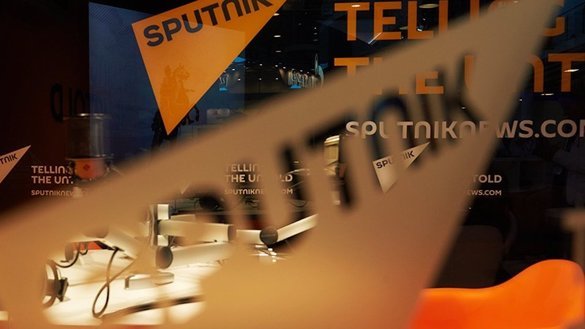 In fact, "claims that the EU is disintegrating in the face of COVID-19 are trending", it added. "Among COVID-19-related content published by RT and Sputnik, articles covering conspiracy narratives such as that 'the virus was man-made' or intentionally spread, typically received more social engagement than other stories."
Some Russian propaganda seems designed to injure gullible readers and those around them.
"For instance, Sputnik Deutschland promotes the claim on Facebook and Twitter that 'washing hands does not help,'" the EU said.
Members of the NATO alliance have also been outspoken about the ongoing disinformation efforts.
Canadian Foreign Minister Francois-Philippe Champagne after a NATO meeting on Thursday (April 2) slammed coronavirus disinformation campaigns spread by state actors.
"Disinformation was a big topic amongst NATO allies" at the meeting held by videoconference, Champagne told AFP.
A University of Calgary researcher earlier identified Russia as the main source of disinformation about the COVID-19 virus aimed at undermining faith in Western governments.
"Unwittingly, Canadian audiences will be exposed to fake news coming from Russia, potentially China and other players," public policy researcher Sergey Sukhankin told Canadian broadcaster CTV.
Re-writing history
Other propaganda extols Moscow's performance in fighting COVID-19, even though authorities in Russia are frantically locking down their own country against a pandemic that they were late to recognise.
"More than 150 cases of pro-Kremlin disinformation on COVID-19 have been recorded in the EUvsDisinfo [EU versus disinfomation] database (since January 22)," said the EU. "Russian state-controlled media outlets have shifted their focus to highlight Russia's preparedness to tackle the outbreak."
As late as March 26, Kremlin spokesperson Dmitry Peskov asserted yet again that "there is no epidemic in our country", according to the EU.
In response to such denials, independent Russian journalists have expressed concern that their government is downplaying the problem.
Besides the Russian regime, Beijing and the "Islamic State" (IS) are involved in online mischief regarding the coronavirus, the EU said.
Chinese propagandists are trying to gloss over the first appearance of COVID-19 in a Wuhan wet market.
"In the Chinese information space, there are attempts to suggest, for instance, that it was brought to Wuhan by US military personnel, or that it may have originated in Italy," the body said.
Meanwhile, the IS militant outfit "encourages militants to exploit chaos and confusion around COVID-19, while framing the pandemic as a 'painful torment' against 'crusader nations,'" it added.
Kremlin backs Beijing
Moscow's backing of Beijing in the mass media and on social networks comes as no surprise, given their shared views on the relationship between state and society.
"Russia and China are responsible powers" is one theme that the EU identified in Russian messaging. "Pro-Kremlin sources ... depicted the Chinese 'global project' as superior to the EU," the European body said.
Russian authorities, while dumping malicious disinformation and misinformation on COVID-19 worldwide, are cracking down on any such efforts within Russia.
Russian lawmakers on Tuesday (March 31) approved severe punishment for those convicted of spreading false information about the novel coronavirus in the country.
If someone is found guilty of inadvertently causing a person's death or other grave consequences by spreading "intentionally false" information about life-threatening circumstances, he or she would face a fine of as many as 2 million RUB ($25,000) or up to five years in prison.
"The Kremlin is ordering internet platforms in the country to remove COVID-19 'fake news,'" noted the EU. "This follows previous Kremlin efforts to crack down on independent internet sites and statements by President [Vladimir] Putin that Russia is being targeted with fake news from abroad."