TRIPOLI -- As Libya's unity government appears to be gaining ground, a rift is growing between Libyan military strongman Khalifa Haftar and the Kremlin-backed mercenaries sent to help buoy his attempts to take over the country, sources say.
The rift is over Haftar's unpaid debt to the Wagner Group, a private paramilitary organisation that serves the agenda of Russian President Vladimir Putin, a military source close to Haftar told the Arabic Post website. The debt amounts to $150 million.
Haftar refused to pay off the contract when it ended last year, not because he lacks the funds but because the Russians failed to carry out their side of the deal, the source said.
The Wagner Group sent inexperienced and ineffective "rookie fighters" from Syria, Belarus and Serbia to Libya, the source said.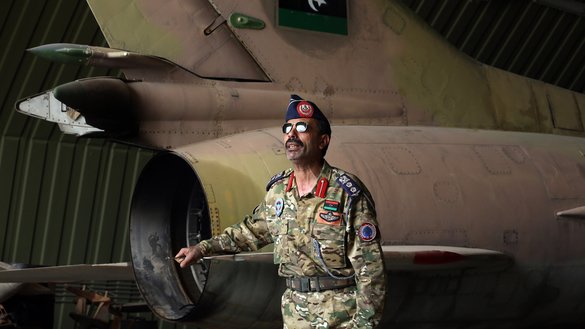 A number of Arab media outlets have reported on the Wagner Group's massive efforts to recruit Syrian youths.
Haftar's cronies have been in constant disputes with the Wagner mercenaries sent to Libya, the source said, citing their inexperience and ineffectiveness.
Pro-Haftar military leaders also expressed dismay at the Wagner Group's inability to defend against Government of National Accord (GNA) drones, the Arabic Post reported.
Haftar losing ground
Over two days in April, the GNA captured seven towns from the Libyan National Army (LNA), which is allied with Haftar, the GNA announced April 13.
The same day, Col. Muhammad Qanunu said the GNA's air defences intercepted planes belonging to Haftar in the Abu Grain area and shot down two Chinese-made aircraft and one Russian Mi-35 helicopter, Al-Jazeera reported.
The operational successes signified a change in the GNA's strategy from defensive to offensive, analysts said.
On Monday (May 18), the GNA announced further wins against forces loyal to Haftar.
"We proudly announce the liberation of al-Watiya base," 140km southwest of Tripoli, said GNA Prime Minister Fayez al-Sarraj.
"Today's success is not the end of the battle, but it brings us closer than ever to victory when all cities and regions will be liberated and the tyrannical bid threatening democracy crushed," he said in a statement.
In recent weeks pro-GNA forces have stepped up air strikes against Haftar's fighters, targeting their supply lines around al-Watiya.
GNA forces spokesman Mohamad Gnounou said they had destroyed three Russian-made anti-aircraft systems in the air base since May 17.
The reported capture of al-Watiya comes after a weeks-long siege by pro-GNA forces of the base used by Haftar's air force.
Haftar's men blame the mounting losses in part on the inefficiency of Wagner Group mercenaries, the Arabic Post reported.
Wagner Group snipers and fighters are in Tarhouna and Qasir Benghashir in southern Tripoli, according to the website, while the group's mercenaries based in Tobruk and Derna ports are helping with logistics, artillery and drone support.
Moscow's escalating Libyan conflict
Thousands of Wagner Group contractors are said to be doing the Kremlin's bidding in several foreign conflicts including in Syria, Ukraine, the Central African Republic and Libya.
Between 800 and 1,200 fighters from the Wagner Group are backing Haftar, who has been waging an offensive for over a year against GNA, the United Nations Security Council said May 6.
Putin has denied that Russians are on the ground in Libya.
Russian support to Haftar "has led to a significant escalation of the conflict and a worsening of the humanitarian situation in Libya", said Chris Robinson, a US State Department official who focuses on Russia.
"Wagner is often misleadingly referred to as a Russian private security company, but in fact it's an instrument of the Russian government which the Kremlin uses as a low-cost and low-risk instrument to advance its goals," he told reporters on May 7.
Images of "very heavy and advanced weapons" in Libya from the Wagner Group indicated it was not a mere private company, he said.
The Wagner Group's support for Haftar's forces is disrespectful to Libya's sovereignty and regional security, US Ambassador to Libya Richard Norland told London-based Al-Quds Al-Arabi newspaper on May 16.
It is unlikely the Kremlin will reverse course on Libya, which has joined Syria as a theatre for Moscow's renewed influence in the region, said Henry Wooster, US deputy assistant secretary of State for the Maghreb and Egypt.
"No one should think that Russia is going to pack up and leave now that they've invested in the Libyan conflict," he said.