The Kremlin, through its proxy mercenary army the Wagner Group, is continuing to buoy military strongman Khalifa Haftar's unsuccessful efforts to topple the internationally recognised Libyan government.
Moscow's bid to take over the country has become an increasing embarrassment for Russian President Vladimir Putin, amid reports of rifts between Haftar and the mercenaries and a series of battlefield losses by Haftar's Libyan National Army (LNA).
The Wagner Group -- whose mercenaries number between 800 and 1,200 according to the United Nations (UN) Security Council -- carries out Putin's agenda worldwide under a cover of plausible deniability.
In addition to its incursions in the Libya conflict, the Wagner Group has been or is active in a number of countries around the world, including Syria, Sudan, Venezuela, Madagascar and more.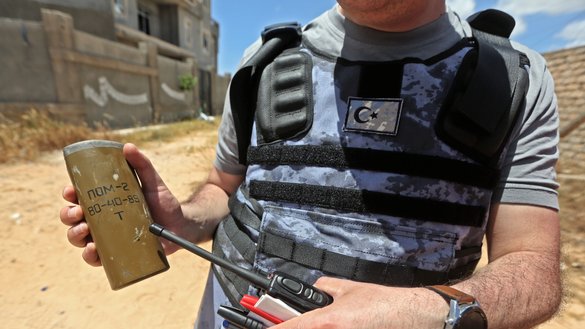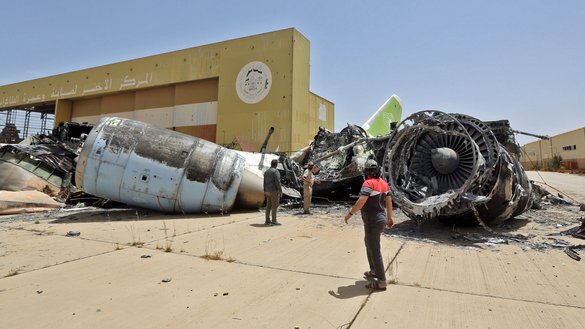 Wagner, in co-ordination with the Russian military, is behind the civil war in eastern Ukraine and was instrumental in Moscow's illegal annexation of Crimea in 2014.
Kremlin support for Syrian President Bashar al-Assad has left a tragic trail of bloodshed in its wake.
The carnage in Libya has left hundreds dead and displaced more than 200,000 over the course of Haftar's yearlong attempt to take over Tripoli, according to the International Organisation for Migration.
Russian-made mines
Mines and improvised explosive devices (IEDs) laid in residential areas after fierce battles earlier this year have killed or wounded more than 100 Libyans since early June, the UN Support Mission in Libya (UNSMIL) said Sunday (June 28).
"Mines and improvised explosive devices [planted] in or near homes have caused more than 100 victims", including civilians and mine disposal specialists, UNSMIL said in a statement.
It did not give a breakdown of those killed or wounded.
The report follows accusations by Libya's internationally recognised Government of National Accord (GNA) and Human Rights Watch (HRW) that forces loyal to Haftar have laid mines in residential southern suburbs of the capital.
GNA-aligned forces shared photographs on Twitter on May 29 showing four types of antipersonnel land mines manufactured in the Soviet Union or Russia and claiming they were "laid by the Wagner mercenaries" in residential districts of Tripoli.
"The antipersonnel mines discovered in Tripoli in May are of Soviet and Russian origin and include ... mines that were not previously recorded in Libya, suggesting these land mines may have transferred into the country in recent years," HRW said June 3.
Trail of death
In addition to the deaths of civilians by Russian-made mines, mass graves have been discovered in areas previously held by Haftar's forces.
Authorities found a new mass grave June 28 after Haftar withdrew from Tarhuna, AFP reported, citing pro-government forces.
Forces loyal to the GNA took back Tarhuna, Haftar's last western stronghold, on June 5.
"Nine bodies were discovered and exhumed on Sunday [June 28] ... at a site suspected of containing mass graves, in the town of Tarhuna," said a statement posted on Facebook by pro-GNA forces.
Authorities were still searching for other potential mass graves "left by the Al-Kani criminal gangs, a pro-Haftar militia", said the statement.
Government forces earlier in June said they had discovered eight other suspected mass graves, most of them in and around Tarhuna, AFP reported.
The UN expressed "horror" at the reports.
On June 22 the UN's top rights body ordered a fact-finding mission to Libya to document violations committed since 2016, while an International Criminal Court prosecutor said mass graves discovered there may constitute evidence of war crimes.
Kremlin ready to profit
As the LNA retreats, leaving a deadly trail in its wake, Moscow is taking advantage of the mayhem to gain a share in Libya's oil industry and potentially reap immense profits.
"Russian and other foreign mercenaries" on June 25 entered a key oil field in southern Libya, the country's National Oil Corporation (NOC) said in a statement on its website.
The mercenaries drove into Sharara oilfield in a convoy of vehicles and met with representatives of the Petroleum Facilities Guard, the NOC said.
NOC Chairman Mustafa Sanalla condemned the latest intervention in Sharara, situated in the Oubari region about 900km south of Tripoli.
"Libya's oil is for the Libyan people, and I completely reject attempts by foreign countries to prevent the resumption of oil production," he said.
"We do not need Russian and other foreign mercenaries in Libyan oilfields whose goal is to prevent oil production," Sanalla said.
"While foreign mercenaries continue to be paid vast sums of money to prevent the NOC from carrying out its essential duties, the rest of the Libyan population suffers, not just through the absence of oil revenues but also through the loss to the nation of the disastrous decay of our oil infrastructure through corrosion and the inability of NOC staff to carry out essential maintenance," he said.
While in operation, Sharara produces 315,000 barrels per day -- nearly a third of Libya's crude output.
Oil exports are the source of almost all the state's revenues, and Libya has the biggest proven crude reserves in Africa.