NATO allies and the European Union are urging the Russian regime to comply with the 1992 Open Skies Treaty, which Washington announced it will leave, citing numerous and repeated violations by the Kremlin.
The US decision to quit the agreement will not come into effect for six months, leaving Moscow time to change course, said NATO Secretary General Jens Stoltenberg.
"Russia has for many years imposed flight restrictions inconsistent with the treaty, including flight limitations, over Kaliningrad and restricting flights in Russia near its border with Georgia," he said May 22.
The United States has declared that it may reconsider its withdrawal -- if Moscow returns to full compliance.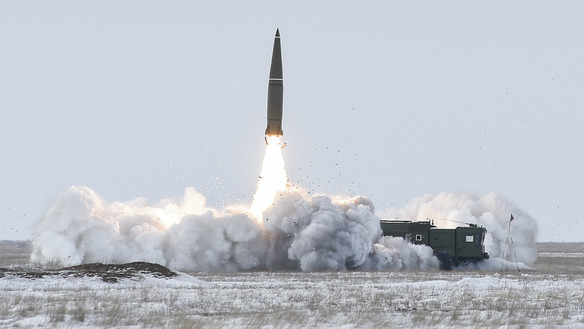 "At its core, the treaty was designed to provide all signatories an increased level of transparency and mutual understanding and co-operation, regardless of their size," US Secretary of State Mike Pompeo said in a press statement May 21.
"Russia's implementation and violation of Open Skies, however, has undermined this central confidence-building function of the treaty -- and has, in fact, fuelled distrust and threats to our national security -- making continued US participation untenable," he said.
Russian Deputy Foreign Minister Sergey Ryabkov made light of the allegations.
"When the administration of [US President Donald] Trump... suddenly declares that Russia has been using Open Skies aircraft to guide artillery and missile fire, this arouses great laughter in Moscow offices and headquarters," he told Russia's Channel One on May 22.
Russia's repeated violations of the treaty, however, are no laughing matter.
Repeated violations
A number of countries agreed to the Open Skies Treaty just after the Cold War so that they could monitor rival militaries and avoid nasty surprises or unfounded suspicions.
It was signed in 1992 and came into force in 2002, allowing 35 signatory countries, including the United States and Russia, to fly unarmed surveillance flights over each other's territory.
"While the United States along with our allies and partners ... have lived up to our commitments and obligations under the treaty, Russia has flagrantly and continuously violated the treaty in various ways for years," Pompeo said.
"Russia has been a serial violator of many of its arms control obligations and commitments," he said, adding that Russia has "weaponised the treaty by making it into a tool of intimidation and threat".
"Russia has increasingly used the treaty to support propaganda narratives in an attempt to justify Russian aggression against its neighbours and may use it for military targeting against the United States and our Allies," the US Department of Defence said in a separate statement May 21.
"Since 2017, the United States has declared Russia in violation of the treaty for limiting flight distances over the Kaliningrad Oblast to 500 kilometres (km) and for denying flights within 10 km of portions of the Georgian-Russian border," the statement said.
The Russian refusal to allow Open Skies flights along the Georgian-Russian frontier is related to the Kremlin's occupation since 2008 of the Georgian provinces of Abkhazia and South Ossetia.
"Russia has refused access to observation flights within a 10-kilometer corridor along its border with the Russian-occupied Georgian regions of Abkhazia and South Ossetia, thereby attempting to advance false Russian claims that these occupied territories are independent states," said Pompeo in his statement.
"Most recently, in September 2019, Russia violated the treaty again by denying a flight over a major military exercise, preventing the exact transparency the treaty is meant to provide," added the Defence Department in its statement.
Senior US military and intelligence officials have consistently warned about the Kremlin's misuse of the Open Skies Treaty, Tim Morrison, a former senior director on the National Security Council leading US arms control policy, wrote in an op-ed published by The New York Times on May 21.
"For example, the head of the Defence Intelligence Agency warned Congress that Russia had been using the treaty to 'get incredible foundational intelligence on critical infrastructure, bases, ports, all of our facilities,' adding that 'it gives them a significant advantage,'" he wrote.
"The commander of the US Strategic Command warned that 'the treaty has become a critical component of Russia's intelligence collection capability directed at the United States,'" Morrison added.
The Open Skies Treaty was intended to promote openness and transparency, he wrote. "Actionable military intelligence collection was never an intended purpose of the treaty."
Long history of flouting treaties
This is not the first time the Kremlin has flouted its obligations in an international arms control treaty.
Last October, Russian President Vladimir Putin watched as the country's armed forces participated in exercises designed to simulate nuclear war.
The Grom-19 (Thunder-19) strategy games tested missiles that can carry thermo-nuclear warheads, involving "heightened tensions on Russia's border".
The games, which do not involve foreign forces, took place soon after Russia and the United States abandoned the 1987 Intermediate-Range Nuclear Forces (INF) Treaty, which limited the use of nuclear and conventional missiles with ranges of 500 to 5,500km.
The United States formally abrogated the historic pact in August, citing years of Russian violations.
"Russia bears sole responsibility for the demise of the treaty," NATO said at the time, accusing Moscow of violating the pact that limited the use of medium-range missiles, both conventional and nuclear.
The INF deal was seen as one of two key arms treaties between Russia and the United States -- the other being the New Strategic Arms Reduction Treaty (New START), which keeps the nuclear arsenals of both countries well below their Cold War peak.
However, this deal too is set to expire in 2021, and there appears to be little political will to negotiate an extension.
Last year's missile test, the expiry of the INF Treaty and the impending demise of the Open Skies Treaty comes as Moscow aggressively tests a number of weapons it has bragged -- without evidence -- are "invincible", even as it professes to be a peaceful country.