Moscow has been flooding Libya with counterfeit currency for more than four years as part of ongoing efforts by the Kremlin to back military strongman Khalifa Haftar against the United Nations (UN)-recognised government, UN, US, and European officials are saying.
Libya is split between the internationally recognised Government of National Accord (GNA) in Tripoli and forces loyal to eastern-based strongman Khalifa Haftar, who has waged a year-long battle -- with the support of the Kremlin and the Wagner Group -- to try to capture the capital.
The Russian state-owned company Goznak delivered the equivalent of some $7.11 billion in phony Libyan money between 2016 and 2018 to the parallel central bank affiated with Haftar, said UN analysts.
Over the weekend, authorities in Malta seized $1.1 billion worth of the counterfeit currency.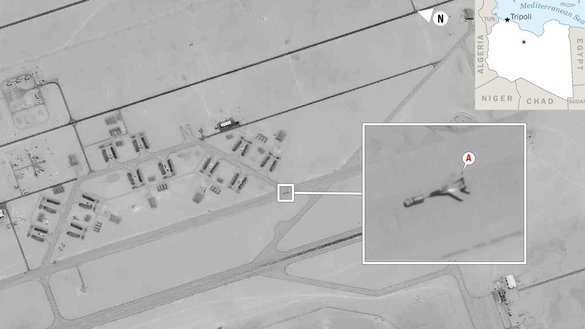 The US State Department Friday (May 29) hailed Malta's announcement about the seizure, saying it was "ordered by an illegitimate parallel entity".
"The Central Bank of Libya headquartered in Tripoli is Libya's only legitimate central bank," the statement said. "The influx of counterfeit, Russian-printed Libyan currency in recent years has exacerbated Libya's economic challenges."
The US State Department said it would continue working with the UN and international partners "to deter illicit activities that undermine Libya's sovereignty and stability".
"This incident once again highlights the need for Russia to cease its malign and destabilising actions in Libya," it added.
The notes printed by Goznak were legal tender, said Russia's Foreign Ministry.
"Under the conditions of de facto dual power in Libya, there are currently two central banks," the Foreign Ministry said.
Destabilising activities
Printing counterfeit currency is one of many destablising activities Moscow is involved with in Libya.
The Wagner Group -- a paramilitary organisation that serves the agenda of Russian President Vladimir Putin -- has been co-ordinating a massive recruitment effort of Syrian youths to fight as mercenaries in Libya.
Despite reaching the edge of the Libyan capital in early May, hundreds of Wagner Group mercenaries fled the front lines after being routed by the UN-backed government.
These setbacks for Moscow, the Wagner Group and Haftar come amid reports of a rift between Wagner and Haftar over the non-payment of a $150 million debt because of ineffective 'rookie fighters' sent from Syria. Haftar is refusing to pay Wagner.
Last week, Moscow was caught red-handed sending camouflaged fighter jets to Libya from an air base in Russia, after transiting Syria.