ALMATY -- Central Asian states must respond to the threat posed by the coronavirus outbreak to food security by actively expanding agriculture and deepening co-operation, according to the World Bank.
In the short term -- the next one to three months -- the region's states could encounter certain hardships, Sergiy Zorya, a senior agricultural economist at the World Bank, said during an online briefing for regional media and the expert community on June 2.
"For example, this could involve price spikes on some types of food, and then it will become harder for vulnerable segments of the population to afford it because their incomes have fallen," Zorya said.
"In Central Asia, food represents 40%-60% of the population's expenditures, and this makes people much more vulnerable to price spikes than in countries in other regions of the world," he said.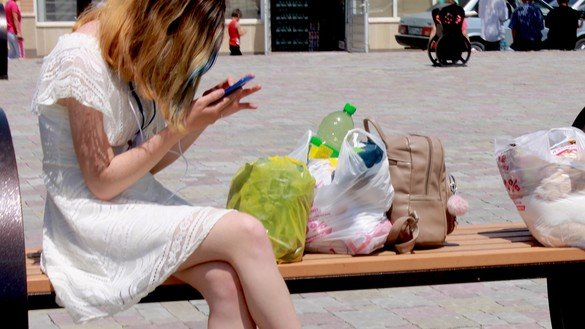 In the next six months the World Bank expects demand for food in the region to decline because economic problems, including the inability of increasingly impoverished migrant workers to send remittances to their families, will hit, said Zorya.
Farmers will have a hard time paying off loans they obtained from banks, he added.
"Amid the pandemic, Central Asian countries have enacted emergency measures to boost food security and prop up the agriculture and food sector," said Zorya. In particular, the region's governments have started to activate food reserves and begun to build up their supplies, imposed administrative oversight over food prices, and have reduced food costs by restricting exports of food and reducing tariffs on imported food."
Under these circumstances, agriculture will help Central Asian countries revive economic growth because it can provide more jobs than any other industry, he said.
The leadership of Central Asian states must concentrate on restoring trade in agricultural products and improve regional co-operation on food safety, he said.
At the same time, the World Bank is recommending that countries invest more in veterinary services and in computerising the agriculture and food sector.
Supporting agriculture is a major priority for the World Bank in Central Asia, said Lilia Burunciuc, regional director for Central Asia at the World Bank.
"Projects costing a total of approximately $1.6 billion are currently being implemented in the region with our co-operation. They're focused on reforming and modernising agriculture in order to increase productivity and create new jobs," she added.
In the last two months the World Bank has provided Central Asian countries with more than $370 million to improve health care and to support the economies and social safety nets for vulnerable segments of the population, said Burunciuc.
Optimism in Kazakhstan
Though problems persist because of the coronavirus pandemic, Kazakhstan is expected to weather the storm.
The purchasing power of Kazakhstan's population has plummeted because of problems caused by the coronavirus, said Arman Beisembayev, an Almaty-based economist.
The service sector has taken a huge hit because not all companies in the sector will be able to resume operations after the lockdown, and many will start laying off workers and cutting the salaries of the remaining workers, he said.
"But that's happening all over the world, not just in Kazakhstan. Kazakhstan's economy won't be returning to its pre-quarantine size anytime soon. But when it comes to food security, there shouldn't be very severe problems here," Beisembayev said.
Kazakhstan is self sufficient in strategically important foods: flour, pasta, essential vegetables and vegetable oil, he said.
During the quarantine, problems arose with food delivery, but they happened because Kazakhstan, like every other country, had never confronted a pandemic like this one, Beisembayev added.
Businesses will find solutions in any situation and always iron out problems affecting the distribution of goods, he said.
"The world is already emerging from lockdowns; trade borders and national borders are gradually opening, and life will most likely return to its previous rhythm within six months. I don't anticipate a return to lockdowns," he said.