ALMATY -- Ukraine has filed criminal cases against 15 accused mercenaries of the Wagner Group, a Russian private military contractor, including three Kyrgyz citizens, who allegedly fought in eastern Ukraine alongside separatists.
Ukraine's Prosecutor General's Office stated on July 28 that since 2014 foreign fighters "have been participating in the military conflict against Ukraine on the temporarily occupied territory of the Donetsk and Luhansk regions".
Those in custody "served" in different units of illegal Russian forces, according to the office.
These included, in particular, the Prizrak 14th Special Battalion, the Vostok 11th Separate Motorised Rifle Regiment and the Oplot 5th Motorised Rifle Brigade, all of which belonged to the Wagner Group.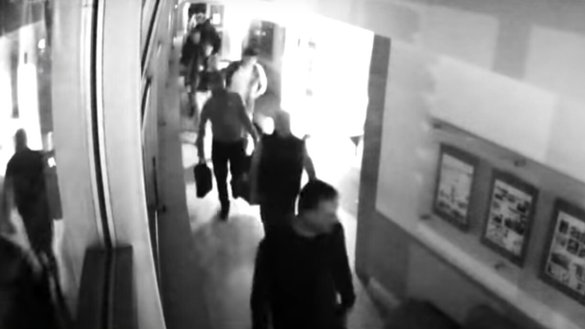 Based on the Geneva Conventions, the suspects are considered "mercenaries, while their actions are a violation of the International Convention Against the Recruitment, Use, Financing and Training of Mercenaries, which was adopted by the UN [United Nations] General Assembly on December 4, 1989", the office said in the statement.
The Security Service of Ukraine (SBU) will investigate the cases.
The accused Wagner mercenaries face potential life sentences along with the confiscation of property.
A threat to security in Central Asia
Ukraine's intelligence agencies first learned of the Wagner Group's activities in support of the separatists in the Donbas in May 2014, reported Deutsche Welle (DW).
In October 2017, Vasyl Hrytsak, the then-head of the SBU, said that Wagner fighters had been involved in the destruction of an Il-76 military transport plane in eastern Ukraine in June 2014, in a raid on the Donetsk airport and in combat operations in a district of Debaltseve, Ukraine.
The Wagner Group enlisted members not only from all over Russia but also from among residents of eastern Ukraine, which separatists control, reported DW.
However, the Moscow recruiters, taking advantage of the tough socioeconomic situation in the region, drew in Central Asian youths who desperately needed to earn money, say former military personnel in Almaty.
"They pay pretty well, so it's an excellent opportunity for unemployed men, many of whom had abandoned all hope of solving their financial problems and of getting their lives back on track," said Dauren Ospanov of Almaty, a retired major in the Kazakh army.
The Wagner Group uses recruiting tactics that are similar to those of "Islamic State" (IS) terrorists, he said. For example, both lure poor young people with money and look online for candidates who are susceptible to being recruited.
"Today, Wagner presents an even bigger threat to regional security since unemployment has spiked in the Central Asian countries because of the pandemic," Ospanov said.
The crime of which the arrested Kyrgyz citizens are accused in Ukraine is especially serious, said Kairat Osmonaliyev of Bishkek, a professor and reservist police lieutenant colonel.
"If there is proof of their guilt, the Kyrgyz citizens won't be able to count on the support of their government because according to our constitution, this is grounds for revoking Kyrgyz citizenship," Osmonaliyev said.
However, if Ukraine deports them to Kyrgyzstan, they face a 12-year prison sentence there, he added.
The charges facing the Kyrgyz defendants in Ukraine are tantamount to terrorism, said Kurmanbek Aliyev, a human rights activist from Osh, Kyrgyzstan.
"They fought there for money and spilled the blood of those who were defending their own territory," he said. "What are they if not terrorists?"
The Wagner Group, a Russian company, is itself illegal and in essence a terrorist organisation that conducts combat operations in other countries for Moscow's benefit, said Aliyev.
"They're destroying the lives of both their adversaries and their own people in achieving the Kremlin's political purposes," Aliyev said, referring to Wagner Group members.
Targeting Belarus
Recent events in the post-Soviet space suggest that the Wagner Group could be carrying out a new subterfuge.
On July 30, Belarus reported that it had filed a criminal case against Russian mercenaries who were arrested for plotting to destabilise the country in the run-up to presidential elections held Sunday (August 9).
In the last few years, despite pressure from Russia, Belarusian President Alexander Lukashenka has rejected outright unification with Moscow and sought to strengthen ties with the West.
However, Belarus occupies a central place in Russia's strategic planning, perhaps more important than that of any other neighbouring state aside from Ukraine.
Russia has major interests in Belarus, since Moscow provides Minsk with almost all of its oil and gas. But this year, seeking to lessen its dependence on Russian hydrocarbons, Belarus purchased oil from Norway, Saudi Arabia, Azerbaijan and the United States, to the irritation of Russian President Vladimir Putin.
The Wagner Group could certainly have carried out a mission to destabilise Belarus since Moscow "definitely has strategic interests" there, said Ospanov, the former Kazakh army major.
"But Lukashenka, who is unpredictable and becoming less and less controllable, is letting Putin down," Ospanov said.
Worldwide efforts
Wagner Group mercenaries have waged war in various other countries, trying to advance the Kremlin's agenda.
In Libya, they continue to buoy military strongman Khalifa Haftar's unsuccessful efforts to topple the internationally recognised Libyan government. Verified photos showed that they laid land mines and improvised explosive devices (IEDs) in and around Tripoli, Libya, violating the UN arms embargo and endangering the lives of innocent Libyans, US Africa Command (AFRICOM) confirmed in July.
Wagner Group members reportedly have operated in Syria for years, serving on the front line alongside pro-regime troops. The Kremlin sent forces to Syria in 2015 on behalf of its client, President Bashar al-Assad.