ALMATY -- The Kremlin is lobbying for the introduction of an import duty for member states of the Eurasian Customs Union (EACU) that if enacted would make it unprofitable for packaging manufacturers in Kazakhstan to buy raw materials from non-members.
The EACU is the customs union for the member states of the Russian-dominated Eurasian Economic Union (EEU).
In February, Russia proposed an import duty of 6.5% on raw materials for polymers imported from states outside the EACU, according to Batyrbek Aubakirov of Nur-Sultan, director of the Association of Packers of Kazakhstan.
Manufacturers need those raw materials to make packaging for foods, consumer goods and building materials, he said.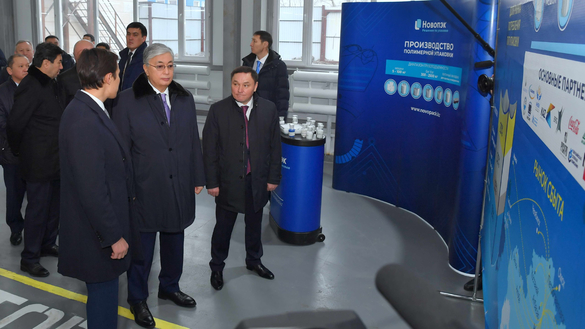 Such packaging has become even more vital during the coronavirus pandemic because it helps protect the public from infection, he added.
"Discussions of the duty began in February, and the debate escalated. Today, through my insider channels, I learned that the Eurasian Economic Commission [the executive body of the EEU] approved the introduction of this duty," Aubakirov said on August 18.
There has been no official confirmation of the move.
In 2015, Kazakh packers began to buy raw materials from Russian suppliers, but the materials turned out to be shoddy, according to Aubakirov.
When demand that year for the raw materials surged during peak season for factories (spring, summer and autumn), Russian suppliers began setting aside raw materials for Russian factories first, as well as raising their prices, he said.
Kazakh packers sought out partners in Switzerland, Saudi Arabia and South Korea. Not only did their raw materials prove to be superior, they cost no more than did the Russian materials even though those countries are much farther away than Russia, said Aubakirov.
"In other words, you can understand how unprofitable it really was for us to work with Russia," he said.
"But when their petrochemical plants realised that they were losing customers, the Russians began to lobby for the introduction of an import duty of 6.5% on polypropylene raw materials sourced from countries that are not members of the [EACU]. They are now driving us [back] to Russian factories," Aubakirov said.
An import duty will force foreign partners to increase the price of their goods, in turn forcing packaging manufacturers in Kazakhstan to spend more money on packaging if they refuse to switch to Russian suppliers, he said.
If the price of packaging rises, the price of food will rise, said Aubakirov, adding that higher food prices would immediately hit Kazakh consumers in the pocketbook and could accelerate inflation, which Kazakhstan's government already is battling.
Alternatively, packaging manufacturers facing foreign competition could refuse to raise their prices, go bankrupt and enable Russian competitors to come to Kazakhstan in their place, Aubakirov added.
"In the current situation, not only will Kazakhstan suffer, but Kyrgyzstan and Armenia too, because they are also in the [EACU] and the duty will apply to them," he said.
Russia's interests dominate
This duty benefits large Russian petrochemical plants that produce raw materials for polymers but harms Kazakh packers, which are small- and medium-size businesses, according to Rustem Usmanov of Kokshetau, general director of the Novopek Group, a packaging manufacturer.
"We will not be able to increase our prices for packaging because of competition from packaging manufacturers in neighbouring countries -- Azerbaijan, Turkmenistan and Uzbekistan," he said.
"Their prices will be lower, because they are not part of the [EACU]; i.e., the duty does not apply to them," Usmanov said.
"Moreover, Russian factories sell their raw materials in these same countries less expensively than in Kazakhstan, because there is competition from other raw material suppliers," he said.
Not only could Kazakh companies in this sector go out of business, he said, but the vast sums that Nur-Sultan spends to support small- and medium-sized businesses could go down the drain.
All of this is occurring because Moscow's interests dominate the EACU, he added.
Coercive economic policies
This is not the first time the Russian regime's coercive economic policies have harmed Kazakh industries.
In the beginning of 2018, Moscow raised custom duties on sugar imported from countries outside the EACU.
The lack of imports and domestic production led to a massive shortage of sugar in Kazakhstan, forcing producers to buy sugar from Russia and threatening local businesses.
The EACU last October set regulations on the safety of milk and dairy products that observers predicted would squeeze Kazakh farmers trying to sell milk in domestic markets while benefiting Russian producers.
At the same time, Moscow is seeking to widen the influence of the EEU beyond economic issues while limiting opportunities for member countries.
Kazakh President Kassym-Jomart Tokayev in May rejected a proposed draft that would have expanded the EEU's influence on topics such as health care, education and science.
The proposal, known as the Strategic Directions for the Development of Eurasian Economic Integration for 2025, was discussed May 19.
"The full inclusion of [such] issues... in the competence of the Eurasian Economic Commission can significantly change its economic orientation; in other words, it will contradict the essence of the 2015 treaty on the establishment of the EEU," Tokayev said during the summit.