NUR-SULTAN -- Kazakhstan is working with the Organisation for Security and Co-operation in Europe (OSCE) to move the country's police force to a more service-oriented model as it reforms law enforcement, according to the Interior Ministry (MVD).
"In international practice, a service-oriented police force is a management style and organisational strategy aimed at solving problems and at partnering with society," the MVD said in a statement on September 23.
The service model is based on providing high-quality services to the public and bolstering co-operation between law enforcement and citizens to identify safety and security issues.
The main role in this new police model goes to the district inspector, who is constantly in touch with the residents of his or her area.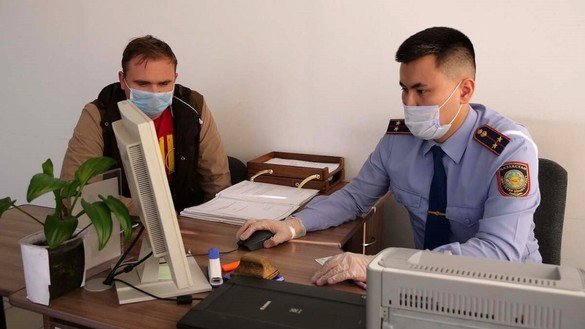 "In order to switch to a service-oriented format for ensuring public safety, a pilot project was launched in Karaganda Province last year," said Aidar Saitbekov, chief of the MVD personnel policy department. "Its goal is to establish partnerships with the local community on public-safety issues. In the near future, the same project will start up in the capital" of Nur-Sultan.
Kazakhstan began reforming law enforcement in October 2018, when then-President Nursultan Nazarbayev spurred the introduction of new modern methods of working with the public while changing the criteria for assessing police work.
Neighbouring Kyrgyzstan has been undergoing similar transformations of its law enforcement into socially oriented services since 2018.
International assistance
Kazakhstan is implementing its service-oriented police model with the active participation of the OSCE Programme Office in Nur-Sultan.
On September 22, a discussion of the transition to a new model took place in Nur-Sultan, involving MVD officials, civic leaders and OSCE specialists.
Local police inspectors and local police leadership are attending special training sessions with OSCE support, said the MVD.
"The OSCE's assistance was no accident. It is in European countries that the police service model has shown its effectiveness. OSCE experts are providing comprehensive assistance in implementing the service model in our country," said Shymkent political scientist Rauan Dautaliyev.
In public safety, "it is important not only to catch criminals but also to establish contact with the public, identify problems and help solve them," said Dautaliyev.
"A service-oriented police force includes more than just police officers. They are assisted by representatives of other state systems: health care, education and social protection."
"Crime prevention requires a systematic approach, and this is achieved thanks to a modern service model," Dautaliyev said.
From pilot project to countrywide changes
The creation of a service-oriented police force in Kazakhstan began in Karaganda Province, where a pilot project has been under way since last November.
Local residents are happy to see changes in law enforcement.
"Police work has improved recently," said Serik Bilyalov, a resident of Karaganda. "There is already a feeling that safety is our shared task, both for the police and citizens."
"If you contact the police, they will try to help you and are grateful, for example, for information about suspicious people on the street or even about minor offences."
Kazakhstan already has introduced service centres for receiving citizens' reports. The first such front offices appeared in Kazakhstan at the end of 2018 and offer reception rooms, ramps for the disabled, queue number machines, payment terminals, televisions and coffee machines.
"I recently contacted the police regarding my residential registration," said Taraz resident Roza Makajanova.
"The work of the police front office made a good impression with well-mannered and competent employees. There are no queues. Services are provided at a 'one-stop shop', where you can access all the services."
To facilitate prompt interaction with the public, the police are creating social media accounts. For example, 102 district inspectors of the Almaty City Police Department have their own accounts.
"Our goal is to establish effective channels of communication with citizens and to facilitate round-the-clock feedback," said Kanat Taymerdenov, Almaty city police chief.