ASHGABAT -- Turkmenistan and Afghanistan late last month reaffirmed their intentions to advance long-delayed infrastructure projects on Afghan soil, including the Turkmenistan-Afghanistan-Pakistan-India (TAPI) gas pipeline and the building of railways.
A document signing ceremony in Kabul on September 30, attended by Afghan President Ashraf Ghani and Turkmen Foreign Minister Rashid Meredov, was "designed to facilitate the practical implementation of joint projects of geopolitical and geo-economic importance for the entire Eurasian continent", Turkmenistan's Foreign Ministry said in a statement on its website.
At the ceremony, Ghani expressed his gratitude to Turkmen President Gurbanguly Berdymukhamedov for his support to Afghanistan and his "commitment to friendship between the two countries and peoples", the statement said.
The development of large-scale energy projects and the creation of multilateral transport and transit corridors are "designed to exert a constructive influence not only for the comprehensive reconstruction of Afghanistan but also for regional economic integration", noted Ghani.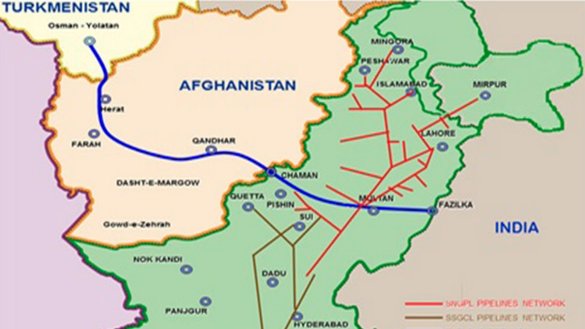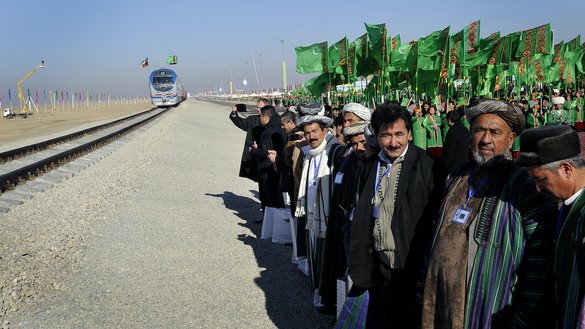 Other planned infrastructure projects include the Turkmenistan-Afghanistan-Pakistan (TAP) power-transmission line, fiber-optic communication lines and railways.
Joining Ghani and Meredov at the signing ceremony were cabinet ministers and other officials from both countries as well as leaders of the international firms taking part in these projects.
"This sort of meeting format allows the parties to assert that they're progressing from stating their intentions to embarking on palpable work," said Serdar Kulyyev, a political analyst in Ashgabat.
These specific steps are helping to put joint efforts into motion, after talks over them dragged on for decades, said Kulyyev. He was referring particularly to the construction of the TAPI gas pipeline, an idea under discussion since the 1990s.
"Now the project is being discussed not in general terms but in terms of its components, such as investment, the acquisition of land for facilities, fulfilment of contract work, provision of security, export volumes and the benefits for the parties," he added.
TAPI will stretch 1,840km and is expected to help ease energy shortages in South Asia and generate revenue for the four countries that it will traverse.
The Iranian regime, which is adamantly opposed to TAPI as it poses a direct threat to rival pipeline projects that go through Iran, has made several attempts to sabotage it, including supplying arms to Taliban members in Afghanistan to attack the pipeline.
New job opportunities
All four initiatives are progressing, said Shamerdanguly Myrady, the Kabul correspondent for Azatlyk, Radio Free Europe/Radio Liberty's Turkmen service, in an October 4 story on the infrastructure projects.
In addition to the TAPI gas pipeline, the land-acquisition process has begun in Afghanistan for the new power lines, which will have a 500MW capacity and through which Turkmenistan plans to deliver its own electricity to Pakistan.
Residents of the provinces through which the power lines and TAPI will run may also benefit from Turkmen electricity and natural gas.
The four projects will create more than 10,000 jobs for Afghans, said Kulyyev the analyst.
"If there is a stable and, most important, halal [righteous] source of income, there will be more people who want to leave extremist groups and return to a peaceful life," Kulyyev said.
Turkmen-Afghans, who number about 1 million, are especially enthusiastic about the announcements of the joint ventures with Turkmenistan, said Myrady.
"The contractors at the facilities in Afghanistan will clearly be Turkish construction companies, which typically are eager to hire local employees from among the ethnic Turkmen population," said Myrady.
Hiring Turkmen-Afghans decreases language barriers, while Turkish firms already have experience working with ethnic Turkmens in building dams and roads in Afghanistan, he said.
Militancy concerns
The meeting in Kabul addressed the security of facilities being built in Afghanistan.
Afghan authorities announced the establishment of a dedicated committee to deal with security, even as the situation in the country remains volatile.
While the Taliban leadership have vowed not to interfere with the TAPI project -- notwithstanding the Taliban members who surrendered in 2018 rather than carry out Iranian sabotage and assassination orders -- other extremist groups may pose a threat, according to Azatlyk journalist Myrady.
About 20 militant outfits are active in northern Afghanistan, including the Khorasan branch of the "Islamic State" (IS-K), he said.
IS-K fighters are active in locations where workers intend to install power and fiber-optic communication lines from Turkmenistan.
"They [IS-K] have already claimed responsibility for recent bloody terrorist acts," Myrady said.
An important role in guaranteeing the security of the infrastructure facilities could be played by Pakistan, which is capable of restraining active militant groups in Afghanistan, he said.
"It looks like we are making progress on this problem," Myrady said on Azatlyk.
During a recent trip by Abdullah Abdullah, chairman of the Afghan High Council for National Reconciliation, to Islamabad, Pakistan's leadership pledged to facilitate peace talks between the warring parties in Afghanistan, he said.
If the key players guarantee security, they will give significant momentum to the energy projects, which matter to the region, said political analyst Kulyyev.