Russia is using private security companies in Syria to extend its military and economic interest in the Middle East, all while propping up its beleaguered client, President Bashar al-Assad.
At least three types of armed forces are operating in Syria on behalf of the Kremlin: Russian regular forces, Russian contractors -- many employing youth from former Soviet countries -- and Syrian security companies hiring local men.
Contractors like Vega and the Wagner Group enable Russia to participate in Syria's war without any of the bloodshed appearing on the Kremlin's books.
Russia's private armies for years have been fighting in Syria, as well as in Ukraine, Venezuela, Sudan, the Central African Republic, Libya and Madagascar.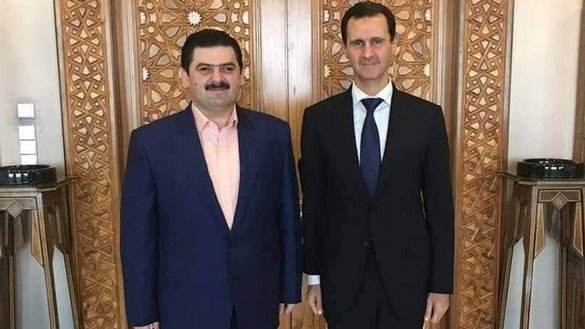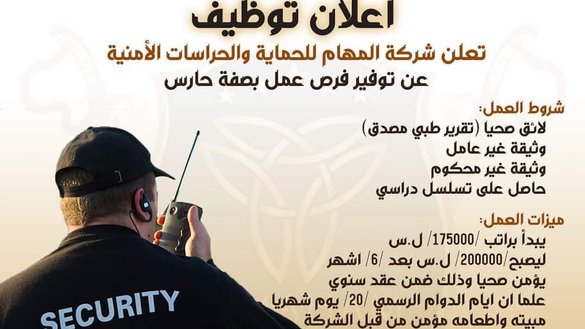 Private firms secure gains for Russia
Through its use of private security firms, Moscow has sought to gain military control in regions that either need reconstruction, such as the eastern province of Deir Ezzor, or have oil and mining potential.
These contractors have pushed out rival militias affiliated with the Syrian regime and Iran's Islamic Revolutionary Guard Corps (IRGC) in order to lock in gains in these regions -- now and during any future reconstruction.
One such firm is Al-Maham security service company, officially registered as Al-Maham for Protection and Private Guarding. It was established in 2016 and is a subsidiary of the Qaterji Company, said Deir Ezzor media activist Jamil al-Abed.
The Qaterji Company, also known as the Qaterji International Group, owns several firms engaged in a number of sectors, including tourism, petroleum, transportation and import-export.
In September 2018, the United States sanctioned the company and its owner, Mohammad Qaterji, for helping Syria smuggle oil and arms and for facilitating fuel trade between the regime and the "Islamic State" (IS).
Last November, the United States also sanctioned Mohammad's brother, Syrian MP Hussam Qaterji, who co-owns the Qaterji Company.
Both brothers own Al-Maham, which is run by two of their relatives. The security company operates in and around Damascus and in Homs, Tartus, Deir Ezzor and Aleppo, according to al-Abed.
It has been public knowledge for more than a year that the Qaterji firms have developed a close relationship with Russia, which enables them to conduct business in Deir Ezzor, al-Raqa and Aleppo provinces, al-Abed said.
The company and its affiliated Qaterji militia "openly fly the Russian flag atop their headquarters, especially in Deir Ezzor", he said.
The Qaterji militia existed before Al-Maham was formed and "was involved in many war crimes against civilians" during the battle for Aleppo city, in which it fought alongside Syrian regime forces, al-Abed said.
Most of the militia members were then hired by Al-Maham to continue doing their work, but with a 'legal cover', he added.
Recruited by Wagner, armed by Russia
Al-Maham is a formidable operator, with "more than 1,000 employees spread out in many areas", said Syrian lawyer Bashir al-Bassam.
"They obtain weapons and ammunition from the Russian forces, who train them either directly or through the Wagner Group," he said.
With Russia's support, Wagner has expanded the recruitment for Al-Maham to Deir Ezzor residents "as part of what seems to be a race between Iran and Russia to control the region through militias and security companies", he said.
"It offers [monthly] salaries of up to 200,000 SYP ($390) and promises of protection from harassment by Syrian forces and officials, life insurance, and exemption from ever needing documented proof of completing Syrian military or reserve duty."
Al-Maham has become a haven for Deir Ezzor youth who seek protection from being conscripted into the Syrian army, al-Bassam said.
"With its support of Al-Maham and other security companies, Russia aims not only to gain military and security control but also achieve as many gains as possible in terms of work related to oil, mining and precious metals," he said.
It also seeks "broad participation in future reconstruction projects", he said, noting that it seeks to accomplish this in part through its ties to Qaterji.
'Wagner' ordered sledgehammer killing
Former Wagner Group recon company commander Marat Gabidullin in December spoke to independent Russian news site Meduza about the atrocities he had witnessed in Syria.
He said the commander of Wagner forces in Syria ordered the 2017 beating and decapitation of a Syrian army deserter.
In video clips that drew international outrage, four men are seen breaking the victim's legs with a sledgehammer. They crush his chest, behead him, chop off his arms and hang his corpse by the legs, before setting his body on fire.
"It was 'Wagner' himself [commander Dmitry Utkin] who told them to do it!" Gabidullin said.
Wagner mercenaries also looted the UNESCO site in Palmyra, he added, recalling "ancient stones" and a "bas-relief" he saw on Wagner Group bases in Syria.
When Gabidullin was first hired in 2015 to fight in Syria, he said he was told openly about the possible consequences of his deployment.
"They spoke honestly: 'Guys, you're destined for war [in places] where our state has interests. Prepare yourselves for the fact that this could turn out badly for you. Fatally," he recalled in his conversation with Meduza.
Wagner operates in countries where the Kremlin has strategic, geopolitical interests. By establishing a foothold in Syria, Russia seeks to gain access to the entire eastern Mediterranean -- a gateway to the Middle East.