KABUL -- As the Taliban continue to wage an offensive across Afghanistan, leaders in neighbouring Central Asian states are taking steps to protect their borders and support the Afghan National Defence and Security Forces (ANDSF).
Afghan authorities on Tuesday (July 6) deployed hundreds of commandos and pro-government group members to counter the Taliban's offensive in northern Afghanistan, which earlier resulted in hundreds of Afghan troops fleeing into neighbouring Tajikistan.
Tajikistan's State National Security Committee (GKNB) confirmed Monday that Afghan troops had crossed into the country after clashes with the Taliban during the night.
"Taking into account the principle of good neighbourliness and adhering to the position of non-interference in the internal affairs of Afghanistan, the military personnel of the Afghan government forces were allowed to enter Tajik territory," said the statement, published by Tajikistan's state information agency.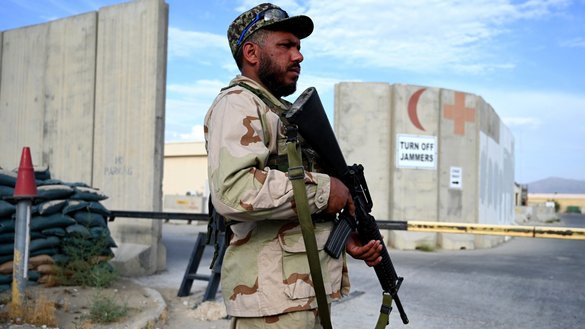 In response, Tajik President Emomali Rahmon ordered "the mobilisation of 20,000 reserve troops to further strengthen the border between Tajikistan and Afghanistan", a statement from the presidency said.
Rahmon ordered members of the Security Council and the directors of defence and law enforcement agencies to adopt concrete measures to secure the border between Tajikistan and Afghanistan, AKIpress reported.
Also on Monday, Rahmon conferred by phone with Uzbek President Shavkat Mirziyoyev, the Uzbek president's press office said in a statement.
The two leaders discussed relevant issues of Tajik-Afghan relations and regional co-operation, with special attention to the impact the escalating tensions in Afghanistan could have on the region.
'Violence and terror cannot create peace'
In Afghanistan, fighting has raged across several provinces, but the insurgents have primarily focused on a campaign across the northern countryside.
"We are planning to launch a big offensive to retake the lost territories from the enemy," Fawad Aman, a spokesman for the Afghan Ministry of Defence, told AFP.
"Our forces are being organised on the ground for this operation."
Hundreds of troops and pro-government group members were deployed in Takhar and Badakhshan provinces.
Afghan defence officials have said they intend to focus on securing major cities, roads and border towns in the face of the Taliban offensive, launched in early May as US and NATO troops pressed ahead with their final withdrawal planned for September 11.
The ANDSF continue to maintain control over the country's cities, with most territorial losses in sparsely populated rural areas.
"Many of the districts that have fallen were low-hanging fruit -- remotely positioned and difficult to resupply or reinforce, with little strategic military value," said Andrew Watkins, a senior analyst on Afghanistan for the International Crisis Group.
Instead of sincerely participating in negotiations for peace and a political settlement, the Taliban seem focused on positioning their troops for a military takeover.
US President Joe Biden attempted to ease concerns at the White House last Friday.
The US military is keeping an "over the horizon capacity" that could bring firepower to help the government and its forces if needed, he said.
Media reports say the Pentagon will probably retain about 600 troops in Afghanistan to guard the vast US diplomatic compound in Kabul.
The top US envoy to Kabul, Ross Wilson, lashed out at the insurgents.
"Violence and terror cannot create peace," he tweeted Saturday.
'We will not surrender'
Afghan commander Gen. Mir Asadullah Kohistani, who is now in charge of Bagram Air Base -- from where American warplanes bombed Taliban hideouts for 20 years -- said Afghan forces were ready to defend against the militants.
Kohistani said he was already receiving reports that the Taliban were making "movements in rural areas" surrounding the base.
"The enemy are determined and will definitely try to attack here," said Rafiullah, a private stationed at Bagram.
"But we will not give them the chance," he said as behind him two Afghan military helicopters took off.
"We haven't come here to sleep. Everybody here is prepared to secure Bagram. Our morale is high," insisted Rafiullah.
Another soldier also defiantly said he was ready to fight the Taliban.
"We will not surrender, but we need weapons and strong backing from our leaders," he said.
More than 300 Taliban fighters were killed in fighting with government forces over the previous 24 hours, the Ministry of Defence said Saturday.
Scores were killed in air strikes, including a pre-dawn assault on Saturday, in Helmand province, where the insurgents and government troops have regularly clashed.
"In recent days, the Afghan air force has intensified its air strikes against the Taliban hideouts and the insurgents have suffered casualties," Attaullah Afghan, a member of the Helmand provincial council, told AFP.
In another statement Tuesday, the Defence Ministry said 261 Taliban militants were killed and 206 wounded in Laghman, Nangarhar, Paktika, Kandahar, Zabul, Badghis, Balkh, Jawzjan, Helmand, Badakhshan, Kunduz and Kapisa provinces over the last 24 hours.
In another incident, the Afghan air force Monday targeted and killed Miraj, a Taliban militant in charge of facilitating suicide attacks in Afghanistan's southwest provinces, alongside five would be suicide bombers, the ministry said Monday.
"Miraj was the cousin of Sader Ibrahim, the Taliban's military commander for southern provinces," the statement said.