KYIV -- Remarks by Russian officials and explosions reported last month in Transnistria, the Moscow-backed separatist region of Moldova along Ukraine's southwest border, have fuelled speculation over Moscow's intentions.
In late April, Transnistria reported explosions hitting its security ministry, a military unit and a Russian-owned radio tower, as well as shots fired at a village housing a Russian arms depot, which Moscow called "acts of terrorism".
The self-proclaimed republic of Transnistria bordering Ukraine seceded from Moldova in 1992 after a brief war with Chisinau. About 1,500 Russian soldiers have been based there ever since.
The situation is reminiscent of Central Asia, where Soviet-created borders have kept neighbours like Kyrgyzstan and Tajikistan, Uzbekistan and Tajikistan, and Kyrgyzstan and Uzbekistan feuding and sometimes even fighting with each other more than 30 years after the Soviet Union's downfall.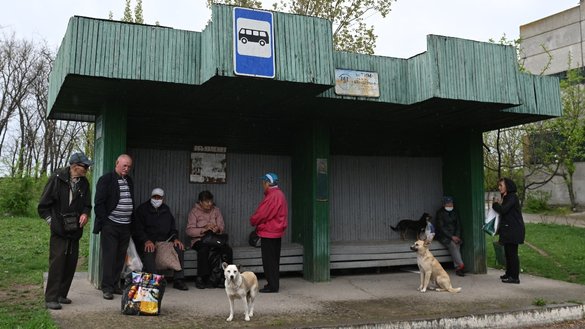 Fears of a spillover from the Ukraine conflict grew after Russian Maj. Gen. Rustam Minnekayev said in April that the Kremlin's military campaign -- launched on February 24 -- aimed to create a land corridor through southern Ukraine to Transnistria.
Kyiv has accused Russia of wanting to destabilise the region to create a pretext for a military intervention.
Russian President Vladimir Putin is determined to build the land bridge to Transnistria, US Director of National Intelligence Avril Haines said Tuesday (May 10).
"We assess President Putin is preparing for prolonged conflict in Ukraine during which he still intends to achieve goals beyond the Donbas," Haines told a US Senate hearing.
Russian forces in recent weeks shifted their focus from Kyiv to the Donbas region in Ukraine's southeast.
"Putin most likely also judges that Russia has a greater ability and willingness to endure challenges than his adversaries, and he is probably counting on US and EU resolve to weaken as food shortages, inflation and energy prices get worse," Haines told the Senate Armed Services Committee.
Russian forces still intend to win territory across the Black Sea coast, in part to secure water resources for Crimea, which they seized in 2014, she added.
"We... see indications that the Russian military wants to extend the land bridge to Transnistria," Haines said.
However, the current Russian force is not large or strong enough to capture and hold all that territory without a more general mobilisation of troops and resources from Russian society, she said.
A new front?
Such a move would involve seizing the Ukrainian seaport Odesa and fully cutting Ukraine off from the sea.
"Russia still has about 1,500 soldiers in Transnistria," said Oleksandr Solontai, director of Practical Policy Programmes at the Institute of Political Education (Kyiv).
Uniformed personnel in the separatist region number about 15,000, including local forces, conscripts and reservists, he added.
The tiny Moldovan army has slightly more than 5,000 troops, in comparison.
"The border between Ukraine and Transnistria is more than 400km long in the Vinnytsia and Odesa regions. Theoretically, Russia could open a new front for attacking Ukraine there," he said.
The village of Cobasna, in Rybnitsa district, Transnistria, is home to Eastern Europe's largest ammunition depot, according to Solontai.
The depot, which stores about 20,000 tonnes of various munitions, at one point was the collection site for military equipment and weapons from East Germany, Czechoslovakia and other Soviet-bloc countries.
Significant resources would be required for Russia to open a new front, analysts largely agree.
"Before 2014, military personnel from Russia actively rotated into Transnistria through Ukraine and Moldova... In order to send troops there now, Russia would need to fly either through Moldova, Romania or Ukraine," said Valery Honcharuk of Kyiv, a political scientist at Taras Shevchenko National University.
However, now that Russia has invaded Ukraine, planes carrying those Russian troops "could be shot down anywhere. This is a very big risk for Russia", he said.
Ukrainian authorities in May said their forces would down any Russian military aircraft attempting to reach Tiraspol, the Transnistrian capital.
"We need to look at the situation as a whole. If you add up all the facts, then I don't really believe that the Russians will attack Ukraine from Transnistria," said Honcharuk.
"First, a large number of Russian troops died when they were still trying to take Kyiv at the beginning of the war, and the local Transnistrian army has very low morale, no motivation. Many soldiers are locals who do not want to fight," he said.
Provocations and distractions
Instead, Russian escalation in Transnistria would most likely be an attempt to distract Ukraine's attention from the eastern front and to potentially threaten Moldova, say analysts.
"The Russians are doing all these provocations in Transnistria to raise the tension level," said Ihor Petrenko of Kyiv, a political scientist and director of the Department of Internal Policy at the International Centre for Policy Studies.
"It is very important for them to have Ukraine keep its troops on the border with Transnistria and take them out of the east and south," Petrenko said.
"The Russians could really take advantage of ... the war with Ukraine and use Transnistria to attack Moldova," he said.
"Russians from Transnistria could spread incitements, conflicts and trouble to Moldova. They could create turbulence... This is a common tactic of the Kremlin," Petrenko said.
"And then they will tell people: 'Your president isn't handling this; you don't want to have what's going on in Ukraine, do you? That's why Russia is going to restore order now.'"
"Moscow stands to gain [from such a conflict], because it both gains control over Moldova and shifts Europeans' focus away from Ukraine," he said.
In order to pursue this option, however, Russia would have to look for additional resources that it does not have.
"NATO has also joined the race," Petrenko pointed out. "Romania has already deployed tactical troops who are ready to respond quickly to such scenarios."
Dragged into war
In any case, Russia's actions and incitements in Transnistria have already affected regional security and Moldova's economy.
Annual inflation in Moldova has jumped to 22% and Moldovan imports have become more expensive, because the nearby port of Odesa -- the cheapest way to transport many goods -- is no longer in operation, Moldovan Deputy Prime Minister Nicu Popescu said April 29.
"The whole world is feeling the consequences of the war unleashed by Russia. If it hits even such large countries as China, then you can imagine how it affects small countries," Petrenko said.
"Russia's tactic is to intimidate, because the Kremlin is a creature of force and intimidation. But when you are not afraid, then this does not work," he said.
However, tensions are rising.
"We have lived all our lives near Transnistria. Everything was calm. Now there is fear," Roman, a Chisinau native who gave only his first name, said.
"These provocations, the drift toward martial law... you can feel the tension in the air [in Chisinau]," he said.