KYIV -- European authorities have expelled scores of Russian officials this year for alleged spying, dealing an unprecedented blow to the Kremlin's intelligence gathering efforts.
European countries have expelled more than 600 Russian officials this year -- including more than 400 suspected of spying, MI5 Director General Ken McCallum said during his annual update on the threat to Britain on November 16.
"This has struck the most significant strategic blow against the Russian Intelligence Services in recent European history. And together with co-ordinated waves of sanctions, the scale has taken [Russian President Vladimir] Putin by surprise," McCallum said, according to Reuters.
The expulsions followed a template set by Britain in the wake of the poisoning of Sergei Skripal and his daughter Yulia in Salisbury in 2018, which prompted a series of diplomatic expulsions, he said.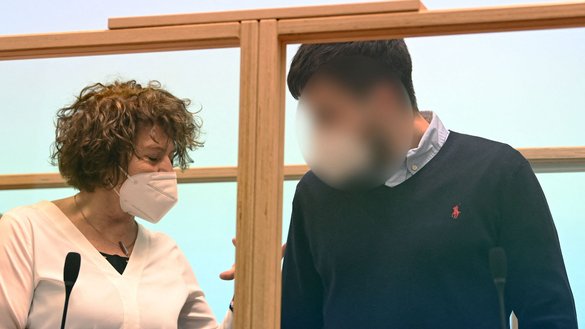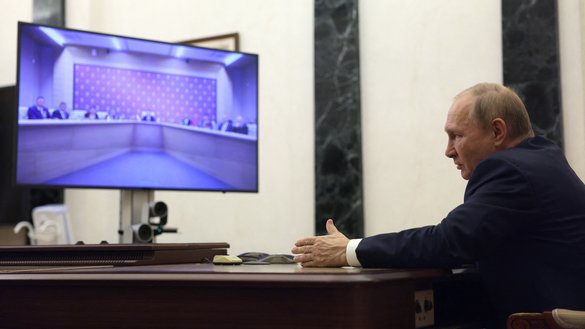 Britain had rejected more than 100 Russian diplomatic visa applications for national security reasons since then, said McCallum.
Reports of Russian espionage have grown over the past year in the wake of Russia's invasion of Ukraine.
The German government in October removed the country's cybersecurity chief after allegations emerged of links to Russian intelligence.
Arne Schönbom, director of the Federal Office for Information Security, was accused of maintaining indirect contacts with Russian intelligence through the Cyber Security Council Germany, an organisation he helped found a decade ago and includes a German subsidiary of a Russian firm founded by a former KGB employee.
Meanwhile, on November 11, the Swedish Prosecutor's Office brought charges of gross espionage for Russia against two men who had access to top secret information of the Swedish intelligence service.
The suspects passed secrets to Russia's military intelligence agency (GRU) for 10 years in exchange for money, Swedish publication Dagens Nyheter reported.
'They spy on everyone'
Kremlin agents in past years penetrated numerous government agencies in Europe, say analysts.
"The process happened all over Europe," Petro Burkovskiy, executive director of the Ilko Kucheriv Democratic Initiatives Foundation, told Caravanserai.
He pointed to instances of Russian spying in the Netherlands, Bulgaria and Hungary.
Russian President Vladimir Putin "understands that intelligence means influence on Europe", said Burkovskiy.
"They spy on everyone, so you can be sure every country is of interest to them. They still have such tactics from the Soviet Union," said Ivan Stupak, a former Security Service of Ukraine (SBU) employee and now an analyst at the Ukrainian Institute of the Future, an independent think-tank.
"At present, Russian agents are, of course, more reoriented toward everything related to the war in Ukraine," he said.
"Here, in Germany, for example ... They tried to figure out which military units the Ukrainians came to [for training], and what they would learn from them."
"If they can understand what the Ukrainians are being taught, then they will be able to predict the type of equipment that will arrive at the front soon and will know what to expect," Stupak said.
Europe realised the magnitude of the threat of Kremlin spies following Russia's invasion of Ukraine, according to observers.
"Russian agents and spies are being actively apprehended now. Of course, the Russians call it a witch hunt ... but these are real spy networks," Dmytro Tuzhansky, a Kyiv political scientist and director of the Institute for Central European Strategy, told Caravanserai.
Western countries also started to pay attention after a series of "very strange" incidents that were later revealed to be the work of Russian intelligence, he said.
"These include explosions at ammunition warehouses in the Czech Republic in 2014 and an attempt to organise a coup in the Balkans [Montenegro] in 2016, not to mention interference in the US elections, Brexit and other serious things," he said.
'We'll drive you out!'
Even as European authorities drive out Russian spies from their nations, the primary front against Russian intelligence is still in Ukraine, say analysts.
Since Ukraine declared independence in 1991, the Kremlin has not only built an entire spy structure within Ukraine but also sought the appointment of its agents to key government positions, particularly in the security sector.
For example, the last two defence ministers under former pro-Russian President Viktor Yanukovych, who was removed from power in 2014, were even Russian citizens.
Ukraine's counterintelligence services continue to identify Kremlin agents to this day.
"Previously, Ukrainian counterintelligence couldn't detect these people, because in the days of Yanukovych ... they were shielded by the very top," Mykola Malomuzh, a security analyst and former director of Ukraine's Foreign Intelligence Service, told Caravanserai.
Malomuzh pointed to Vyacheslav Boguslayev, a Ukrainian engineer, businessman and politician who was arrested on October 22 for alleged collaboration with Russia, as an example.
"Boguslayev, who actively worked for the Russian military-industrial complex, had Russian citizenship, and had real estate in Rublyovka [an elite district in Moscow's suburbs]. Everyone knew this, but there were no penalties," said Malomuzh.
"These are representatives of the older [Soviet-era] generation ... But then they ended up in independent Ukraine. Russia mothballed them and advanced them into leadership positions," Malomuzh said.
While some claimed to be Ukrainian patriots, "Russia helped them with political support and money," he added.
"It's very important to identify them in the agencies that make decisions at the highest political level and in the military intelligence services that are leading the active fight against Russia."