MOSCOW -- The recent claim by the Kremlin that it does not have a history of interfering in the affairs of other nations has been widely ridiculed, particularly among citizens of states directly impacted by Russian meddling.
Russia does not have "a custom to interfere in the internal affairs of other countries and is not doing so now", Kremlin spokesman Dmitry Peskov told reporters February 19.
Simple facts belie such a statement.
In 2014, Russia invaded Ukraine and annexed Crimea, where thousands of Russian troops remain stationed.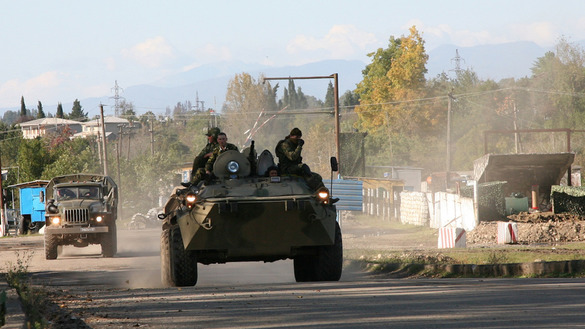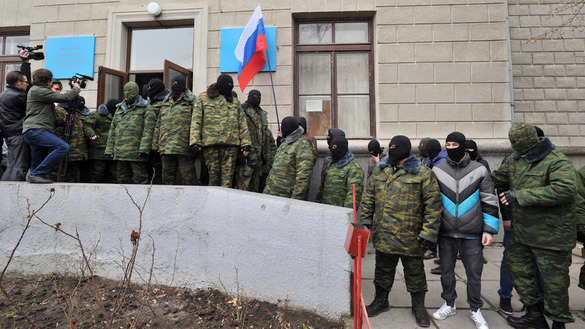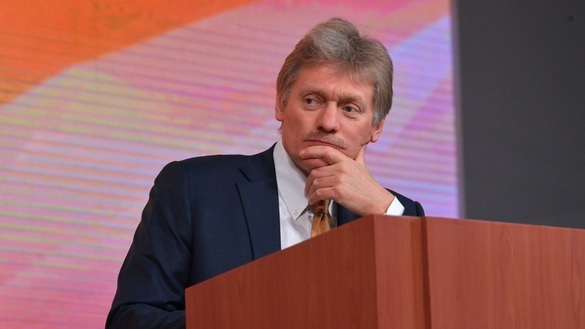 In 2008, Russian troops invaded Georgia, turning South Ossetia and Abkhazia into "independent" countries that only a few nations recognise diplomatically. In 2017, Georgia complained that Russian forces were slowly pushing the border even more into Georgian territory.
Going back even farther in recent history, since the fall of the USSR in 1991, Russian forces have propped up a rump state called Transnistria within Moldova, keeping that country distracted and divided.
Russian military presence in Central Asia
Recent developments in Central Asia involving Russia -- particularly a number of military "agreements" -- highlight the Kremlin's continuing efforts to exert malign influence in the region.
Russia's recent 'military aid' to Tajikistan is seen by analysts as a sign of Moscow's intent to deploy troops on the Tajik-Afghan border for the first time since 2005 -- a move that would undermine sovereignty in Central Asia.
Tajikistan already hosts Russia's largest base abroad -- the 201st Military Base, which is stationed in two separate locations in Dushanbe and in Qurghonteppa, Khatlon Province, and hosts an estimated 6,000 to 7,000 troops.
The 201st will remain in Tajikistan until 2042 at the earliest, according to an agreement Russia and Tajikistan signed in October 2012.
"Russia is creeping into Asian countries instead of putting things right at home -- [fighting] corruption, chauvinism, crime," Caravanserai reader Vasia wrote January 21. "Why does Russia need chaos? It has been its ploy for at least 300 years. Someone stealing from and destroying someone else's garden, instead of growing his own garden -- this is what Russia is all about..."
Russian forces are also stationed at the Baikonur Cosmodrome in Kazakhstan and the Kant air base in Kyrgyzstan. And, more than a quarter-century after the Soviet Union's collapse, they appear to have no intention of leaving.
"If Russia leaves, that's it -- it loses Central Asia forever, the way it lost influence over Poland, the Czech Republic and other countries in Eastern Europe," Parviz Rasulov, a former Tajik army captain who resides in the United States, told Caravanserai.
'Litany of subversive activities'
Russia has demonstrated its willingness to violate the sovereignty of independent states and continues to intimidate its neighbours with threatening behaviour, according to a US government report released in December last year.
The National Security Strategy report details a litany of subversive activities that Moscow directs in Central Asia and across the world, including "nuclear posturing and the forward deployment of offensive capabilities".
"Through modernised forms of subversive tactics, Russia interferes in the domestic political affairs of countries around the world," the document says. "The combination of Russian ambition and growing military capabilities creates an unstable frontier in Eurasia, where the risk of conflict due to Russian miscalculation is growing."
In terms of its neighbours, Russia is "determined to make economies less free and less fair [...] and to control information and data to repress their societies and expand their influence".
Central Asia 'most vulnerable' to Russian aggression
Kazakhstan, Kyrgyzstan, Uzbekistan and Tajikistan remain the most vulnerable to Russian aggression and manipulation, according to a US Senate report released January 10.
"[Russian President Vladimir] Putin sees successful democracies, especially those along Russia's periphery as threats to his regime because they present an attractive alternative to his corrupt and criminal rule," the report said.
"Democracies with transparent governments, the rule of law, a free media and engaged citizens are naturally more resilient to the spread of corruption beyond Russia's borders, thereby limiting the opportunities for the further enrichment of Putin and his chosen elite," the report said.
As such, Moscow has "engaged in a relentless assault to undermine democracy and the rule of law" across the globe, according to the report.
"Russia is a major threat," Caravanserai reader Omar wrote January 17. "When will we understand this? Ukrainians are freaking out over it. We don't want the 'Russian world'! [We're] sick of them!"
"Russia is no friend of Kazakhstan's. This is an attempt at revanchism stemming from the loss of complete control over Central Asia, a kind of imperial arrogance and vain efforts," Caravanserai reader Elzhas wrote January 24.
"All these 'economic unions' with Russia are no good for Kazakhstan. Why [do we need to] duplicate the WTO? Kazakhstan should go along only with Turkey, Europe, the United States and other developed countries. They have many positive examples to learn from. Russia means fascism, banditry and evil for humanity," he wrote.
"They [Russians] want us to work hard for them. Remember the USSR, where Russia took everything and killed everyone who was against that. But people simply needed something to eat," Caravanserai reader Sania wrote January 14.
"But what does Russia give us, if it can't even provide for itself? Only Putin and his sycophants live a good life in Russia as people there starve to death."