NEW YORK -- Russia is perpetuating a massacre in Syria under the pretext of fighting terrorists as its recent air strikes have killed of hundreds of civilians and displaced hundreds of thousands more.
Russia and its Syrian ally have stepped up air attacks and shelling in Idlib since late April, forcing more than 270,000 Syrians to flee their homes, according to the United Nations (UN).
Most of Idlib is controlled by Hayat Tahrir al-Sham, a group dominated by former members of al-Qaeda's Syria affiliate.
Russia maintains that it is upholding the ceasefire and that it is targeting only "terrorists" in military operations.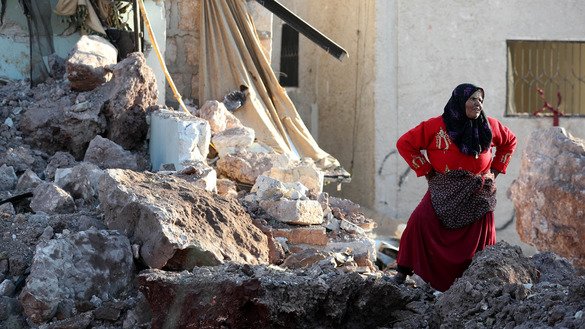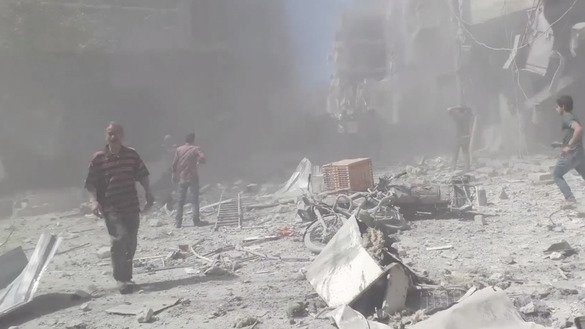 That claim is contrary to overwhelming evidence from residents on the ground and a number of international non-profit organisations.
Strikes by the regime and Russian forces have killed at least 288 civilians -- including 67 children -- since April 30 alone in the enclave, home to almost 3 million Syrians, according to the Britain-based Syrian Observatory for Human Rights (SOHR) monitoring organisation.
The SOHR put the total death toll since the uptick in violence began in Idlib a few months ago at 950.
A total of 24 health facilities and 35 schools have been hit in the latest escalation, according to the UN's humanitarian office.
Human Rights Watch Monday accused the Syrian regime and Russia of using "internationally banned and other indiscriminate weapons in unlawful attacks on civilians in northwest Syria in recent weeks".
They "used banned cluster munitions and incendiary weapons... along with large air-dropped explosive weapons with wide-area effects, including 'barrel bombs'", said the organisation.
Despite the surge in attacks, the government has not announced an all-out offensive to retake the entire enclave.
Russia and rebel supporter Turkey brokered a ceasefire deal in September to avert a government assault amid concern it could spark the worst humanitarian disaster of the eight-year-old war.
Some analysts have blamed Russia for bungling the agreement and failing to protect civilians in the region.
Turkey President Recep Tayyip Erdoğan on May 30 spoke by telephone to his Russian counterpart, Vladimir Putin, calling for the ceasefire to be respected, the Turkish presidency said.
Erdoğan told Putin it was important to "apply the ceasefire without delay in order to focus once again on finding a political solution" to the Syrian conflict, according to a statement.
He also "stressed the need to prevent more lives being lost in regime attacks mainly targeting civilians" and to eliminate the "growing risk" of a wave of migrants heading for Turkey's border.
Russian efforts to shield Syria
In its latest attempt at protecting its Syrian ally from international scrutiny, Russia on Monday blocked a UN Security Council statement criticising Syria's military campaign in Idlib.
Russia said in a note seen by AFP that the proposed statement was "unbalanced".
Belgium, Germany and Kuwait had put forward the proposed text following two emergency meetings of the council on the worsening violence.
Russia last month blocked a separate statement also warning of a humanitarian catastrophe from an all-out assault on the Idlib region.
Council statements require unanimous support by all 15 members.
Moscow objected to "everything" in the proposed statement, said Russian Deputy Ambassador Dmitry Polyanskiy.
The proposed text would have expressed "grave concern over the intensifying hostilities in northwestern Syria", including attacks on hospitals, clinics and schools.
It warned of "a potential humanitarian catastrophe in the event of a full-scale military operation in northwestern Syria", according to the text seen by AFP.
The proposed measure would have called on the parties to return to the ceasefire arrangement agreed by Russia and Turkey.
The move by Russia is not the first aimed at shielding Syria.
Moscow on May 16 presented a draft resolution to the Security Council accusing the UN's chemical weapons watchdog of "politicisation" just before the start of a new probe of chemical attacks in Syria, where the regime has been long accused of using chemical weapons.
The chemical weapons regulator, the Organisation for the Prohibition of Chemical Weapons (OPCW), agreed last year to set up a mechanism that would identify users of chemical weapons, a move bitterly opposed by Russia and Syria.
More denials
Despite the overwhelming evidence to the contrary, the Kremlin Monday insisted that the Russian army was targeting "terrorists" in Idlib.
"There is a fairly large buildup of terrorists and fighters in Idlib," Russian President Vladimir Putin's spokesman, Dmitry Peskov, told reporters.
"Gunfire by terrorists from Idlib is of course unacceptable," he added. "Measures are being taken to neutralise such firing positions."
Russia and Turkey were co-ordinating their positions over the situation, he said.
It is Turkey's responsibility to make sure fighting ends in Idlib, said Peskov last week, before reiterating his contention Monday.
His comments came after US President Donald Trump Sunday (June 2) told Syria and Russia to stop "bombing the hell" out of Idlib.
"Hearing word that Russia, Syria and, to a lesser extent, Iran, are bombing the hell out of Idlib Province in Syria, and indiscriminately killing many innocent civilians," he tweeted shortly before he was to depart for a state visit to Britain.
"The World is watching this butchery. What is the purpose, what will it get you? STOP!" Trump said.