UNITED NATIONS -- Russia and China on Tuesday (July 7) vetoed a United Nations (UN) Security Council resolution that would have extended authorisation for cross-border humanitarian aid in Syria for a year.
The same day, a UN investigation determined that the Syrian regime and Russia committed war crimes and possible crimes against humanity during the offensive to take Idlib Province launched late last year.
Other than Russia and China, the other 13 Security Council members voted to approve the resolution that would have allowed aid to continue to pass through two points on the Turkish border without interference from Damascus.
Under Russian pressure, the UN on January 10 scaled back the aid programme, agreeing to prolong the assistance for only six months, and through two crossing points along the Turkish border instead of four.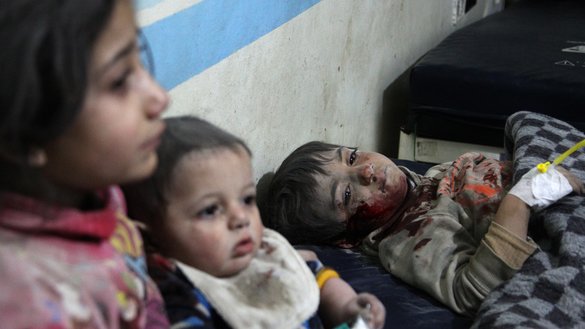 Authorisation for cross-border humanitarian aid has existed since 2014, with periodic extensions. The latest extension expires on Friday (July 10).
Blocking aid is 'reprehensible'
Russia and China argue that the UN authorisation violates Syria's sovereignty and that aid can increasingly be channelled through Syrian authorities.
Western nations and the UN Secretariat, however, insist that cross-border aid is the only credible option and that relief supplies would face multiple obstacles if they had to pass through Damascus' control.
The veto is an "extremely negative development", one European diplomat told AFP on condition of anonymity.
"They want to strangle the population even more," the diplomat said, adding that aid "cannot reach the population from one" crossing point.
"Insisting on only one crossing point is cynical, and it doesn't meet the needs of the people," the source said.
The Bab al-Hawa crossing point allows for shipments of humanitarian aid to up to four million people living in the opposition-held Idlib region.
The International Rescue Committee (IRC) condemned the veto.
"Blocking access to food, health care supplies, vaccines and ventilators is unacceptable anytime, but in the year of COVID-19 it is even more reprehensible," IRC President David Miliband said in a statement.
War crimes, unfathomable suffering
War crimes and possible crimes against humanity were committed during the battle for Syria's opposition-held Idlib Province, according to UN investigators.
People endured "unfathomable suffering" during the campaign launched in late 2019 by pro-regime forces to retake the last remaining areas in the country held by armed groups, the Independent International Commission of Inquiry on Syria reported July 7.
"Children were shelled at school, parents were shelled at the market, patients were shelled at the hospital and entire families were bombarded even while fleeing," said Commission Chair Paulo Pinheiro.
Syrian President Bashar al-Assad's regime, supported by Russia, in December relaunched its offensive against the northwestern region, which is dominated by the Tahrir al-Sham insurgent group.
The offensive left one million people displaced and more than 500 civilians dead, according to the United Nations.
The Commission's report covers the period from November 1 to June 1.
It documents 52 attacks that led to civilian casualties or damage to civilian infrastructure. They included 17 attacks affecting hospitals and medical facilities, 14 involving schools, 9 on markets, and 12 others on homes.
These attacks were "marked by war crimes", the report said. "They foreseeably led to massive displacement, as civilians had no choice but to flee, and may amount to crimes against humanity."
"The country has been in a nine-year conflict. People are suffering," said Hanny Megally, one of the three members of the Commission who authored the report.
War crimes were likely to have been committed by both the Syrian and Russian air forces, he said.
"We document two incidents where we think it was Russian aeroplanes that conducted those attacks," he told a virtual press conference.
Pinheiro said there was no explanation as to why such predictable levels of suffering were permitted to proceed.
"It is completely abhorrent that, after more than nine years, civilians continue to be indiscriminately attacked, or even targeted, while going about their daily lives," he said.
"Pro-government forces and UN-designated terrorists flagrantly violated the laws of war and the rights of Syrian civilians."
The war in Syria has killed more than 380,000 people and displaced nearly half of the country's pre-war population.
Using veto to cover up crimes in Syria
Since the start of the Syrian conflict in 2011, Russia has protected Damascus from Western pressure, using its veto power 15 times at the UN Security Council. China has used its veto nine times.
October 4, 2011: Six months after the conflict began, Russia and China blocked a proposed UN resolution condemning grave human rights violations in Syria and threatening measures against al-Assad's government.
February 4, 2012: Russia and China again vetoed a draft resolution that condemns a Syrian government crackdown on the opposition, while the Security Council's other members voted in favour.
July 19, 2012: Beijing and Moscow again vetoed a Western-backed resolution that threatened Damascus with sanctions if it did not stop using heavy weapons.
May 22, 2014: Beijing and Moscow blocked a French-drafted proposal for the Security Council to refer Syrian crimes to the International Criminal Court.
October 8, 2016: Russia vetoed a text proposed by France to halt the bombing of Aleppo. China abstained, the first time it did not veto a Syria draft resolution alongside Russia.
December 5, 2016: China and Russia vetoed a resolution calling for a truce in Aleppo.
February 28, 2017: Russia and China again vetoed a resolution -- drafted by Britain, France and the United States -- that would have imposed sanctions on Syria over chemical weapons use.
April 12, 2017: Russia vetoed a draft resolution demanding that al-Assad's government co-operate with an investigation into the deadly suspected chemical attack in the rebel-held town of Khan Sheikhun on April 4. China abstained.
October 24 and November 16-17, 2017: Russia used its veto three times in less than a month to block draft resolutions on renewing a UN-led probe of chemical weapons attacks in Syria.
April 10, 2018: Russia vetoed a US-drafted resolution to investigate chemical weapons use in Syria aimed at identifying the perpetrators.
September 19, 2019: Russia and China vetoed a resolution drafted by Belgium, Germany and Kuwait that calls for a ceasefire in Syria's Idlib Province.
December 20, 2019: Russia and China used their veto power to block another resolution drafted by Belgium, Germany and Kuwait that would have extended cross-border humanitarian aid to four million Syrians for a year.