The Syrian Network for Human Rights (SNHR) has slammed Russia for committing "hundreds of war crimes" during its military operations in Syria since 2015.
In its 40-page report issued September 30, the fourth anniversary of Russia's military intervention in the Syrian conflict, the human rights group says Russian military operations have resulted in more than 6,500 civilian deaths.
Russia has not apologised for these deaths, nor has it compensated any of the victims' families, the report says, pointing out that it has continued to deny its bombing of hospitals, civil defence facilities and residential neighbourhoods.
According to evidence collected by Syrian activists on the ground, Russian forces have killed 6,686 civilians in the last four years, among them 1,928 children and 908 women.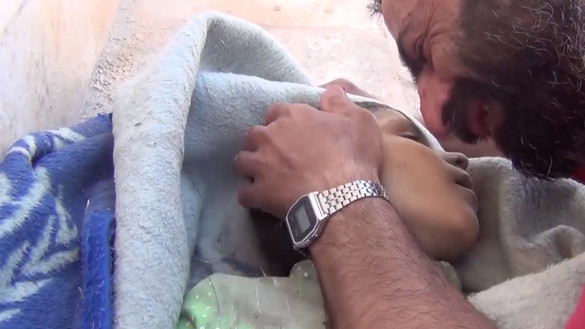 Medics and media activists were among those killed in Russian strikes, with 107 medics and 21 media workers losing their lives.
According to the report, Russian forces have bombed at least 1,083 vital facilities that are protected by international conventions in times of war, including 201 schools and 190 medical facilities.
The report also documents 236 instances in which Russian forces used the internationally-banned cluster bomb to carry out attacks, along with 125 instances of incendiary weapon use.
These findings contradict misleading statements and media reports issued by or on behalf of Russian authorities, which claim that Russia is engaged solely in killing terrorists and assisting the Syrian people, the report notes.
It points out that the Russian Ministry of Defence "repeatedly announces its operations and the results of its airstrikes in the most general and indeterminate of terms, claiming that it has killed thousands of terrorist militants".
Russia also is responsible for the mass displacement of civilians, according to the report, with more than 600,000 civilians displaced during recent military operations and 3.3 million civilians overall displaced as a result of its actions.
"We cannot trust any political settlement process sponsored or supervised by Russia, which has, since the early days, supported the Syrian regime in its brutal operations and crimes against humanity, enabling these by 13 UN vetoes," SNHR chairman Fadel Abdul Ghany said, in announcing the report.
"Russia is implicated in war crimes and must apologise for these crimes, then repair what it destroyed, compensate the victims, and stop supporting the dynastic dictatorship of one family in Syria," he said.
"After that, political transition towards democracy, human rights and the reconstruction and stability of Syria and its society can be discussed."
Chemical attacks and obstructionism
This human rights report comes after the United States on September 26 announced new sanctions targeting a Russian smuggling operation in Syria after confirmation of another chemical weapons attack by Syrian President Bashar al-Assad's forces.
The Assad regime used chlorine on May 19 in Latakia Province during its offensive to take back the last major rebel stronghold in nearby Idlib.
The United States and France had both earlier aired suspicions of a chemical bombardment but had held off on making a formal determination, saying more research was needed.
International investigators say Assad has repeatedly used chemical weapons against civilian targets in his brutal quest to win the civil war, in which more than 370,000 people have died.
These new developments come after Russia and China vetoed a UN Security Council resolution backed by 12 of the 15 member states in mid September that called for a ceasefire in war-torn Idlib Province, Syria.
The vote was Russia's 13th veto of a UN resolution since the Syrian conflict erupted in 2011.
Germany, Belgium and Kuwait had led the push for the resolution, noting that half a million Syrians have been displaced in Idlib since government forces opened an offensive four months ago.
They warned that the conflict could become the century's worst humanitarian crisis if the fighting persisted and urged Russia not to veto what they said was a "purely humanitarian" measure.