BEIRUT-- A Russian-backed Syrian government offensive against the country's last rebel enclave has caused one of the biggest waves of displacement in the nine-year-old war.
Weeks of intensive aerial bombardment and a bruising ground offensive have emptied entire towns in the northwestern region of Idlib and sent huge numbers fleeing northwards, closer to the Turkish border.
"Since 1 December, some 520,000 people have been displaced from their homes, the vast majority –- 80% -- of them women and children," said David Swanson, spokesman for the United Nations (UN) Office for the Co-ordination of Humanitarian Affairs.
The exodus, which coincides with a biting winter, is one of the largest since the start in 2011 of a conflict during which more than half of the country's pre-war population of 20 million has been displaced.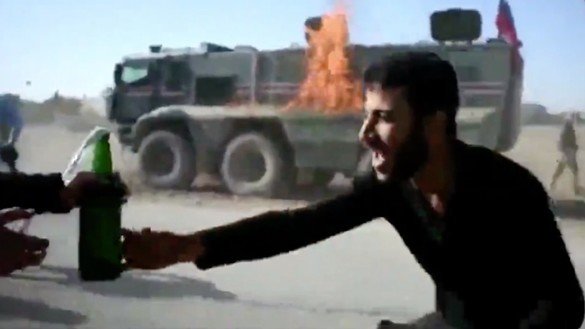 "This latest displacement compounds an already dire humanitarian situation on the ground, when over 400,000 people were displaced from the end of April through the end of August, many of them multiple times," Swanson said.
The UN was alarmed by the plight of more than three million people -- half of them displaced from their homes -- who live in Idlib Province and surrounding areas, he said.
Government troops and militia backed by Russian and other allied forces have in recent weeks ramped up the pressure on the last rebel-controlled pocket.
The World Health Organisation (WHO) expressed concern Monday (February 3) that conditions in the violence-plagued region were conducive to the outbreak of diseases.
The situation "characterised by lack of access and medicine, insufficient hygiene, chaos and mass displacement -- poses a significant risk of outbreaks of measles, diarrhoeal diseases and other diseases", WHO regional emergency director Rick Brennan said.
UN chief António Guterres February 1 urged all sides to halt the violence and allow for the necessary humanitarian effort to take place.
Growing Russian crimes in Syria
Western nations have continued to urge Moscow and Damascus to halt their attacks on civilians.
Russian military operations have resulted in almost 7,000 civilian deaths since 2015, the Syrian Network for Human Rights said in a report last September, the fourth anniversary of the Kremlin's military intervention in the Syrian conflict.
Among those dead are 1,928 children and 908 women, according to evidence collected by Syrian activists on the ground.
The report documents 236 instances in which Russian forces used the internationally banned cluster bomb to carry out attacks, along with 125 instances of incendiary weapon use.
There is also a growing body of evidence that Russian warplanes deliberately bombed hospitals in Syria to undermine the Syrian opposition.
The Kremlin's deadly operations aimed at expanding its territorial occupation of Syria have met fierce and angry resistance from locals.
In one of the most intense signs of growing unrest, a video posted on social media in mid-November showed Syrians hurling Molotov cocktails and rocks at Russian military vehicles patrolling areas the Kremlin is attempting to occupy.