MOSCOW -- Russia has begun moving helicopters and other equipment to a new Syrian base on the Turkish border, state TV reported on Thursday (November 14), as the Kremlin strengthens its territorial grip on the war-ravaged country.
Two Mi-35 attack helicopters and a transport helicopter were moved from the Khmeimim base on the Mediterranean to Qamishli airport in northeastern Syria, reported Zvezda television, which is run by the Russian Defence Ministry.
Earlier reports suggested Russia had been negotiating a long-term lease of Qamishli airport, which is about 500km (310 miles) northeast of Khmeimim.
Russia also sent on-ground support, fuel and a meteorological services to Qamishli and has 10 vehicles on the ground to "ensure continuous flights, safety of the helicopters and the defence of this territory", air force official Timur Khodzhayev told Zvezda.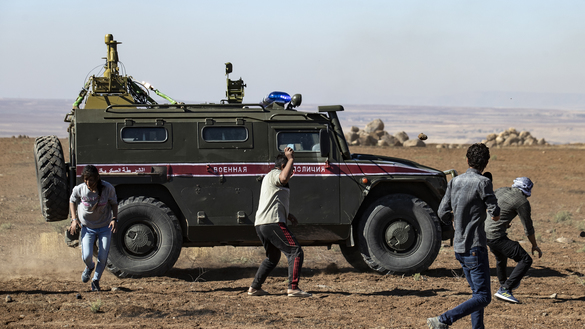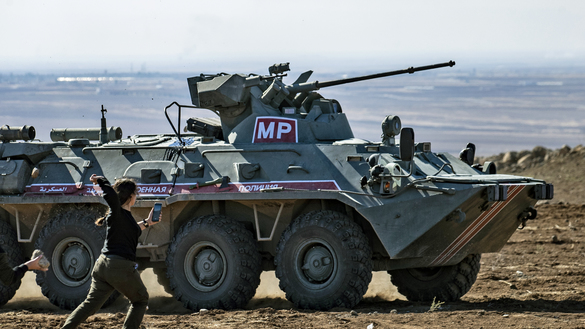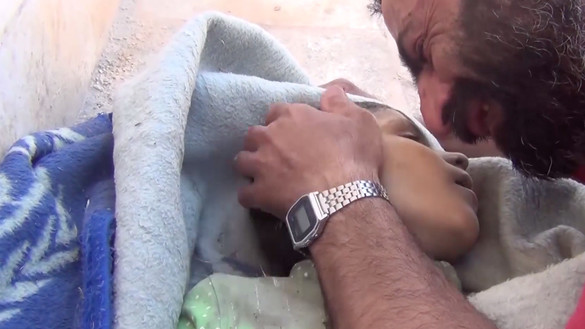 The new base is protected by Russia's Pantsir missile system and the landing area is encircled by military police, according to Zvezda.
Unwelcome
Ever since Russian troops began expanding their territorial occupation of Syria, they have been met with fierce and angry resistance from locals.
A number of local media outlets and social-media users in Syria posted videos of residents pelting Russian troops with stones on November 6.
Videos and pictures show angry residents of Kobane, Syria, throwing large stones at several convoys of Russian vehicles.
In one scene, several dozen civilians managed to stop two Russian armoured vehicles and some of them climbed onto one of the cars with Russian military police insignia, a video released by local news outlet Anha showed.
Similar incidents have since occurred, including locals attack Russian military vehicles in al-Muabbadah on November 8.
Meanwhile, Western nations have continued to urge Russia and Syria to halt their attacks on civilians.
The US State Department on November 8 said that attacks in the northwestern area over the previous two days had struck a school and a maternity hospital, killing 12 people.
"The latest reported incidents reflect a well-documented pattern of attacks against civilians and infrastructure by Russian and Syrian forces," State Department spokeswoman Morgan Ortagus said.
"We urge Russia and the Assad regime to resolve this conflict through the UN-facilitated political process and to stop waging war in civilian areas," she said in a statement, referring to Syrian President Bashar al-Assad.
Russian military operations have resulted in more than 6,500 civilians' deaths, the Syrian Network for Human Rights said in its 40-page report issued September 30, the fourth anniversary of Russia's military intervention in the Syrian conflict.
There is also new evidence that Russian warplanes deliberately bombed hospitals in Syria to undermine the Syrian opposition.
The United States on September 26 announced new sanctions targeting a Russian smuggling operation in Syria after confirmation of another chemical weapons attack by al-Assad's forces.
The al-Assad regime used chlorine on May 19 in Latakia Province during its offensive to take back the last major rebel stronghold in nearby Idlib, US Secretary of State Mike Pompeo said at the time.
That was one of the many confirmed uses of chemical weapons by the Moscow-backed regime, including one last year that killed 80 people in Douma.
To protect its Syrian ally, Moscow has continued to veto United Nations (UN) resolutions on the conflict.
Russia and China on September 19 vetoed a UN Security Council resolution backed by 12 of the 15 member states that called for a ceasefire in Idlib Province.
Germany, Belgium and Kuwait had led the push for the resolution, noting that half a million Syrians have been displaced in Idlib since government forces opened an offensive in May.
They warned that the conflict could become the century's worst humanitarian crisis if the fighting persisted and urged Russia not to veto what they said was a "purely humanitarian" measure.
Not leaving
Elsewhere in the country, in a recent Russian Defence Ministry tour, journalists from AFP and other media saw Moscow's forces digging in for a long stay.
About 3,000 Russian service personnel are deployed in Syria, at facilities like Tartus and the Khmeimim air base.
Reporters in September were shown gymnasiums at Tartus where off-duty soldiers lift weights, bakeries that serve Russian pastries, and even onion-domed Orthodox chapels filled with icons.
"Every necessary comfort" is provided to the Russian soldiers, an officer said.