MAARET AL-NUMAN, Syria -- Russian and Syrian air strikes Monday (December 2) killed at least 19 civilians in Syria's last major opposition bastion, the Syrian Observatory for Human Rights said.
Syrian regime air raids killed 13 civilians in a market in Maaret al-Numan, Idlib Province, the Britain-based war monitor said.
An AFP correspondent saw rescue workers carry a wounded man away on a stretcher, while a body lay motionless amid spilt oranges and bags of onions.
Maher Mohammed, 35, a vendor in the market, said it was the most frightening bombardment he had witnessed in years.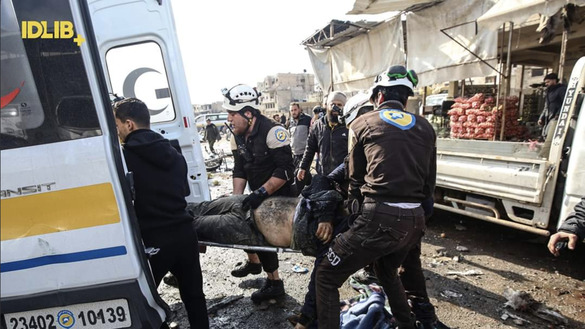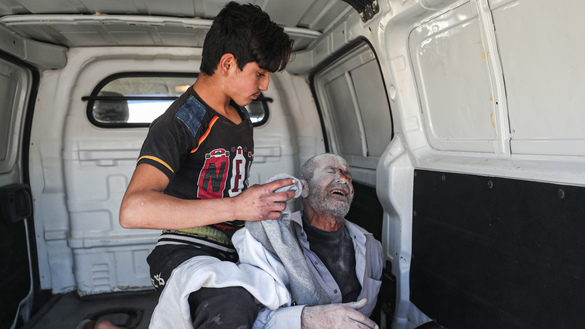 "They bombarded half the market," the father of five told AFP. "We ran inside the shops and threw ourselves on the ground."
Six others died under Russian and regime bombardment in other parts of Idlib, which is largely under the control of a group dominated by a former al-Qaeda affiliate, the Observatory said.
Fighting rages
The battles on the fringes of Idlib since November 30 are the deadliest since a Russia-brokered cease-fire went into effect in late August, according to the Observatory.
Fifty-four pro-regime fighters have been killed since Saturday, while 47 of their foes, including 33 militants, have lost their lives, it said.
Syrian President Bashar al-Assad has long maintained that his government will eventually reimpose its control over the northwestern region on the border with Turkey.
The late August cease-fire came months into a devastating Russia-backed regime offensive that killed about 1,000 civilians and ousted hundreds of thousands from their homes.
But sporadic clashes and deadly Russian and regime bombardment on the militant-held bastion have continued, with 179 civilians -- including 45 children -- killed during that time.
Russian and regime forces have deployed in several parts of northeast Syria as part of separate deals with Ankara and Kurdish authorities following a cross-border Turkish operation launched in October.
In the two months since the operation began, Turkey has driven Kurdish fighters away from a so-called "safe zone" along a 120km-long strip of the border, where it says it wants to resettle Syrian refugees.
Amid threats of further attacks, Syrian Democratic Forces (SDF) Commander Gen. Mazloum Abdi on Sunday said he agreed to the deployment of Russian forces in Amuda, Tal Tamr and Ain Issa.
On Monday, the Observatory said Russian forces had deployed inside Amuda and about 1km to the west of town.
Pattern of attacks
Western nations have continued to urge Moscow and Damascus to halt their attacks on civilians.
The US State Department on November 8 said that attacks in the northwestern area over the previous two days had struck a school and a maternity hospital, killing 12 people.
"The latest reported incidents reflect a well-documented pattern of attacks against civilians and infrastructure by Russian and Syrian forces," said State Department spokeswoman Morgan Ortagus at the time.
"We urge Russia and the Assad regime to resolve this conflict through the UN [United Nations]-facilitated political process and to stop waging war in civilian areas," she said.
Russian military operations have resulted in 6,686 civilians' deaths since 2015, the Syrian Network for Human Rights said in a report issued September 30, the fourth anniversary of Russia's military intervention in the Syrian conflict.
Among those dead are 1,928 children and 908 women, according to evidence collected by Syrian activists on the ground.
The report documents 236 instances in which Russian forces used the internationally banned cluster bomb to carry out attacks, along with 125 instances of incendiary weapon use.
These findings contradict misleading statements and media reports issued by or on behalf of Russian authorities, which claim that Russia is engaged solely in killing terrorists and assisting the Syrian people, the report said.
There is also new evidence that Russian warplanes deliberately bombed hospitals in Syria in May to undermine the Syrian opposition. Moscow has denied deliberately targeting civilian installations.
Chemical weapons probe
Several of the attacks on civilians in Syria have involved the use of chemical weapons.
In March, an Organisation for the Prohibition of Chemical Weapons (OPCW) report confirmed the use of chlorine against the rebel-held town of Douma on April 7, 2018, which witnesses said killed 43 people.
Most of the international community blamed the al-Assad regime for the incident and unleashed air strikes on military installations in response.
The Kremlin, which has attempted to help cover up uses of chemical weapons, rejected the OPCW report and said the atrocity was "staged" by Syrian rescue volunteers, known as "White Helmets".
The Kremlin's bid to block funding for a new Identification and Investigations Team (IIT) that will name culprits behind chemical attacks in Syria failed November 28, with OPCW member states overwhelmingly approving a new budget.
Moscow and its allies were attempting to block next year's budget if it included money for the new IIT -- a move that would have left the entire agency potentially unable to operate.
But on Thursday 106 member states voted in favour of the new budget, broadly seen as a show of support for the global chemical weapons watchdog's activities. Only 19 countries, including Russia and Syria, voted against it.
Last year, 99 countries voted in favour of the budget and 27 were against.
The OPCW's total budget for 2020 is almost €71 million ($76 million), an increase of 1.8% from 2019, and includes funding for the IIT, according to OPCW documents.
The United States earlier accused the Kremlin of a "cover-up" of the use of chemical weapons by Damascus, at a tense annual meeting of the OPCW's 193 member countries at a conference venue near the OPCW's headquarters in The Hague.
"The Syrian cover-up is never going to work because the international community has the courage of its convictions. Unfortunately Russia has played a central role in this cover-up," said US Ambassador to the OPCW Kenneth Ward.
"Russia and Syria may sit with us here, but they stand apart from us in a fundamental way," he said. "They continue to embrace chemical weapons."