TASHKENT -- A hostile environment, cruel working conditions and outright racism facing Central Asian migrants in Russia are creating ideal conditions for extremist recruiters to prey on the vulnerable, angry workers.
Last December, the human legacy of such mistreatment became tragically evident when a military court in St. Petersburg sentenced 11 defendants to various prison terms for their roles in a fatal 2017 subway suicide bombing in the city.
All the defendants were natives of Central Asia. Kyrgyz-born Abror Azimov received the longest sentence -- life in prison.
The case, along with the exodus of hundreds of Central Asian migrant workers in recent years to Syria and Iraq to fight for the "Islamic State" (IS), illustrates the radicalisation that some migrant workers have undergone after suffering discrimination and racism in Russia.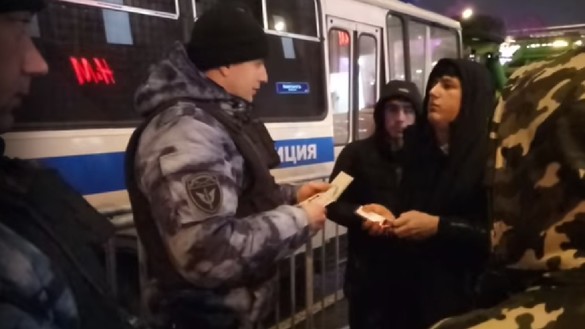 In a 2017 study, the New York-based think-tank Soufan Centre estimated the numbers of IS militants who had gone to Iraq or Syria from each Central Asian country: Kazakhstan, more than 500; Kyrgyzstan, more than 500; Tajikistan, about 1,300; Turkmenistan, more than 400; and Uzbekistan, more than 1,500.
Since then, an untold number of Central Asian migrants in Russia have been radicalised.
Doing jobs Russians will not do
As Russians refuse to do jobs they consider menial such as cleaning bathrooms and subway stations or working on construction sites, Central Asians have filled the gap.
The number of Central Asians living in Russia ranges from 3 million to 7 million, according to a 2018 study published by Harvard University titled "Jihadists from Ex-Soviet Central Asia".
Accurate counting is impossible for a number of reasons, such as the desire of illegal migrants to stay invisible and the Kremlin's reluctance to inflame its population by disclosing a very large number.
During the first half of 2019 alone, about 918,000 Uzbeks arrived in Russia, according to Russian government statistics.
In terms of numbers, Uzbekistan -- by far the most populous country in Central Asia -- sends the most migrant workers to Russia, followed by its smaller but deeply impoverished neighbours Tajikistan and then Kyrgyzstan.
Radicalised in Russia
The hardships that Central Asian migrant workers encounter in Russia, such as discrimination, demands for bribes by police and outright beatings by civilians and even by police, have caused some to embrace extremism, even as the vast majority simply try to survive and do their jobs.
"Some research suggests that the primary recruiting ground for Central Asian fighters among jihadist groups may be in Russia," noted the Harvard study. The study quoted one Uzbek ex-member of IS, who became "visibly frustrated" when he recalled his time working in Russia.
"People considered us second-rate," the ex-militant, alias "Mohammed", told one of its authors.
"Terrorist groups ... have capitalised on this potential for resentment," noted the paper's authors.
Observers in Central Asia concur.
"The perpetual humiliations that migrant workers endure in Russia push them to radicalism, as it gives them a feeling of being chosen," said Uzbek civil society activist and historian Nigara Khidoyatova. "This gives the illusion of a more comfortable existence, and it structures life and imbues it with meaning."
Other factors make them vulnerable, she said -- a quest for economic stability, loneliness, lack of education and easy access to questionable online resources.
Another observer also noted the danger caused by poor education.
Inadequate religious knowledge creates a lack of "immunity" to extremists' blandishments, said Samarbek Syrgabayev, chairman of the sociology department at Bishkek State University in Kyrgyzstan.
Labour migrants are easy prey for extremist recruiters, especially as the migrants seek solace at mosques for their tough work and living conditions abroad, said Saur Yakupov, a sociologist from Tashkent who heads the Sharh va Tavsiya centre, in January.
"If at home religion was just a tribute to tradition, then in a foreign land it becomes salvation and a last refuge. Therefore, a visit to a mosque becomes a necessary safety valve and an obligatory weekly ritual," he said.
"That's where the 'preachers' of extremism get them. And their pseudo-Muslim rhetoric, little connected with Islam but using the Muslim vocabulary, finds fertile ground," Yakupov said.
Russian policy backfires
Extremist recruiters in Russia, who generally are Uzbek or Tajik, undergo training that brings out their talent for persuasion, said Khidoyatova.
"One of their tasks is to monitor the susceptibility of potential followers," she said.
"In the first stage, the recruiters help them with documents and a job, then draw them into a certain social life: there are group prayers and table talk about the life of the Prophet Muhammad and the history of the hadiths, and then they are inculcated in specific rituals and a way of life," said Khidoyatova.
The recruiter then reports to his supervisors the new followers who are most inclined to fanaticism, and they decide where they should go, she added.
At the same time, Russian immigration law, inadvertently, does its part to create militants, according to Khidoyatova.
One law compels Uzbeks and Tajiks to "get a permit to work legally", she said. The law in question applies to citizens of CIS countries that do not belong to the Russian-dominated Eurasian Economic Union.
The process requires about a month and passage of an excessively difficult Russian-fluency test that even Russian natives can fail, as well as a monthly payment of about 4,000 RUB ($64) even after the candidate succeeds.
As a result, migrants have an incentive either to work illegally or to attach themselves to a community that can help them solve this problem, she said.