ALMATY -- Kazakhstan has rejected Moscow's most recent efforts to expand co-operation under the Eurasian Economic Union (EEU) in part because of fears that the union is a means for the Kremlin to strengthen control of its neighbours.
Newly appointed Russian Prime Minister Mikhail Mishustin on January 31 announced the Kremlin's proposal to make sports, tourism and the environment strategic areas for the EEU development.
He made his remarks at a meeting of the Eurasian Intergovernmental Council in Almaty attended by the prime ministers of Kazakhstan, Russia, Armenia, Kyrgyzstan and Belarus.
"Health care, education, science, the environment, sports, and tourism were highlighted by the Russian side in the preparation of strategic documents for the union's development," Mishustin said during his speech.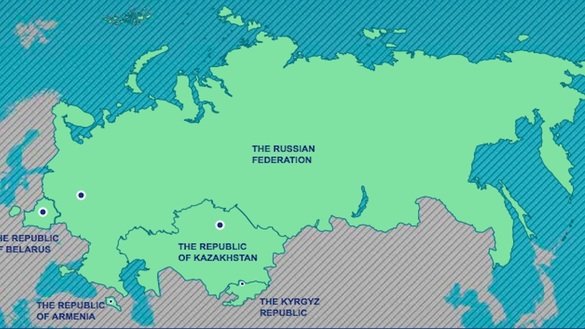 "We will make appropriate proposals and expect support for our initiatives," he said.
A lukewarm response
Kazakh Prime Minister Askar Mamin in an earlier speech, apparently anticipating that Mishustin would propose such an expansion, urged the opposite.
"We must not go beyond ... the Treaty on the EEU and the Declaration on the Further Development of Integration Processes, which the head of state [then-Kazakh President Nursultan Nazarbayev] adopted on December 6, 2018," he said.
"It must be kept in mind that the EEU is a purely economic association," said Mamin.
The Russian leadership is striving in every possible way to force unification through the EEU, said Murat Kastayev of Almaty, general director of DAMU Capital Management, a Kazakh consulting firm.
Various Russian officials have repeatedly proposed strengthening Eurasian integration in finance, currency, trade and foreign policy, he said.
Kazakhstan's position is that the EEU is a purely economic union. However, Moscow sees that integration is slowing and is not finding support from other EEU members in key areas like foreign policy, financial regulation and monetary policy, said Kastayev.
Accordingly, Russia is trying to advance its interests in sports, tourism and the environment, he said.
"Russia is entering a difficult period of political transition," Kastayev said. "A mechanism for preserving [Russian President] Vladimir Putin's power after he completes his presidential term has already begun."
Putin's term ends in 2024.
"Russia is trying to strengthen ties and bind EEU countries closer to itself, so they don't sense weakness and so they behave predictably during the transition," he added.
Moscow has constantly claimed that the EEU is not solely economic, said Dos Koshim of Almaty, chairman of Ult Tagdyry (Fate of the Nation), a Kazakh nationalist group.
"We cannot exclude the possibility that Moscow is thinking about creating a unified internal space for sports, as it was during the Soviet Union," he said.
The recent effort could be part of the Kremlin's response to the World Anti-Doping Agency's barring of Russian teams from the 2020 Summer Olympics, the 2022 World Cup and the 2022 Winter Olympics, he said.
"There were talks about shared airspace defence for EEU members," he said. "Then [Moscow] voiced ideas about the need to create a unified Eurasian parliament. So, what Mishustin said is a continuation of the theme of deeper integration," Koshim said.
Kazakh President Kassym-Jomart Tokayev has decided to take a new political course, he said. "And part of this course is to listen to the general public and to businesspeople, most of whom were against Kazakhstan's entry into the EEU."
Withdrawal is 'inevitable'
The most populous country in Central Asia already dealt a stinging blow to Russian ambitions of integration through the EEU.
Uzbekistan will not sign on to the EEU, Uzbek President Shavkat Mirziyoyev announced January 20, noting that the country would try observer status instead of membership.
"We will not be a member of this union," Mirziyoyev said in a speech to the first session of the upper chamber of parliament since elections last December.
"Bear in mind one thing: Nobody will ever give away our independence to anyone. Independence rests in the hands of a president whom the people trust," he said.
Kazakhstan should conduct an independent foreign policy, especially in the light of the Russian Federation's reckless foreign policy, and implement sovereign trade policy, which is currently completely subordinated to the EEU, Kastayev said.
Closer financial integration is unfavourable for Kazakhstan, in light of the creation in 2018 of the Astana International Financial Centre (MFTsA), which could compete directly with the Moscow stock exchange and whose success is disadvantageous for Russia, he added.
"To summarise, the EEU is unviable. Kazakhstan's withdrawal from it will almost inevitably happen," he concluded.