TASHKENT -- The leaders of Uzbekistan and Afghanistan in a phone call last week vowed to work together to stop the spread of the novel coronavirus and reaffirmed their commitment to establishing peace and economic co-operation.
Uzbekistan had 190 confirmed cases (two deaths) and Afghanistan had 237 confirmed cases (four deaths), as of Thursday (April 2).
Uzbek President Shavkat Mirziyoyev and his Afghan counterpart, Ashraf Ghani, spoke by phone on March 26. During the call, Ghani thanked Mirziyoyev for his support and efforts to achieve peace in Afghanistan.
The leaders discussed the situation and steps that authorities are taking to combat the pandemic in Central Asia. Ghani expressed appreciation for Uzbek practical aid to Afghanistan to fight the disease.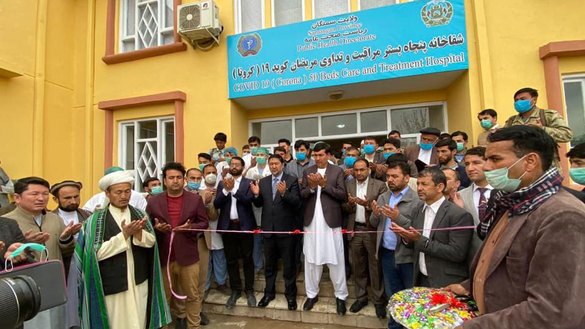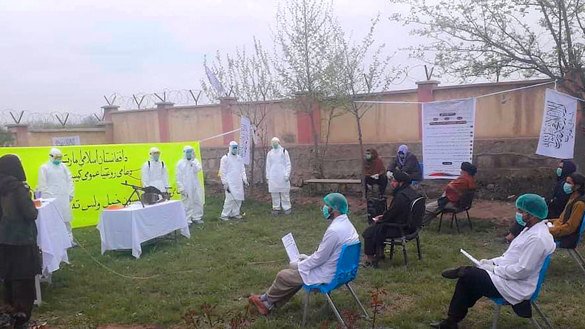 Ghani cited the Hairatan–Mazar-e-Sharif railway built and operated by Uzbek workers, electricity, food and industrial products and the unimpeded transit of cargo and humanitarian shipments into Afghanistan as key factors in fighting the pandemic, according to Mirziyoyev's press office.
The two leaders stressed the importance of continuing to work closely together and on adopting decisive measures to monitor the health and the epidemiological situation in their countries.
Ghani and Mirziyoyev came to an agreement on bolstering efforts to promote Afghanistan's development.
The plans include Uzbekistan's investment of $45 million to partially finance the construction of the Surkhan–Pul-i-Khumri power line in Afghanistan.
The United States has long praised such co-operation between Uzbekistan and Afghanistan.
In a message sent to the Uzbek people on March 21 marking Nawruz, US President Donald Trump highlighted the importance of Uzbekistan's aid to Afghanistan and co-operation with the global community.
US Secretary of State Mike Pompeo, in a February 3 meeting in Tashkent with his Uzbek counterpart, Abdulaziz Kamilov, underscored Uzbekistan's role in the Afghan peace process.
"I thanked my counterparts for their ongoing efforts to support peace and reconciliation in Afghanistan. In this regard, I am pleased to announce the United States will provide a million dollars of assistance to increase trade and connectivity between Uzbekistan and Afghanistan," he said.
"Stronger ties between Uzbekistan and Afghanistan will support peace and prosperity, not only here and in Afghanistan, but for all of South-Central Asia, Central Asia and beyond," Pompeo said.
Two threats
"Uzbekistan's economic aid is critical for Afghanistan right now," said Tashkent-based economist Shukurullo Mavlonov.
"Even though the border between the two countries is now closed to [ordinary pedestrian and vehicular] crossings because of the pandemic and flights have been discontinued, cargo shipments are continuing," he said. "Goods are travelling from Uzbekistan by train and truck."
Afghanistan is also receiving electricity from Uzbekistan," he added. "Without these channels, it will be hard for Afghanistan to stop the coronavirus."
"Unfortunately, our Afghan friends need to fight two dangers at the same time: the epidemic and terrorism," said Tashkent-based political analyst Valerii Khan.
Extremists and terrorists have no intention of fighting the pandemic but rather are trying to take advantage of it to reinvigorate their attacks, warn observers.
"Over the past week, just as the authorities warned that the spread of the coronavirus in [Afghanistan] had become alarming and could infect millions, violence appeared to have intensified. In about a dozen provinces with coronavirus cases, the Taliban have launched more than 300 attacks over the past week," the New York Times reported, citing a military official who requested anonymity.
On March 25, "Islamic State" (IS) staged a massacre in Kabul, attacking a Sikh temple and killing at least 25 people.
Then on March 29, the Taliban killed about two dozen Afghan police and pro-government fighters in two attacks.
Fake news
The pandemic has also put a spotlight on the Taliban's hypocrisies on health care.
The group for decades has attacked medical facilities, killed doctors and blocked civilians from receiving critical vaccinations.
Then, just before the pandemic mushroomed, the Taliban asserted that "preventive measures contradict Islam".
After that ample, long-running evidence of Taliban contempt for public health, recently published photos of Taliban fighters leading "training sessions" on fighting COVID-19 shocked observers. During the so-called training, the militant group demonstrated weapons, including heavy machine guns.
"Taliban way of fighting #COVID19," Afghan journalist Noor Ali quipped on Twitter in reaction to the photos.
Uzbekistan's experience in fighting disinformation about the coronavirus and in educating the public could prove useful to Afghanistan.
One tool being used to combat fake news and disinformation is the Koronavirus-info Telegram channel, which the Ministry of Health, the Uzbek Press and Information Agency, the Union of Youth of Uzbekistan and the National Foundation for Support and Development of National Mass Media created.
Many Uzbek journalists and bloggers are participating in the initiative.
The channel has already gained more than 1.3 million followers. These followers regularly receive verified information on their cellphones.